US start-up Breeze Airways will take to the skies for its inaugural revenue service on 27 May, flying between Charleston, Tampa and Hartford with Embraer E-Jets, while vowing to offer a 'Seriously Nice' product for passengers.
Having yesterday received a US DOT waiver to sell tickets, Breeze this morning unveiled its debut network, comprising 39 nonstop routes between 16 cities in the Southwest, Midwest, Southeast and Eastern US.
The budget operator will focus most flights from four main airports: Tampa, Charleston, New Orleans, and Norfolk, Virginia. Flights start at $39 one-way.
"A staggering 95% of Breeze routes currently have no airline serving them nonstop," says Breeze founder and CEO David Neeleman, a serial airline entrepreneur who is renowned for launching JetBlue, Azul, WestJet and Morris Air, which was later acquired by Southwest Airlines.
For example, from Charleston, Breeze will inaugurate service to 11 markets – Hartford, Tampa, Louisville, Norfolk, Akron/Canton, Columbus, New Orleans, Pittsburgh and Richmond – and most of these, it notes, are currently not served.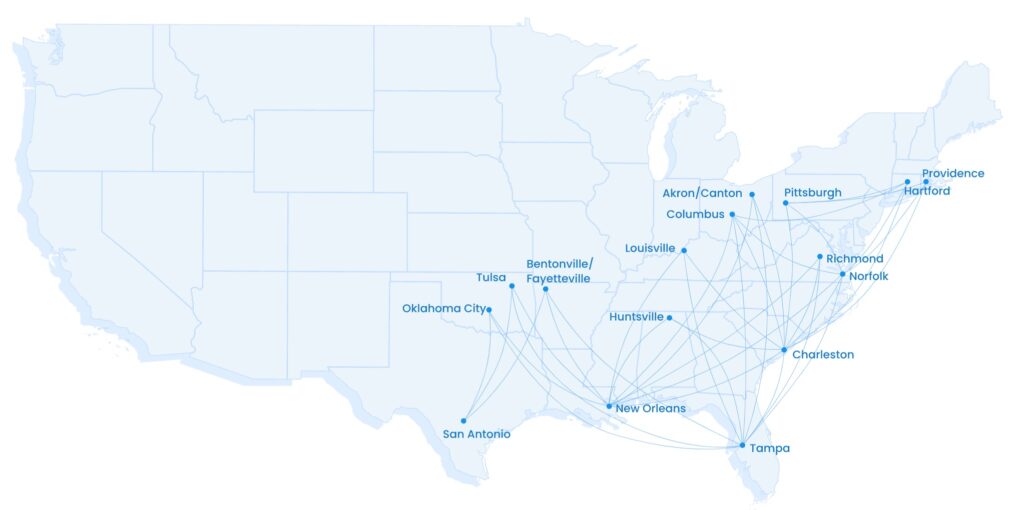 Elliott Summey, CEO of Charleston International Airport, reckons that Breeze will be "quickly embraced" by those traveling to and from the Charleston area. "And we are confident that Breeze Airways will see other sustainable opportunities for success in the coming years."
Passenger Experience
The Breeze value proposition is to bring low-cost, nonstop service connecting underserved mid-sized cities. Per its tagline, the carrier vows to be 'Seriously Nice', using "technology, ingenuity and kindness" to improve the travel experience.
The passenger experience aboard Breeze's single-class E-Jets will be fairly basic. The 108-seat E190s and 118-seat E195s, of which it will fly ten and three, respectively this summer, feature 2-2 configured economy seats billed as 'Nice' and extra-legroom seats, called 'Nicer'.
Nice seats on the E190 are pitched at 29 inches, and on the E195s at 31 inches. The Nicer seat pitch is between 33 and 39 inches on the E190s, depending on the row selected, and between 34 and 39 inches on the E195s.
Fare-wise, Breeze is offering two packages – the 'Nice Fare' and the 'Nicer Fare'. The 'Nice Fare' includes a personal item, such as a backpack or purse. Guests can select a seat assignment and add bags to their reservation for an additional cost.
Meanwhile, the 'Nicer Fare' includes an extra legroom seat assignment, a personal item, a carry-on bag (placed in the overhead bin), one checked bag, a complimentary drink and snack, and priority boarding. Snacks on board will include selections from Utz and KIND bars.
As first reported by RGN Premium, Breeze will bring wireless IFE to its Embraer fleet in partnership with Global Eagle.
The W-IFE service, which will go live this summer, is powered by Global Eagle's cost-effective Airconnect IFE Pro hardware and Iris content platform, enabling passengers to stream movies and television shows for free to their own devices. An inflight map will also be on offer.
Breeze is promising quarterly content updates versus a more traditional monthly cycle. This will help to keep the low-cost carrier's content costs in check, whilst also ensuring it has entertainment on offer for E-Jet flights, which are generally under two hours in length.
But Breeze intends to differentiate itself in other ways. "With seamless booking, no change or cancellation fees, up to 24-months of reusable flight credit and customized flight features delivered via a sleek and simple app, Breeze makes it easy to buy and easy to fly," declares Neelaman.
Remarkably, passengers can change or cancel a flight up to 15 minutes before scheduled departure without penalty. And unused funds from changes and cancellations are automatically saved in their Breeze account and do not expire for 24 months.
Moreover, the carrier's loyalty program will enable guests to earn credits called "BreezePoints" on all purchases. These can be used towards future flights or other ancillary products, such as bags and seat assignments. All Nice Fares receive two percent in BreezePoints and all Nicer Fares receive four percent in BreezePoints.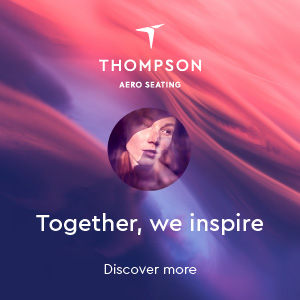 Beginning in October, Breeze will start taking delivery of 60 new Airbus A220 aircraft, at a rate of roughly one per month for five years.
Notably, the A220s will include a premium cabin, called 'Nicest' seating, in a two-by-two configuration at the front of the plane. The remainder of the aircraft will feature the A220's standard two-by-three seat configuration.
Breeze tells Runway Girl Network that it intends to release more product details about the A220s in the coming months. It assures that, unlike the E-Jets, the A220s will be fitted with inflight connectivity in time, as well as IFE, though not the seatback screen variety. Management is presently reviewing its IFEC options.
"The effects of the COVID-19 pandemic on the nation's air service has meant many secondary markets and smaller cities have seen a significant reduction in flights. There are so many city pairs needing nonstop service around the country, we have a further 100 cities under consideration. Flying nonstop, Breeze will get you there in half the time, but also for about half the price," says Neeleman. Breeze has already been added to the TSA's PreCheck program for guests from day one.
Related Articles:
All images credited to Breeze Airways