How can aircraft interior designers eliminate the debris-accumulating crevices and gaps created by high-touch buttons on aircraft seats, while making the cabin environment easier to clean? One option being pursued by Panasonic Avionics is Active Surfaces, which allows for seat and IFE controls — as well as information displays and ornate lighting designs — to be embedded smoothly and seamlessly into seats, panels or monuments.
Active Surfaces are achieved through the layering of an ultra-thin non-porous laminate placed over a graphic display. There is a broad range of options available in the designer's toolkit of finishes, including everything from wood- and mirror-effect to metal- and leather-effect.
The capacitive touch application for Active Surfaces would work for interactive elements like pre-programmed seat settings and lighting controls, while a passive application might simply display wayfinding or other information. The brand "Active Surfaces" is being trademarked by Panasonic, and is part of its new Welcome Aboard Collection, a selection of inflight products and solutions designed to help airlines address passenger concerns during COVID-19.
On a business class seat or first class suite, Active Surfaces could suit multiple locations with either passive or capacitive functionality, Panasonic Avionics director, design & experience Sebastian Petry told Runway Girl Network. For example, a mirror-effect display could help a passenger freshen up while also passively showing information such as flight time or local weather at the destination.
In public areas — galley walls or divider panels, for example — passive displays can also offer greater visual variety by projecting useful information, brand messaging, or helpful instructions. As such, Active Surfaces promise brand differentiation through intelligent design.
Your author was particularly interested to learn that the technology can work via touch or proximity, which would allow for displays to change with hand gestures or as passengers approach, as would be the case with monuments welcoming passengers on board.
Panasonic is working on both passive and capacitive applications at this time, though it has not yet revealed which approach its launch airline will adopt. "Today, we have a committed customer that is implementing a solution. We're working with other customers as they ramp up to integrate this technology … We're in final volume qualification testing for linefit [with the committed airline]," revealed Petry.
These types of user interface and user experience trends are already being seen in the automotive industry.
Said Petry:
If you look at the latest Tesla, there are almost no buttons left. The few buttons are always hard, but a large majority of the automotive industry is moving towards more touchscreens or dynamic buttons.

I think you will see more functionality hidden within surfaces that appear in a contextual environment, and only the right functions in the right context. I think in our industry, we'll see more of that…
Aircraft interiors expert Jennifer Coutts Clay, the author of Jetliner Cabins: Evolution and Innovation, believes there is an advantage in offering touchless or reduced touch functions on board, including through the use of Active Surfaces.
"Looking ahead, COVID-19-savvy air travelers are likely to wear disposable plastic gloves and use sanitization wipes to ensure the cleanliness of frequently touched areas, in particular: the tops of aircraft seatbacks, armrest-covers, tray-tables, and seatback screens," she said.
Coutts-Clay's observation raised a question about the responsiveness of Active Surfaces to passengers wearing gloves. Assuming the passengers are wearing typical vinyl or latex gloves, said Panasonic's Petry, they would have to be a bit more purposeful, making sure they touch the capacitive surface "for the quarter-second or half-second".
"It's a little bit less sensitive than your smartphone display is, but it acts in a very similar way," he said.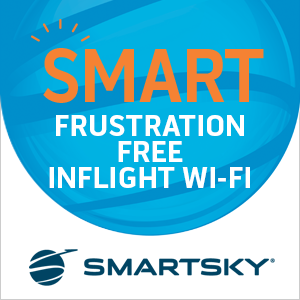 There is a definite advantage to speeding up the cleaning process for airlines. Active Surfaces allow for easy wipe-down from flight-to-flight, with no button nooks and crannies gathering grime or germs. "This is particularly important now, where even a stray speck of dirt could cause passengers to lose trust in an airline's enhanced cleaning protocols," noted Panasonic in a blog post.
As with other cabin surfaces, airlines will need to ensure that their cleaning agents are safe to use on laminate coverings. Designers can run cleaning agent tests during the product development process.
While Active Surfaces could enhance any cabin area, limited only by a designer's imagination, they are still electronics, and it is best to keep them out of high-impact zones. "You probably want to be careful of placing it in an environment that is not highly abusive," said the Panasonic executive.
Related Articles:
All images credited to Panasonic Avionics