The COVID-19 crisis has brought many changes to the passenger experience, not least of all to onboard entertainment. With theaters closed, movie studios opted to provide consumers with early access to blockbusters on their streaming platforms. This effectively squashed the traditional Hollywood release windows which had previously enabled airlines to broadcast new films to seatback screens after their theater run and before becoming available to the home market. Now passengers are more likely to have streamed big tentpole movies before they board. Meanwhile, the ability to stay connected to friends, family and work became more important than ever.
It is against this backdrop that Global Eagle, an entertainment and connectivity provider to airlines and cruise lines, this week emerged from its sale and restructuring process. Now owned by a group of its first-lien investors, Global Eagle is operating with increased liquidity — having received a $217.5 million investment from its new owners — and a better balance sheet after slashing total debt by $487.5 million via the Chapter 11 process. The company is no longer publicly traded.
Global Eagle CEO Josh Marks tells Runway Girl Network that the firm used its time in Chapter 11 to prepare for the new IFE paradigm. "There is a lot of disruption hitting the studios. Nontheatrical teams have in some cases folded into digital teams of major studios. Studios care a lot about subscribers to their digital platforms. So, the role of airlines has changed from just being a revenue source to providing exposure, attracting new subscribers to their platforms."
That could be good news for all parties – studios (small and large), airlines and passengers. Perhaps creative sponsorships will be forged, allowing airlines to license blockbusters at a more palatable rate in exchange for driving new streaming platform subscriptions. And, if airlines don't have to break the proverbial bank on licensing blockbusters, it frees up their IFE spend to offer a more diverse, carefully curated content set.
"Now that passengers subscribe to digital services at home, when people get on the plane, they want to find new content" including independent titles and offbeat titles, says Marks. The other major demographic change, he notes, is that leisure travel is leading industry recovery. As such, passengers are presently focused less on work and more on play in-flight, so engagement is different. All of these factors mean, he says:
I think a better outcome for inflight entertainment and its relevance as more than just a place to watch new blockbusters.
As airlines reorient their route networks for leisure traffic and serve new markets, there's also an opportunity to address what O&D markets really want to see, including providing more local content to meet language preferences and styles. "So, from our perspective, our ability to find that local interest, local content, and understanding that becomes much more important when leisure travel is driving recovery, as opposed to business travel," says Marks.
Transforming its media business
During its restructuring, Global Eagle completed the transition to a full cloud architecture for ingesting, selecting, editing and delivering media. Marks says the firm is the first airline content service provider to become digitally native across the entertainment content supply chain. That brings efficiency and flexibility gains, including when seeking to expose airline and cruise line passengers to international and independent titles, as well as content from smaller studios.
Global Eagle is also in the process of simplifying its commercial model, to make it easier for airlines to achieve their content selection goals — matched to their brand — at the price points they can afford to pay during COVID-19 recovery.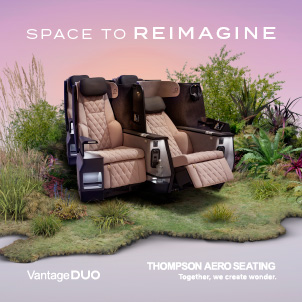 As COVID-19 vaccination programs roll out, and consistent with travel restrictions being lifted, Global Eagle is seeing the recovery of domestic and regional travel in a number of countries, including the United States. This has implications not only for IFE content, but also inflight connectivity.
"As we look at the future of domestic travel, we see narrowbody aircraft getting used domestically during the week, but also starting to fly leisure on the weekend. So, it might be used to fly to the deep Caribbean, Mexico or Alaska on the weekends now," notes Marks. Global Eagle is positioned to meet these needs as it has largely focused on narrowbody, regional-based IFC deployments — and obtaining the requisite certifications to install its system on single-aisle aircraft — as well as layering Ku-band satellite capacity from a near global patchwork quilt of different satellite operators.
Moreover, Wall street wants to see revenue generation so it's critical that airlines find ways to monetize connectivity by offering things of value for passengers whilst providing a connected environment where they can transact, notes the Global Eagle CEO.
Focusing on mobility
Through the bankruptcy process, Global Eagle was able to clean up some of the aspects of its business that had previously diluted its focus. The Santa Ana, California-based company completed the sale of its legacy non-governmental organization and African fixed-site land business to Marlink AS, giving it space to completely target mobility markets. Interestingly, fellow Ku-band IFC provider Panasonic Avionics sold its ITC Global maritime business to Marlink during the pandemic, opting to focus on a pure-aviation play.
"We focused our business on things that move, particularly airliners and passenger vessels, so for us, that provided us the focus we need. We used bankruptcy to eliminate some of those non-core areas it just wasn't efficient to invest there," explains Global Eagle's Marks.
Aviation represents Global Eagle's core market segment. It counts Air France, Norwegian, Southwest Airlines and Turkish Airlines as customers. With so much pent-up demand for vacation travel being fielded right now, Marks is optimistic about the firm's prospects going forward. He says Global Eagle's emergence from Chapter 11 should inspire confidence across the airlines it serves. In short, the company is in it for the long-haul.
"It's more than just the new capital that has been raised or restructuring the new balance sheet, it's the strength of the new owners, the ability to make investments – whether it's transforming the media business for this new digital first world, or in connectivity, ensuring our systems are flexible and able to incorporate the next technologies coming to market," he tells RGN.
Related Articles:
Featured image credited to istock.com/shironoso