Last year at this time, a JetBlue flight was practically a carnival in the clouds. Whatever you wanted to drink, eat or watch could be done, and only a credit card was needed for those premium beverages and snacks. Wearing a mask? Unthinkable. A half-full plane? Impossible. Sanitizing wipes distributed at boarding? Whatever for?
But that was in the "before" times. Today, masks are now a nationally mandated requirement for travel on buses, trains and planes. The number of passengers traveling this January is down roughly 75 percent from last January. And the biggest priority airplanes are making for passengers is frequent sanitizing sessions and powerful HEPA air filters.
Yet as the pandemic has evolved, so have the airlines. And JetBlue, while no longer the carnival of yore, has done what it can to keep the passenger experience on board far from austere.
In June 2020, passengers on all flights were not treated to a beverage or snack service but rather to a sealed plastic baggie filled with a small bottle of water, Cheez-its, and granola bar. Passengers were advised via email before their flights, "If you want more to munch on, please plan accordingly." Luckily, JetBlue's excellent Fly-Fi, the free gate-to-gate WiFi network, worked flawlessly, allowing passengers to stream and scroll from their own devices.
By September on cross-country flights, the pre-sealed bags remained, but beverage service was open. By November, a full snack and beverage service had resumed.
That same month, JetBlue did two major things — launched a refresh-MINT of its business class cabin and announced new routes across the country, including a nonstop daily flight between Los Angeles and Palm Beach, Florida. This route was last served by American Airlines, but after a 17-month underperforming run, the carrier called it quits in 2014. Now JetBlue has stepped in to give it a try.
I managed to experience both — the new Mint cabin and the new PBI-LAX route — in late December.
The Mint experience begins at check-in where you can check two bags for free. You can do it at the bag drop on your own or through a check-in agent.
At the gate, JetBlue is no longer boarding back to front (nor are they blocking out the middle seat), so Mint passengers board in the first group behind the pre-board group. (You can grab a few packets of sanitizing wipes before you scan your boarding pass too.)
The 16 seats, designed by Thompson Aero, are configured in a 2-2 and 1-1 pattern, with the lone seat being the most ideal, especially in these times, as it comes with its own little door to close off from the aisle. (When I spotted it available in the seat chart, I nabbed it right away.)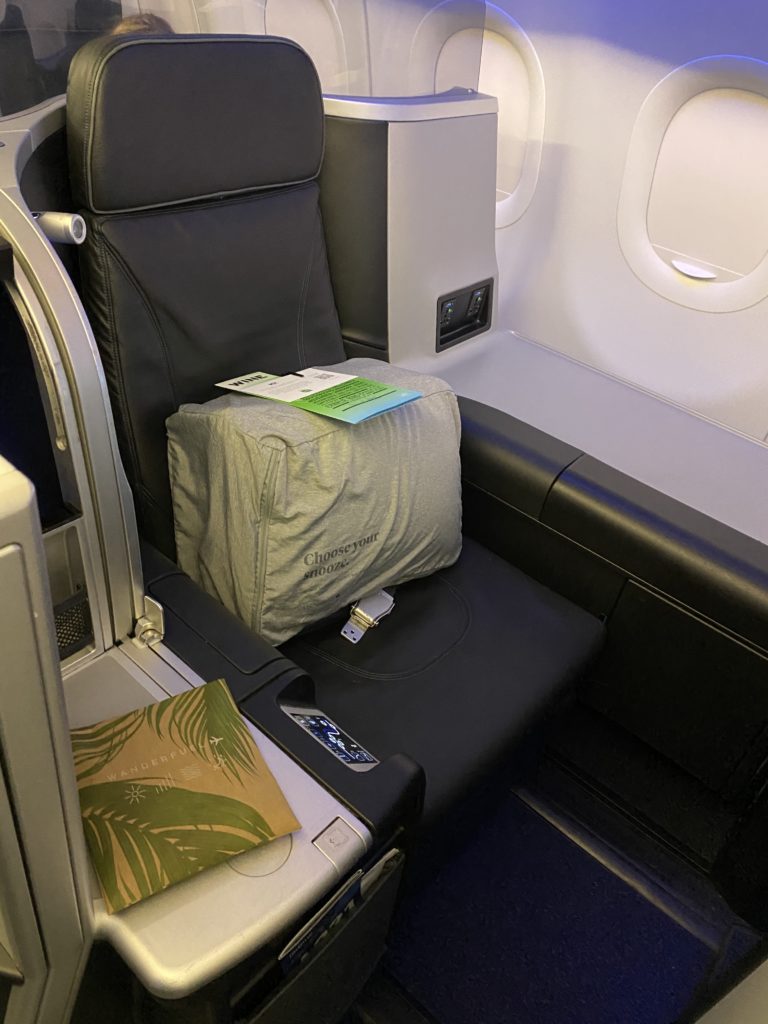 At the seats await a light grey bedding bundle from Tuft & Needle mattress company; a Wanderfuel amenity kit; a menu and welcome letter, and a note with a QR code for passengers to scan for more info on the flight's COVID-19 safety measures.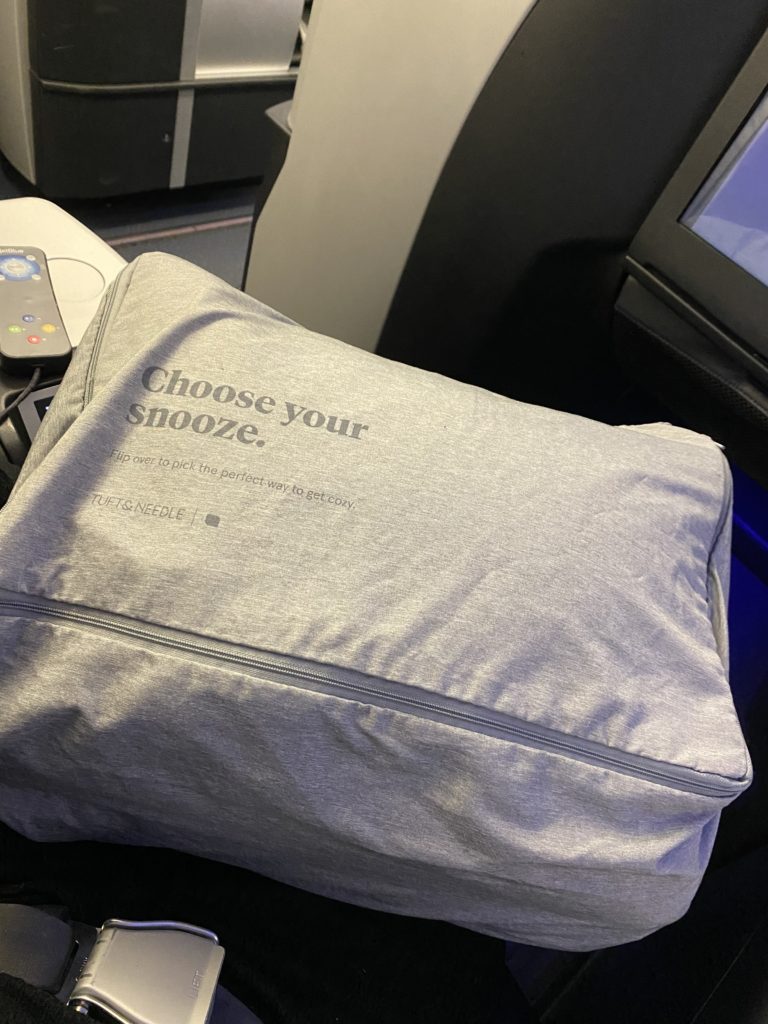 A flight attendant introduces him or herself and explains the menu options — choose three out of five small plate options (developed by Soho-based Delicious Hospitality Group), select whatever you want to drink (I chose a Mint Condition cocktail but subbed vodka for gin) and decide on a desert. A pen is provided for you to circle your choices.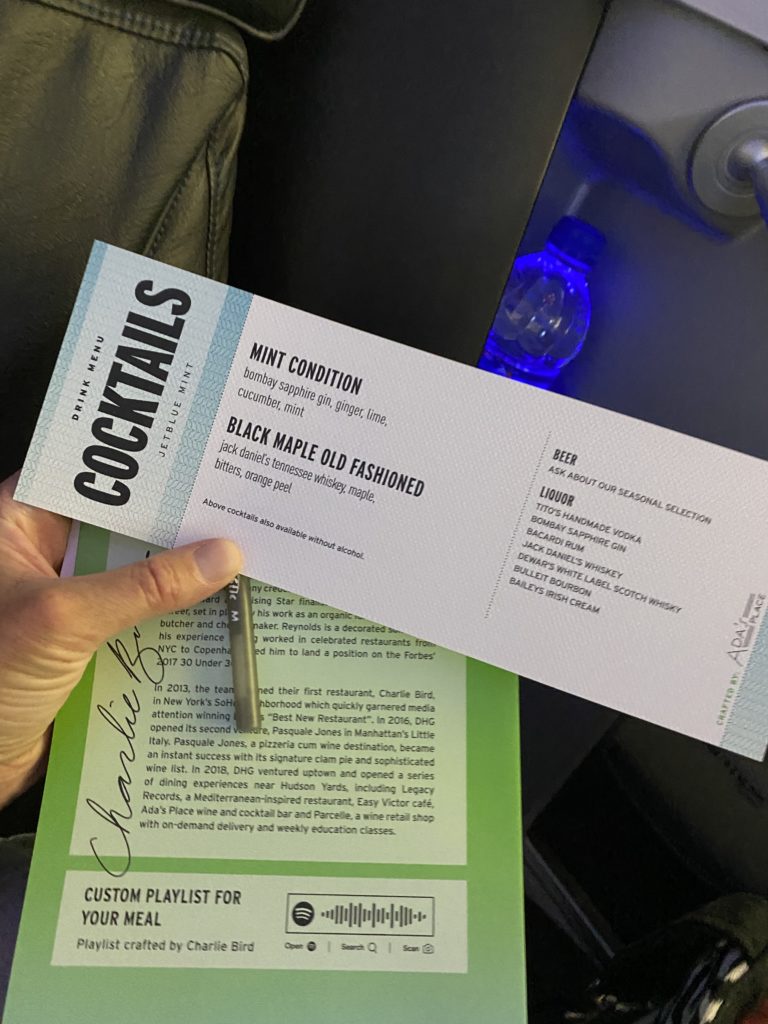 All carry-ons need to be stored in the overhead compartment as there's not much room in the footwell, but the seats do have small compartments for storing items like laptops, phones, and small bags or purses.
Once up in the air, you're free to start moving your own seat, whether to the fully-flat position or to the various reclining positions. You can opt for a mini-massage via the seat, too. Add in the fluffy blanket and good-sized pillow, and it's absolutely easy to nod off for a little bit.
The inflight entertainment system features the usual JetBlue options: DirecTV, movies, TV shows, music and a map to track the plane's route. The movie choices were a little stale, but I fell in love with the Irish film, Extra Ordinary.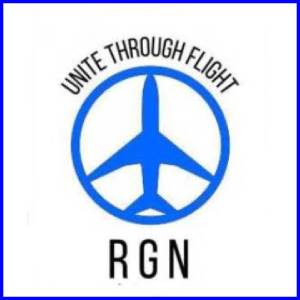 Perhaps the most valuable inflight entertainment perk, after the Fly-Fi network, is the dual 110V + USB outlet at every seat, allowing passengers to keep their devices charged while streaming whatever movie they want. JetBlue also provides Mint cabin passengers with Master & Dynamic over-ear headphones for a superior listening experience.
As for food service, it has come a long way from the sparse days of June and July. A package of mixed nuts is served with a drink while the flight attendants work on prepping the main meal.
All three of the small plates arrive at once, in plastic wrapping, and are supplemented with take-home tins of Maldon salt and little packets of Tutto Calabria Chili oil. Dessert, if you choose, follows the meal and later on, a package of Hu chocolates are given as one last sweet treat.
Everyone wore masks during these flights and several brought their own disinfectant wipes with them to scrub down their seats. The Mint experience was both superbly comfortable and enjoyable, even when measured against pre-pandemic high standards.
Know what else is comfortable? Not having to drive an hour to Fort Lauderdale to catch a direct flight back to Los Angeles. We're sending all the good vibes for this Palm Beach route to keep going long after the pandemic ends.
Related Articles:
Main image credited to JetBlue and embedded images credited to the author, Juliana Shallcross