International Airlines Group operators British Airways, Iberia and Vueling are now offering inflight connectivity to passengers via the European Aviation Network (EAN) on a sizable portion of the IAG short-haul fleet.
The EAN is a hybrid air-to-ground (ATG)/S-band satellite-supported inflight connectivity service. It can now be accessed by passengers "on more than 250 aircraft" across Europe, reveals Inmarsat, which developed the IFC solution alongside Deutsche Telekom and other European partners.
"Usage has consistently increased since it entered commercial service and EAN experienced record data traffic in the summer and autumn months last year, reflecting an even stronger desire to stay connected amongst passengers flying during the COVID-19 pandemic," says Inmarsat Aviation president Philip Balaam in a statement.
In late 2016, IAG announced its intention to install the EAN hardware "on up to 341 of its narrowbody aircraft" across all of the group's airlines. EAN launch customer British Airways implemented a "soft launch" in 2019.
Inmarsat claims the EAN "marks a paradigm shift in the airline passenger experience, with incomparable speeds, uninterrupted coverage and significantly lower latency than any other inflight Wi-Fi network in the continent". Lower latency is achieved via the ATG component of the service.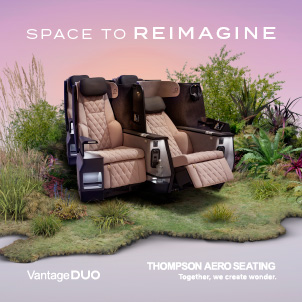 While the EAN provides a viable IFC option to European airlines, other solutions are available. Satellite operator Viasat counts El Al, Finnair and SAS among its customers. KLM will soon join the mix. The high-capacity Ka-band satellite service transmits over Viasat's KA-SAT asset.
Aero ISP Global Eagle, meanwhile, has been rolling out its Ku-band IFC service on Air France's short-haul fleet, in addition to supporting connectivity on longtime customer Norwegian's short-haul fleet, which is now the focus of the low-cost carrier's simplified operational structure.
Additionally, Turkish Airlines recently went live with Global Eagle Ku service on a Boeing 737NG. The carrier used server and WAP hardware provided by its in-house MRO firm, Turkish Technic.
The net result of these ATG and satcom activities is that many more airline passengers in Europe now have access to onboard Internet. Staying connected is seen as increasingly important given the volume of remote work happening amid the COVID-19 crisis and passengers' interest in remaining connected to family, friends and colleagues.
Related Articles:
Featured image credited to Credit: istock.com/Leyn