The United States Patent and Trademark Office has denied Gogo Business Aviation's request for an inter partes review, after the inflight connectivity provider challenged 20 claims in a key SmartSky Networks patent.
Gogo and SmartSky are rolling out next generation air-to-ground connectivity solutions. The patent in question, No. 9,312,947, covers what SmartSky attests are "some of the most essential features of a 5G air-to-ground network", like beamforming and seamless cell tower handoffs.
"Petitioner has not demonstrated a reasonable likelihood of prevailing in demonstrating that at least one challenged claim of the '947 patent is unpatentable over the prior art of record. Accordingly, we do not institute inter partes review," said the USPTO in its 16 September ruling.
As such, Gogo's petition was denied, and no trial was instituted. It was denied on the merits of SmartSky's patent, not just on procedural grounds, with the USPTO effectively finding that Gogo did not have a reasonable likelihood of invalidating even a single claim in the SmartSky patent.
"It didn't even get to the procedural stuff, which we also felt good about," SmartSky president Ryan Stone told Runway Girl Network.
"Look, I think it speaks for itself," said Stone in reference to the USPTO ruling. "It goes to the fact that what we said [in the past] was we have patents that are important to what we're doing for a nextgen network. They're important for 5G incorporation into the network and you've got to have them if you want to do air-to-ground in the future and they're valid. If you're going to make the argument that you don't need it and it's not valid, you've gotta win. We won decisively. It didn't go to next step."
Both SmartSky and Gogo will use unlicensed spectrum for their nextgen ATG solutions (Gogo will also use its licensed ATG spectrum). Gogo has targeted a 2021 launch. SmartSky, whose solution was expected to enter revenue service early this year, has postponed its debut due to a legal battle with its radio contractor.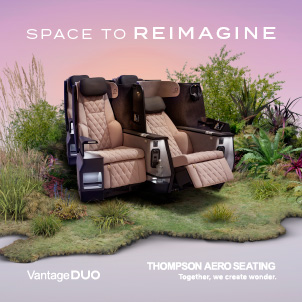 Hindsight is 20/20, but Gogo Business Aviation's decision to request the review of SmartSky's patent, and the USPTO's response, has effectively strengthened SmartSky's patent, begging the question of whether or not it was worth it to the firm. More importantly, it begs the question: does Gogo need to rely on any part of SmartSky's IP to roll out its forthcoming 5G ATG service?
In a statement disagreeing with the USPTO's decision, Gogo Business Aviation president Sergio Aguirre said: "To be clear, Gogo reiterates our strong belief that we are not infringing any valid patent held by SmartSky. Furthermore, neither the PTO's decision nor SmartSky's patent portfolio in any way impairs our ability to continue to successfully expand, to launch Gogo 5G or to enhance our position in the business aviation market."
SmartSky's Stone sees things differently. "From a business standpoint," he said, "I'm presuming that the only reason they did challenge it was out of the necessity to do so. Why else would you?"
He believes it will be "extremely difficult" for Gogo Business Aviation to roll out its 5G ATG offering without threading on SmartSky's IP and "not just this patent, we're now over 180 patents and they're essential to what we're doing".
Related Articles: