It's a running joke in the aircraft seating world that the factories that build aircraft seats — products that are high technology, feature precision engineering, and need to conform to stringent technical testing — are often located far from airframer sites or even major airports, often in smaller towns and regional centers that few people could place on a map.
But these regional spaces offer companies space to grow — quite literally for German seatmaker Recaro, whose headquarters in Schwäbisch Hall, near Stuttgart in Germany's southwest is expanding its footprint and capacities as part of the latest project in space2grow, a four-year-old international program to grow Recaro's site capacity and bring capabilities in-house.
Since the program started, "we have invested in new buildings and production areas, including a development and testing center, a customer service area, a new canteen, as well as additional parking space for employees," chief executive officer Mark Hiller explains to Runway Girl Network during a physically distanced site visit. "The new space allows events and international meetings with up to 600 guests to be possible. New facilities feature a development center, crash facility and flam laboratory."
That dynamic crash center means that the full range of 16g testing can be performed, to include head impact and neck injury criteria.
The system, notes Hiller, "accelerates the sled on which the seat is mounted with a prescribed triangular pulse, which is minimum 16g at the peak — 1g corresponds to the acceleration due to gravity — and we reach round about 49 km/h. The whole thing happens within 180 milliseconds, just a little longer than the blink of an eye. Just to give a number, the seat will be accelerated about fifteen times faster than a Formula 1 car."
So why bring both the flammability testing and dynamic testing in-house, rather than to continue using the various service providers in Europe and the United States that Recaro presently contracts for the work?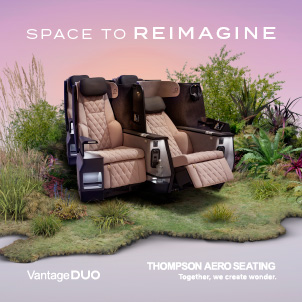 For a start, Hiller says, it's about "insourcing competence and knowhow," noting that as the company moves towards business class seating this ability is especially important to have at headquarters.
Hiller explains that it will also "reduce lead time, minimize transport and travel efforts, attract new business by strengthening the competence at Recaro testing, develop new technology and [serve as a] service provider for the global setup."
Recaro's Schwäbisch Hall site is split across a road in an industrial estate on the outskirts of town.
The first phase in the Schwäbisch Hall project consisted of a new logistics center and automated warehouse, opened in 2019, which helped to create the space to start the next phases.
At the same time, the company developed and implemented its flexible office concept, 'Recaro open space', several elements of which employees tell RGN were useful to set the foundations for an effective work-from-home program during the COVID-19 lockdown. This concept will continue to roll out.
The wider space2grow program will also "expand and increase capacity [and] optimize efficiency, for example, automation with warehouse logistics."
The new customer service center is massive, and Hiller says it is "strategically designed to improve operational processes by connecting all production, administration and logistic areas via a central meeting axis. The center offers a comprehensive list of services, including support for spares, repairs and maintenance."
Recaro is also continuing investment overseas, after its "cut2dress" seat cover production site launched in Świebodzin in western Poland in 2018, and its China production site in northeastern Qingdao province in 2019.
The next step in Schwäbisch Hall, meanwhile, will be connecting the two sides of the road with an overpass, the foot of which will also feature a revamped main reception and welcome area for customers and other visitors.
Recaro provided overnight accommodation for RGN's journalist in Schwäbisch Hall during a physically distanced site visit to enable this interview, in full compliance with all local hygiene and public health restrictions.
Related Articles: