APT Mobile Satcom (APSATCOM), a sister company to the established Hong Kong-based company APT Satellite, expects to see "major adoption" of satellite-delivered connectivity during the initial growth phase of IFC in mainland China, whereas air-to-ground IFC equipage may occur in a second wave.
So said APSATCOM CEO Jason Li in an interview that was facilitated by long-time industry veteran David Bruner of Aviation Communications Advisors. Bruner, who provides IFC consulting assistance to APSATCOM, previously served as VP global communications services at Panasonic Avionics.
APSATCOM was created specifically to develop mobility markets such as aero and maritime. At the request of Runway Girl Network, Li addressed Valour Consultancy's prediction that ATG will drive IFC adoption in China.
ATG-supported IFC, said Li, "can be an effective connectivity service option in some markets which have significant terminal density. China is, however, quite large and with very rough terrain in some areas making ATG coverage very challenged. While there have been some technology experiments with ATG in China 4-5 years ago, there has been no implementation of a commercial service."
Possible traction of ATG IFC would be the "second growth phase which likely will occur in approximately five years from today", he said.
To that end, Airbus China Innovation Centre and a company called SkyFive recently announced a strategic technology partnership to explore the development of a 5G ATG connectivity solution for the Chinese market, according to a statement published by SkyFive.
'Go live' for IFC transmissions via -6D satellite
In successfully launching the APSTAR-6D HTS Ku-band satellite in July, APSATCOM has bolstered its ability to support an improved IFC service on aircraft operated in and over China and high-density routes around East Asia. It already has capacity agreements in place with Panasonic – which helped design the satellite and called its throughput capabilities "XTS" – and Chicago-based Gogo. But when will airlines be able to benefit from APSTAR-6D's multiple gigahertz of new Ku capacity?
"The limited amount of IFC capacity in China is completely changed overnight when 6D goes into revenue service. For some customers this could occur as early as November 1, 2020, however most customers' plans and schedules have been severely impacted by the COVID-19 virus and will delay when customers are ready to utilize the new capacity," Li told RGN.
"When they are ready to begin service, they will see improvement immediately – 6D doesn't just deliver more capacity but because it is HTS, it delivers a much stronger signal – [greatly] improving reception, critical for a service on a relatively small antenna as in the aeronautical application."
He continued, "With 25 Gbps in China and 25 Gbps for the area covered surrounding China, this satellite not only radically changes the market in China but the entire Asia region. By 2024 China will pass the US in commercial airline passenger enplanements. There is a need for a large amount of capacity to support IFC in China."
Sometimes, APSATCOM will share orbital slots with APT and take advantage of unutilized frequency rights. This is the case with 134E where the APSTAR-6C satellite is today; 6C is already being used by the IFC market. APSTAR-6D will be collocated at 134E.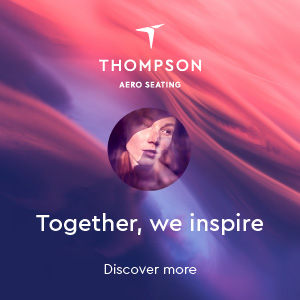 Asked if APSTAR-6D's initial transmissions for inflight connectivity will be to support Panasonic and/or Gogo's Ku IFC installations, Li said the APSATAR-6C satellite "is currently used for a large number, over 1000, foreign aircraft that overfly China and approximately 200 Chinese registered aircraft. More capacity is desired and we believe improved service to already installed aircraft will be the first use of the new [-6D] satellite."
Of course, Li's aircraft tally represents pre-pandemic figures, but Bruner pointed out that the aircraft registration numbers remain licensed for overflight service and can restart service whenever they return to flying to and/or over China.
"The IFC market is starting to move again in China with new service trials and supplier selections," Bruner told RGN.
Maritime use of APSTAR-6D will occur immediately upon launch of revenue service, he noted.
Homegrown IFC solutions
Regarding homegrown Chinese Ku-band-supported IFC solutions, Li revealed: "There are some Chinese IFC discussions taking place now that could support trials in 2021. We believe the availability of the lower cost, high-powered bandwidth from APSATCOM will spur new IFC activity."
New activity is likely to see the installation of hybrid Ku/Ka-band IFC. Said Li:
We think hybrid service is very possible, and likely necessary, since the failure of the launch of ChinaSat-18. Aircraft operating over the Eastern half of China can utilize the Ka satellite ChinaSat-16 and then switch to APSTAR-6D when flying West. Obviously, hybrid service would require a dual band antenna which is more costly.
Some airlines may not require a hybrid. China-backed FTS Technologies' Ka-band IFC system, for instance, is now live, supporting broadband transmissions for passengers on a Qingdao Airlines A320, using ChinaSat-16 capacity.
Viasat and Gilat, meanwhile, are among the firms with hybrid antenna hardware solutions on offer.
Featured image credited to istock.com/Leyn