New Territory garnered industry praise last year when it unveiled a new premium economy seat concept with a unique winged support system. It turns out that the so-called Interspace Aircraft Seat also caught the attention of French aerospace giant Safran, which has since agreed to bring the technology to market, saying the design "is a great innovation for privacy of passengers, even more so in the post-COVID-19 travel environment that's ahead of us".
A newly agreed partnership between Safran Seats and Universal Movement – the company founded by New Territory to focus on innovating for high-density aircraft cabins – will see Safran Seats take up the exclusive development and manufacturing of the Interspace portfolio across economy and premium economy/domestic business class. Safran Seats will also provide an upgradable retrofit solution for existing premium economy seats, allowing carriers to remove an existing seatback and fit the Interspace technology onto a fleet without replacing seat units.
"When we launched the Interspace seat last year, we had established a clear gap in the aerospace seating market with an innovative new design. We are thrilled to be partnering with a company as significant and accomplished as Safran to bring this portfolio of products to market," said Universal Movement founder Luke Miles in a statement.
The original design of the Interspace Aircraft Seat is unique in a number of ways. Two padded wings fold out from the seatback, allowing passengers to rotate and lean on a cushioned surface to rest or sleep.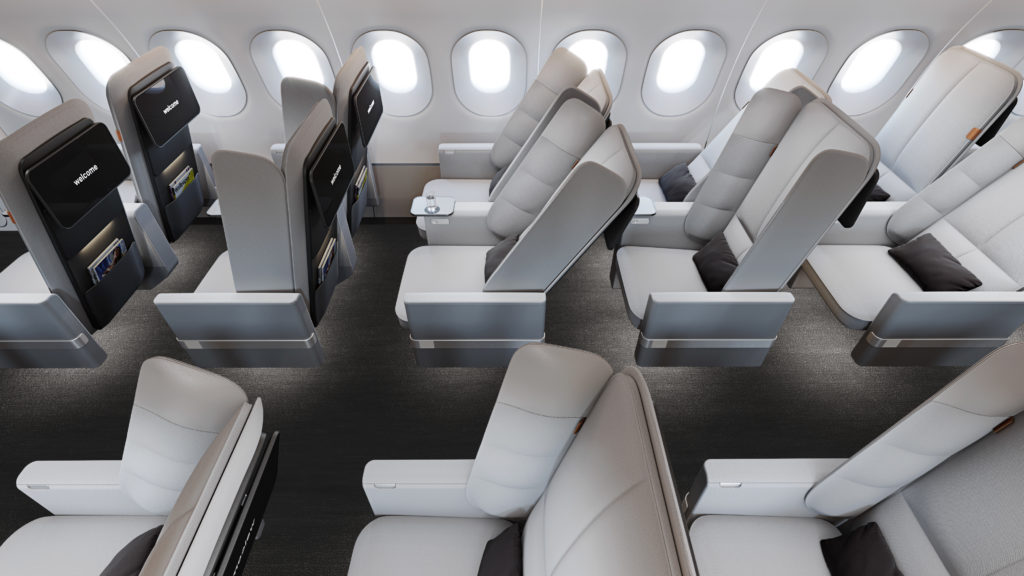 Passengers can also deploy one wing on either side of multiple adjacent seats to suit their own sleeping preferences or to create a private zone for couples, families and friends traveling together. The wings have 'living hinges' so that they can be easily folded back into the chair's upholstery and replaced in service.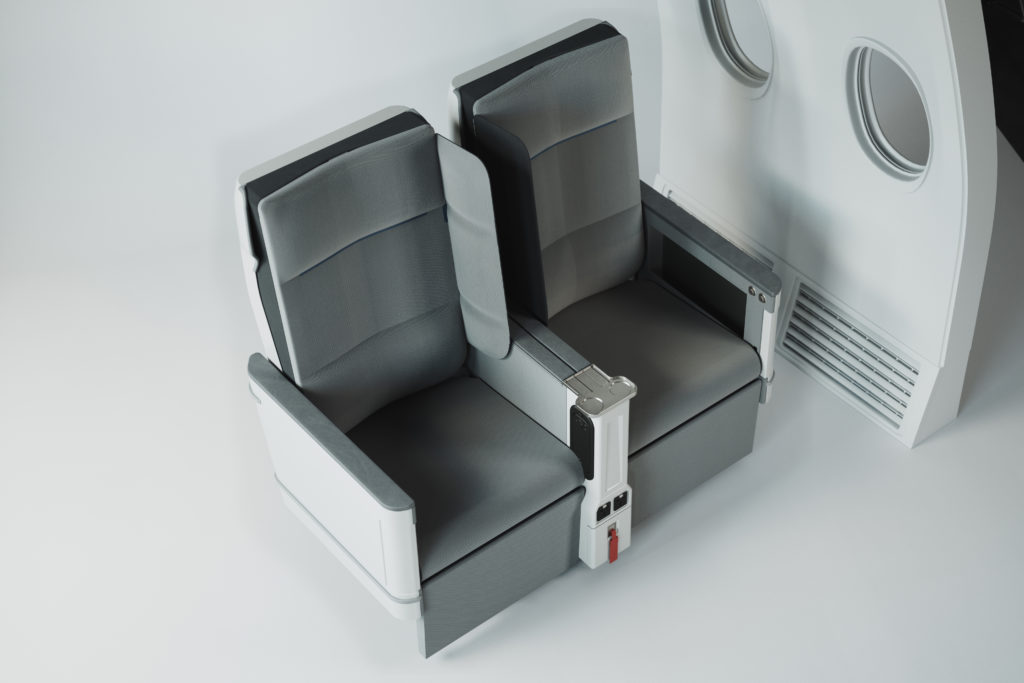 But a new edition of the seat, known as Interspace 'Lite' for economy class, will also be manufactured by Safran Seats. Pictured at the very top of this post and directly below, Interspace Lite gives airlines flexibility to easily reconfigure their economy cabins by providing delineation and privacy between passengers by locking out either the central or outboard seats of a row, according to Safran Seats and Universal Movement.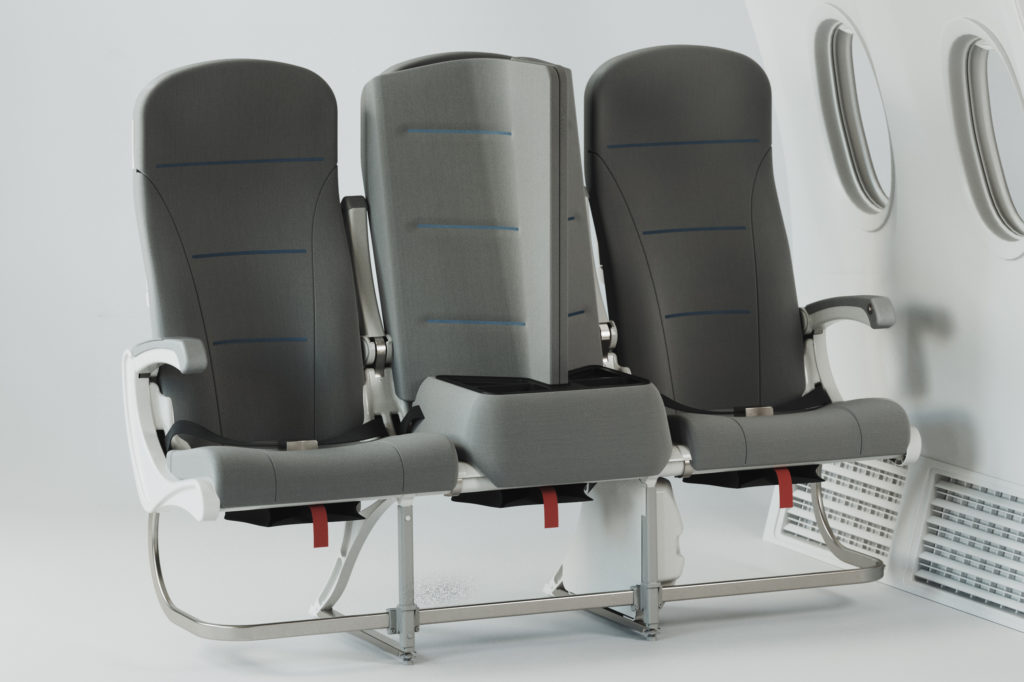 Explaining the driver behind the decision to launch Interspace Lite, Miles said: "With the travel industry severely affected by the spread of coronavirus, we have also sought to provide a solution through the Interspace Lite solution that could allow airlines to get back on their feet much sooner than if standard aircraft seating were to remain the same.
"Our partnership with Safran is a significant step in helping support the industry and also make planes a much more comfortable space for passengers when they look to travel again in the future."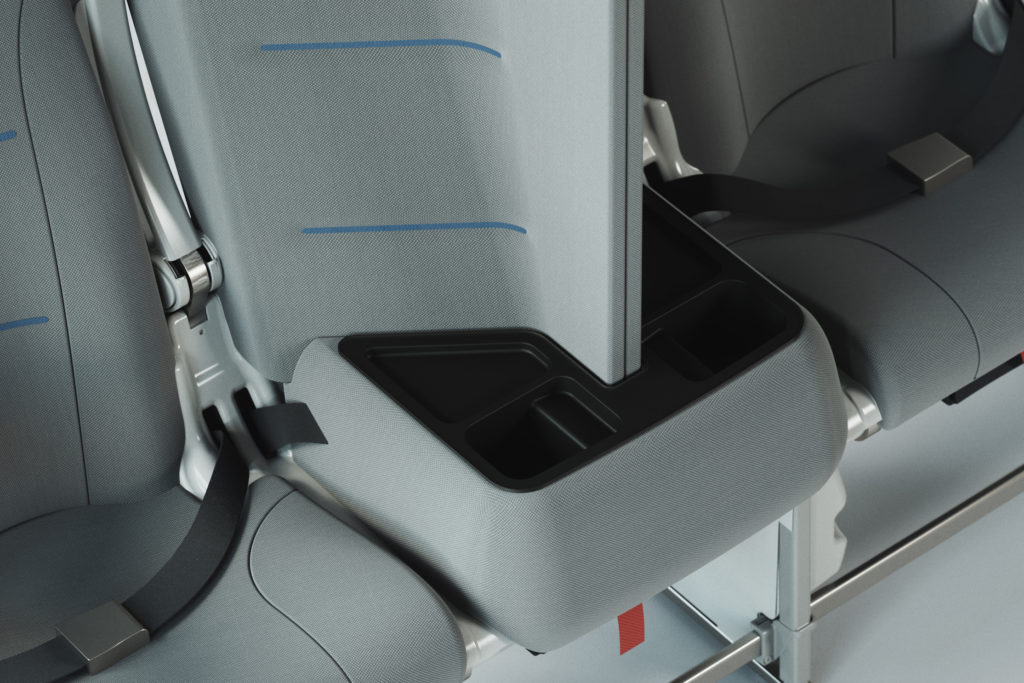 Safran Seats and Universal Movement said their collaboration on the Interspace portfolio is a response to "the urgent need to provide flexible solutions to customers' aircraft seating configurations in both the economy and premium economy cabins". Manufacturing for both the Lite and premium economy upgrade products is set to begin in early summer of this year, with supply and kitting tailored to meet demand thereafter.
In recent weeks, aircraft interiors designers and manufacturers have tabled a variety of new economy class seat isolation screens, dividers and headrests to better facilitate onboard social distancing and privacy for passengers. Thus far, we've seen ideas from Italian seatmaker Aviointeriors, UK design firm Factorydesign, French firm Earthbay, and two separate California-based stakeholders – Aerofoam and Reinhold.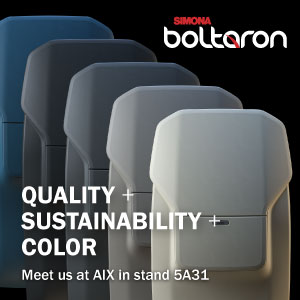 In addition to the Interspace design, Safran Seats said today it is offering further innovations to support airlines in a post-COVID-19 environment. It has developed "Travel Safe by Safran Seats", a broad set of patented solutions that are articulated around three families of objectives: social distancing without loss of density, touchless interactions and virus free surfaces.
Safran Seats explained in a statement: "To respect social distancing, Travel Safe offers equipment such as a Ringfence, a simple and efficient removable partition that isolates neighboring passengers. Likewise, Travel Safe touchless interaction equipment [offer] touchless door actuation or pedal actuation of backrest recline. Finally, virus free incorporates a wide set of seats and [a] tray table coating range which facilitates disinfection and cleaning."
Safran Seats is also offering a new co-creation service to support its customers. Called "Create with Safran Seats", the service is specifically designed to envision, create, assess and converge on new solutions for airlines in a short period of time, and will lead to customized seats adapted to the post-pandemic world.
Related Articles: