There's something delightfully comforting about riding a slow train through the mountains, and even more so when it's one of Japan's "joyful trains", the tourist-focused special services that use dedicated — or semi-dedicated — rolling stock to deliver a memorable passenger experience.
One of the most famous joyful trains is the SL (Steam Locomotive) Ginga, which has trundled up and down the Kamaishi Line in Japan's Tohoku region since 2014, as one of the JR East railway company's many initiatives to revitalize the region after the triple disaster of March 2011. Its destination, Kamaishi, was one of the harbor ports most heavily damaged in the tsunami.
As a measure to prevent the spread of COVID-19, the joyful trains have been cancelled until the end of May. But a pre-pandemic trip aboard the SL Ginga served as a great reminder of how transport industry stakeholders can create cultural and thought-provoking passenger experiences.
SL Ginga, meaning "galaxy", is themed around the classic 1920s fantasy novella Night on the Galactic Railroad, by local author Miyazawa Kenji — which is both a children's story and a work of pensive philosophy, working on multiple levels like a sort of Japanese version of Antoine de Saint-Exupéry's The Little Prince.
The carriages behind the locomotive are of modern build and of modern rebuild, with the passenger space perhaps surprisingly based on a set of four KiHa 141 diesel railcars from the 1990s, allowing them to provide additional traction for the 1930s Class C58 steam engine on steeper sections of the mountain track.
Inside, the passenger experience is a delight, with four-square booth seating throughout and a lovely lounge area that also sells souvenirs, bento boxes, snacks and drinks, many of which are commemorative. There is also, following the galaxy theme, a mini-planetarium, of all things.
On a crisp, clear November weekend, the train was packed with travelers, some in traditional Japanese kimono, most in groups of family and friends. It always strikes me as fascinating how many small groups of three or four middle-aged or elderly Japanese women enjoy the joyful train experience — in many other cultures, railfan activities tend to be gendered towards being experiences for men.
The warm and friendly passenger experience isn't just on the train, though: at most stations where the train stops, a small group of people comes out, often with a banner, to wave to passengers. The groups are made up of a variety of folk, from local volunteers from tourism promotion and welcoming committees, staffers from the railway and from the tourist office, to local farmers, growers and artisans offering fresh seasonal produce for sale.
Riding a joyful train, seeing the smiles of fellow passengers, and making memories — it's a quintessentially delightful experience, and each one makes me think about how airlines could get into this action as well.
The response both from #AvGeek fans and from everyday air travelers to special liveries and retrojets, not to mention the success of initiatives like EVA Air's Hello Kitty services, all make it clear that there is an appetite for this sort of thing in aviation.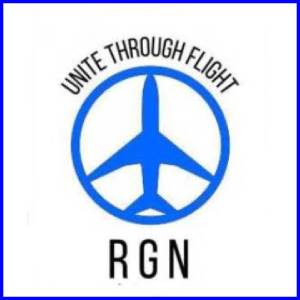 EVA's Hello Kitty (and other Sanrio character family) aircraft are primarily themed via liveries on the outside, with a substantial amount of soft product design from cabin crew aprons to Hello Kitty toilet paper and everything in between, and a small bit of medium-hard product like character artwork in frames on bulkheads.
This sort of investment is relatively easy to implement: it just takes some initiative, and an understanding of balance, not least since in the commercial aviation context not every passenger will be interested in participating.
But the opt-in options are certainly possible: theming common areas of the aircraft, for example, with works of art or even poetry. These could include "read more" QR codes, or directions to audio, video or reading programming on the inflight entertainment system or via inflight connectivity.
Gate areas, too, could see some theming, in the same way as stations do: why not some roll-up displays with information and some links to download reading material before departure? Or partnering with airport volunteer groups to read stories to children before boarding?
A brief addition to the onboard announcement could also draw passengers' attention: "as you may have noticed, our aircraft today celebrates the works of [insert author, playwright or poet here]. You can find more at [website], together with documentaries and adaptations of [insert famous works here] in the special section on your inflight entertainment screen."
Airlines wanting to get more creative within the bounds of onboard practicality could install low-power, low-maintenance gobo lighting, projectors, or similar: imagine a SL Ginga-style planetarium show on the ceiling of the cabin or in a doors area during an overnight flight.
Ambassador crew could get in on the action too, perhaps reading to children or passing out little booklets with some shorter works. And with new display technology heading for the cabin and some imagination, the sky really could be the limit for creating memorable passenger experience.
Related Articles: