The launch of a magnesium alloy-based aircraft seat is revolutionary given that the material, while always promising, was previously banned as flammability concerns were addressed.
During the Singapore Airshow earlier this year, ST Engineering debuted a long-haul economy class seat concept, which it positions as the industry's first seat to have magnesium alloy as constituting the majority of its weight.
For example, whereas a traditional aluminium alloy seat spreader weighs 874 grams, the magnesium alloy seat spreader weighs 550 grams – 37% less.
The frame, legs and seat tubes are also magnesium alloy.
The unnamed seat prototype is approximately 12kg and ST aims to reduce it further to approximately 11kg, such as by replacing the current aluminium seat pan with a carbon fibre version.
The baggage bar is also currently aluminium.
Other considerations will also evolve the design. "We want to replace plastic components with something more sustainable," says ST Engineering VP commercial business Hean Seng Tan, noting that the tray table requires the most use of plastic, but also small plastic fasteners may be targeted for a replacement material.
Tan is mindful of potential trade-offs. "This has to be holistic. The new component can't be heavier and then have a larger carbon footprint."
Certification could be within 12-18 months and will first be pursued with EASA, following ST's usual certification route.
While magnesium is used for external aircraft components including engines, it was banned for interior cabin use due to flammability concerns. The Society of Automotive Engineers, which also makes standards for aviation, in 2015 changed an outright ban to a new rule permitting magnesium alloys in accordance with FAA regulations.
This was achieved in part due to multi-year work from British company Magnesium Elektron.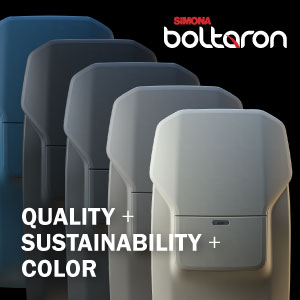 The ban's lifting did not prompt ST's aircraft interiors division to explore magnesium. "Quite frankly we weren't looking at," says Tan. Instead it was another ST division that highlighted the material. "When they saw we were doing work with seats, they suggested it." That conversation occurred only in 2018, leading to a relatively quick prototype. Tan says the seat's magnesium alloy components have been made to FAA flammability performance requirements in line with the changed rule.
ST does not have to keep its alloy blend exclusive as a unique selling point. "We're open to other potential business models," says Tan. "We could license the technology and collaborate with others, like Safran." Perhaps unstated is that ST is a young but growing supplier of cabin interiors, and may find greater take-up if it partners with an incumbent.
Magnesium has been promoted as being passenger-friendly, such as if it is used for premium cabin tray tables, which are currently heavy. Magnesium is also considered less brittle than aluminium, a positive factor for crash requirements.
Tan says ST's immediate interest in magnesium is to achieve weight savings in economy. "Some of the properties are stronger than aluminium. In today's requirement of 16g [dynamic testing], it's already excessive," he says.
Magnesium is relatively abundant in the earth, but manufacturing costs have been high. "That's been a barrier to entry," says Tan, explaining that ST has been able to reduce production expenses but cannot disclose how.
Side by side, an aluminium alloy and magnesium alloy spreader look similar. Depending on lighting, some may find magnesium alloy to have a subtle yellow tint. But when picking up the samples and judging based on weight, there is no mistaking the difference.
Related Articles: