Even before the coronavirus was named a pandemic and airlines found themselves at the center of the storm, inflight wellness was having a serious moment in aviation. Panasonic Avionics, for instance, went big on wellness, tabling ideas for everything from noise-cancelling seats and programmable lighting to an air cleansing solution. Some airlines adopted wellness menus or provided guided stretching instructions in-flight, especially as more ultra-longhaul flights were in the works.
Recognizing this fast-growing trend, Inflight Dublin has now launched EASE: Wellness Breathing Exercise, a customizable application for IFE which aims to instill a calming and positive experience for passengers.
A content service provider (CSP) to airlines, and a purveyor of wireless IFE solutions, Inflight Dublin describes EASE as a "user-centered, brand-aligned breathing exercise that helps anxious travelers feel more relaxed during their flight."
The EASE application, which can be housed on any wireless or seatback IFE platform, adopts binaural beats (audio frequencies), resonant breathing techniques (slow relaxed diaphragmatic breathing), and comforting visuals.
The application is fully customizable insofar as any airline's logo, color palette and typography can be incorporated to reflect its brand.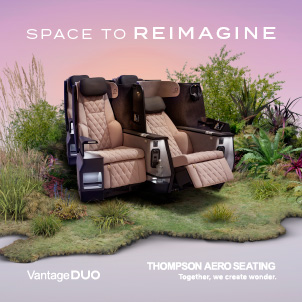 Air travel is obviously in a major slump due to the COVID-19 pandemic, but Inflight Dublin has clearly not put the brakes on delivering innovative new products to its airline clients.
An Inflight Dublin spokeswoman tells Runway Girl Network that the Irish firm has been working on EASE for quite a while "and feel it is the perfect time to release it considering these tough times and the need to look after our wellbeing".
Inflight Dublin CEO John White adds in a statement: "I am proud of the Inflight Dublin team for continuing to innovate and creating something positive during such a tough time for the industry."
Other wellness innovations are sure to emerge. Panasonic has vowed to draw from a wide range of partners from the health, wellness and biometric industries to bolster its wellness portfolio.
Related Articles: