Having only just celebrated the successful third launch of its Low Earth Orbit satellites, OneWeb has voluntarily filed for Chapter 11 bankruptcy protection in New York and reduced its workforce, citing difficulty in obtaining funding amid the coronavirus crisis. The company plans to pursue a sale of the business.
"Since the beginning of the year, OneWeb had been engaged in advanced negotiations regarding investment that would fully fund the company through its deployment and commercial launch. While the company was close to obtaining financing, the process did not progress because of the financial impact and market turbulence related to the spread of COVID-19," says OneWeb in a statement.
Its Chapter 11 filing on 27 March came after OneWeb failed to secure new funding from its biggest backer, Japan's SoftBank, reports the Financial Times.
In December 2019, Satellite Mobility World magazine went for OneWeb's jugular, warning that Softbank's emphasis on profitability, not growth, would be bad news for the forthcoming LEO constellation.
OneWeb says it is seeking approval from the bankruptcy court for the consensual use of its existing cash collateral to continue to fund the business. It is also actively negotiating debtor-in-possession financing, which, if acquired and approved by the court, will ensure it is able to fund additional financial commitments as it conducts "a sale process under the bankruptcy code".
"Together, these actions will allow OneWeb to meet post-petition obligations to its remaining employees and certain vendors in the ordinary course," it says.
To date, OneWeb has successfully launched 74 satellites as part of its constellation, which envisages a total 650 satellites in Low Earth Orbit. Its assets also include valuable global spectrum.
Development of user terminals for a variety of customer markets – including aero – had either begun or was set to start, and half of OneWeb's 44 ground stations were completed or in development.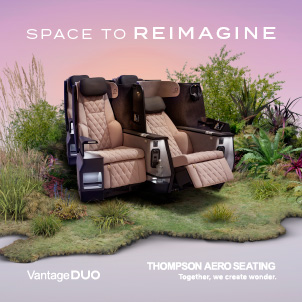 An investor in OneWeb via parent EchoStar, Hughes Network Systems recently told Runway Girl Network that it planned to provide OneWeb-powered low-latency service for mobility applications, including aviation connectivity. Hughes was building the gateway sites for the LEO constellation, and developing a core module for every OneWeb terminal.
Other investors in OneWeb include Virgin Group, Qualcomm and Airbus, the latter of which formed a joint venture with the communications company, OneWeb Satellites, to build the high volume of satellites required for the LEO constellation.
OneWeb CEO Adrian Steckel in a statement says the firm hopes the Chapter 11 process will allow it to carve a path forward that leads to the completion of its mission to build a global constellation of LEO satellites and provide high-speed low latency broadband everywhere.
"It is with a very heavy heart that we have been forced to reduce our workforce and enter the Chapter 11 process while the company's remaining employees are focused on responsibly managing our nascent constellation and working with the court and investors," he says.
The satellite industry has seen a number of operators restructure until Chapter 11, including Iridium's founding company in 1999, and later Orbcomm, ICO Global Communications and Globalstar.
Related Articles: