As I enter Air Astana's brand new Airbus A321neoLR – the first in Central Asia – I immediately start to get a flavor for this re-engined narrowbody plying thin, long-haul routes.
Igor Danilov, an A321neoLR captain, is there to greet me, lauding the commonality of the A320neo family, and noting that A320neo pilots are able to train for the A321neoLR on the Internet.
"Flying this aircraft feels very enjoyable," he proclaims. "It has a good environment, nice atmosphere and design."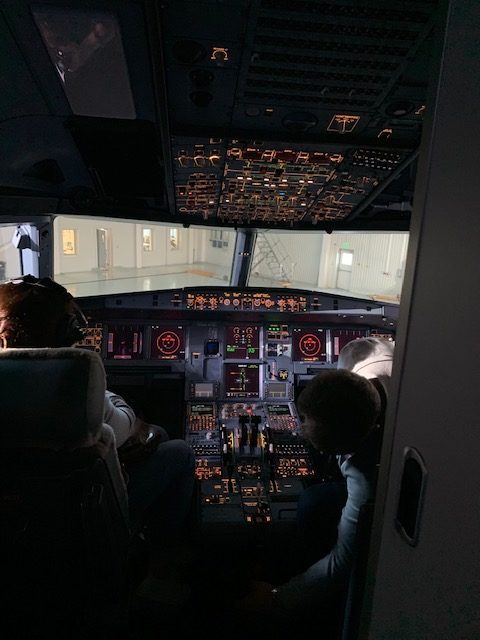 The A321neoLR is parked at a hangar at Kazakhstan's Nursultan Nazarbayev International Airport. It has already been combed over by rich and famous passengers, but now it's media's turn. Boarding music created by the famous Kazakhstani composer and musician Assylbek Yensepov is being played. I also get a whiff of a light aroma; it's produced by Callington. It's a nice touch, reminding us of the carrier's Kazakh identity.
By year-end, a line of cosmetics with a signature fragrance developed especially for Air Astana will be introduced in the lavatories on board. The brand has not yet been disclosed.
Dave Bourdages, vice president of inflight services at Air Transat, recently declared that the A321LR is a "Goldilocks" aircraft that is neither too big nor too small for many destinations. So, I asked Air Astana president and CEO Peter Foster if he agrees with Bourdages.
Foster is unambiguous. "We are the Goldilocks with stilettos!"
For starters, the business class cabin has 16 luxurious Thompson Aero lie-flat seats. One can enjoy a range of content on the 16-inch IFE screens, which are known as RAVE and produced by Safran Passenger Innovations (formerly Zii).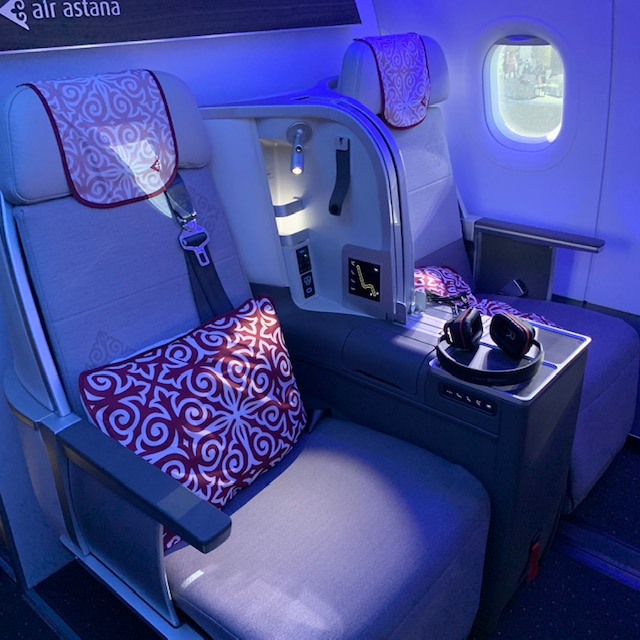 The first of seven A321neoLR twinjets on order by Air Astana, this aircraft has all the wiring in place to accommodate inflight connectivity, but it is not connected yet. Margaret Phelan, vice president inflight services explains: "We haven't felt passengers really want it as yet."
However, wifi is offered on board Air Astana's three late-model Boeing 767-300ER widebody aircraft. Collins Aerospace is the integrator and inflight ISP for the 767s, and Inmarsat's GX Ka-band connectivity powers the service.
The data packages cost from $5 to $15 on the 767s, but these will soon be changed to flight passes versus the current MB allotments on offer. Phelan says this model is likely to get "a better reaction from passengers".
I'm told that Air Astana pays an average of $13,000 a month to Collins for the service. It's the type of information that's not often publicly shared by airlines so I am grateful for the transparency.
Intriguingly, Phelan reveals that Air Astana is in talks with Panasonic Avionics about its Ku-band connectivity solution for the A32neoLR.
The jewel in the crown in the A32neoLR business class cabin is the solitary throne seats, which Foster says "offer splendid isolation". Unlike the 767s, which he says have flimsy tray tables, the A32neoLR tables are larger and more ergonomically designed. Once the A32neoLR is in revenue service for a spell, Air Astana is likely to charge a higher fare for the throne seats.
"There is no better premium product in the world today (as Air Astana's on the A 321LR)," insists Foster. Other airlines and passengers might disagree, but the CEO can't be faulted for his enthusiasm. The cabin is, after all, very nice indeed.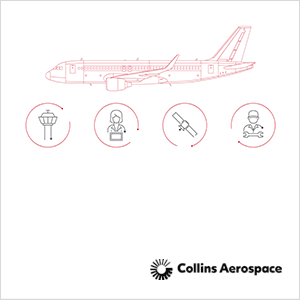 Amenity kits are offered to business class passengers on all medium- and long-haul international flights into Kazakhstan. They are made by Italian luggage design Brics. Kits from Radly, an English brand, are offered on outbound flights, ensuring a nice mix.
The Brics bag contains cosmetics from US brand La Mer. Passengers also receive an exclusive 20% discount for all Brics products when they purchase goods from the company's online store. Meanwhile, cosmetics from French brand Payot are part of the Radley kit.
Sandwiched between business and economy class is Air Astrana's so-called 'Sleeper Class'. Two rows of Recaro-made economy seats (12 in total) are dedicated to this unique offering; three seats are sold to one passenger, and a mattress topper facilitates sleep across each seat triple.
RAVE IFE is, of course, also on offer. The product features a variety of other amenities, including a duvet, amenity kit and an upgraded dining service, says Phelan.
The 150-seat economy cabin isn't left in the cold; each Recaro seat has a 10-inch IFE screen.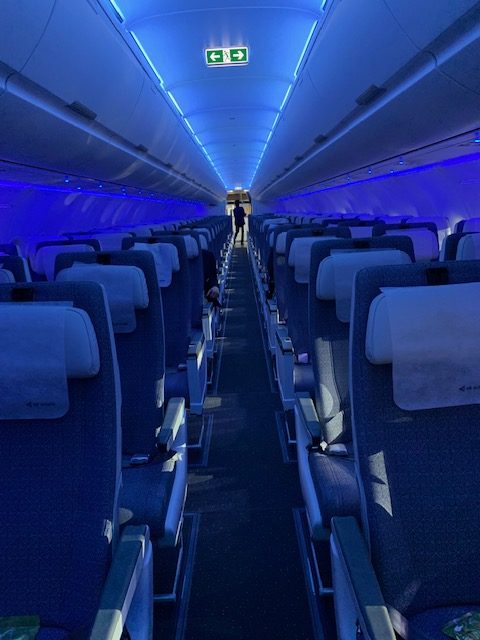 The design of the interior trim, curtains and seat covers for all classes reflect a clear national identity. The galley configuration has the Smart-Lav modular lavs. Facing them is the third lav, which is blessedly accessible to passengers with reduced mobility.
Phelan says: "It is a myth the lavs are tiny. We are putting all fears to rest that this small space cannot fit the biggest and tallest of people."
Time will tell if passengers agree, but Air Astana is certainly doing its country proud with this A321neoLR rollout.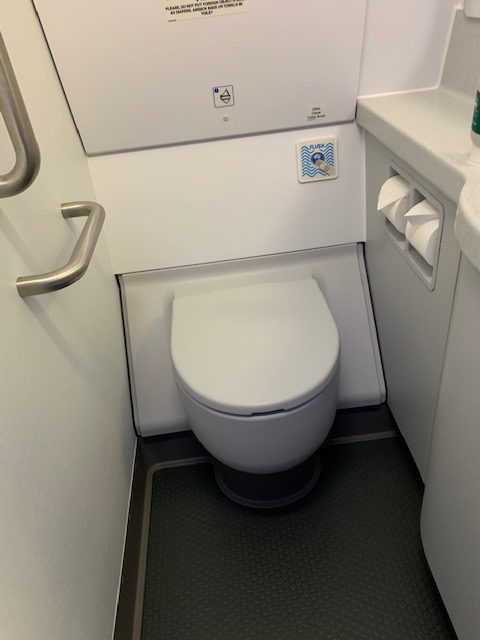 All images are credited to the author, Neelam Mathews
Related Articles: