Etihad Airways is known for opulence with its A380's Residence and spacious first class, but it also has a quieter cost-conscious side. That same A380 has 415 economy seats, giving Etihad one of the densest A380s.
Etihad's frugality is becoming more prominent under new management, and could take a leap as Etihad partners with UAE low-cost carrier Air Arabia to have a new LCC based at Etihad's home of Abu Dhabi.
This seems to be one of the low-cost/full-service dual-brand strategies practiced globally. More locally, it would copy in Abu Dhabi what is occurring an hour south in Dubai with the successful Emirates-flydubai partnership. Etihad Group CEO Tony Douglas said the new LCC, called Air Arabia Abu Dhabi, will be "supplementing our own services".
Etihad recently slimmed down its short-haul economy offering, forgoing embedded seatback screens and simplifying inflight meals. This raises questions about how Etihad and Air Arabia will segment or overlap, and if they can rival the Emirates-flydubai passenger experience.
Air Arabia is a more traditional LCC with simple seat covers, no embedded IFE, and minimal branding. Dubai-based flydubai started with a premium edge, being the launch customer of the Boeing Sky Interior and first to operate the now-defunct Lumexis embedded IFE (for a charge). It hybridized with recliner-style business seats and then lie-flat business seats. Besides the commercial opportunities, being a Dubai-based airline may require higher standards than the typical LCC.
Emirates passengers on flydubai receive complimentary baggage, IFE and meals, which Etihad and Air Arabia could also offer, IT permitting. The Emirates-flydubai partnership works for passengers because the separate brands can offer a premium experience. Air Arabia is new to premium.
Partnership fundamentals are different. Emirates only flies widebodies, leaving large space for flydubai. In contrast, Etihad – and the third Gulf connector, Qatar – already has narrowbodies, perhaps limiting Air Arabia's opportunities.
Abu Dhabi has significantly smaller demand than Dubai. Flydubai carries connecting Emirates passengers, but they are the minority. Flydubai stands on its own, bringing passengers to and from Dubai or connecting between flydubai flights.
Short-haul flying means the ground experience comprises a greater share of the overall journey. Air Arabia may have multiple ground experience options since Abu Dhabi's midfield terminal will open next year. All airlines will move there, vacating existing terminals.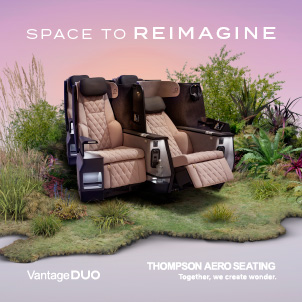 Influencing commercial functions and the passenger experience will be Air Arabia Abu Dhabi's undisclosed ownership structure, although Etihad and Air Arabia say the board will have representatives from each airline.
There is a view that Air Arabia Abu Dhabi may be narrow in scope and used to replace Etihad's former partner Jet Airways on low-yielding routes to India. Often the largest differential between low-cost and full-service is cabin density. Etihad is increasing its dual-class A320s from 136 seats to 158. Before the introduction of Airbus' Space-Flex option, 180 was the norm for a LCC A320, but Air Arabia opted for 174 seats in a single cabin.
Compared to an Etihad A320, an Air Arabia Abu Dhabi A320 could have 16 additional seats and lower fixed costs inherited from Air Arabia's LCC pedigree. But that will need to be offset by having an entirely new airline, requiring some duplicated jobs and overhead. There are other disadvantages: Etihad may not have total control and will have to share any eventual profits.
Air Arabia Abu Dhabi will have to prove the merits of a standalone airline. The alternative is that it would likely be cheaper for Etihad and better for passengers if Etihad had a mono-class sub-fleet that used Etihad's brand.
Related Articles: