Singapore Airlines (SIA) has become the world's first airline to host a live TV news broadcast from on board a commercial A380 flight powered by SITAONAIR's high-speed Internet ONAIR over GX Aviation.
The broadcast by Sky Sports featured live interviews with the Alfa Romeo team travelling from Zurich to Singapore on board flight SQ346 for this year's FORMULA 1 SINGAPORE AIRLINES SINGAPORE GRAND PRIX 2019. Fans on the ground were able to watch live as the team discussed what life is like in the sky, travelling to world-class racing destinations, while staying connected to their lives on the ground.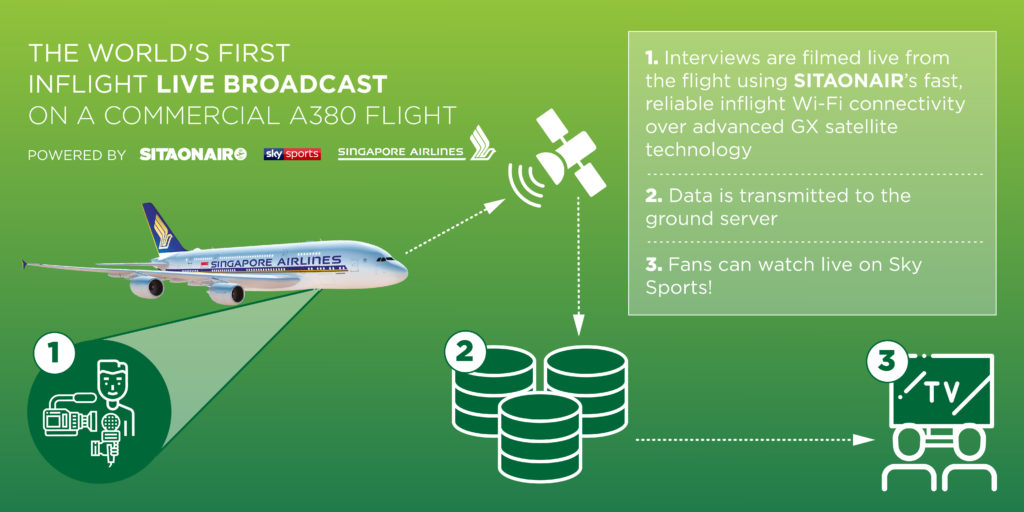 Singapore Airlines is able to keep its customers connected through SITAONAIR's high-speed, reliable and advanced inflight connectivity portal, Internet ONAIR, powered by Link ONAIR over Inmarsat's GX Aviation satellite network. A first of its kind, the live broadcast truly demonstrated how SITAONAIR supports the airline in providing 'always-on', reliable connectivity for passengers who need to keep in contact with work and loved ones.
As a long-standing SITAONAIR customer, Singapore Airlines is committed to providing best-in-class inflight connectivity. The airline adopted SITAONAIR's Internet ONAIR and Mobile ONAIR services in 2017, which are designed to provide super-fast and uninterrupted connection over land or sea.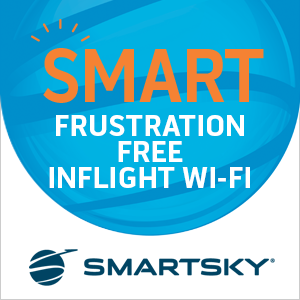 SITAONAIR's Commercial Regional VP Asia-Pacific, Katrina Korzenowski, comments: "We're excited to support Singapore Airlines in this pioneering venture, bringing live broadcast interviews to fans on the ground from 35,000 feet! The event is a testament to SIA's dedication to outstanding passenger experience, as well as SITAONAIR's ever-evolving work with Inmarsat to provide highly reliable, advanced inflight connectivity to airlines throughout the globe."
About SITAONAIR
SITAONAIR is the air travel industry's trusted connected aircraft service expert, powering innovation with recognized expertise and future-proof solutions. With our unrivalled industry-backed heritage, SITAONAIR delivers the promises of the connected aircraft, empowering 400+ airlines, 60+ ANSPs and 17,000+ aircraft to navigate the complexity of connectivity with our best-in-class solutions and services for passengers, cockpit and cabin crew, flight operations, aircraft big data and air traffic management. We believe that embracing a digital shift will reinvent the operation of aircraft, flight and on-board experience – making it safer, more efficient and enjoyable.
SITAONAIR is a subsidiary of The SITA Group, the communications and IT solution provider that transforms air travel through technology for airlines, at airports and on aircraft.