It may sound like giant-antenna-pie-in-the-sky, but a growing number of aviation industry stakeholders are considering when and if it makes sense to more fully integrate electronically steerable antennas (ESA) into new-design aircraft fuselages with the aim of improving performance and dramatically reducing aerodynamic drag.
To be sure, some antenna-makers say they are already developing fuselage-mountable ESAs with optics that will be able to contour to the inner surface of low-profile antenna radomes atop commercial jets. But will we ultimately see truly integrated solutions for composite airliners?
"That's fully possible," said Collins Aerospace head of connectivity strategy Richard Nordstrom at the APEX EXPO in Los Angeles. "We know there's an OEM who's exploring that right now. Those particular types of approaches are very interesting and I think have a definite possibility in the future. Who knows? Maybe the antennas will be embedded in the wings. Maybe they'll be totally circular around the fuselage, but there's a lot of mechanical engineering that has to develop for that [to transpire]."
Broadening the antenna footprint on an aircraft in a bid to improve throughput, and to address other challenges might make sense down the road. But one major consideration when eyeing antennas for a structural role, noted Nordstrom, is that "that area of the fuselage would be susceptible to damage easier. And also some of those systems tend to take a very large amount of power, which means you might have to add an inch into the aircraft. I'm saying that facetiously, of course metaphorically, but it is a lot of power. And so I think those kind of potentials are definitely something to look forward to."
Just how embedded?
Conformal antennas, mounted or embedded in a curved surface, have been used for certain military applications for decades. So Collins Aerospace and the undisclosed OEM cited by Nordstrom are certainly not alone in mulling future possibilities in the commercial space.
Digital phased array antenna-maker Phasor, for example, is working to deliver a solid state, non-mechanical antenna system that is "not tail-mounted mechanical, not fuselage mounted" per say, but is "two inches off, two inches high and conformal to the aircraft and I can do, you know, multiple beam illumination and go to different satellite constellations," said president and CEO Dave Helfgott.
John Finney, the founder and CEO of antenna firm Isotropic Systems, this spring said Isotropic's optics will initially be conformal to the shape of the radome structure "so when the aircraft is trying to point to the horizon, even though half the array is no longer in view, what is left in view has a very large aperture area, and the optical devices are almost pointed straight to the satellite."
But Finney noted that there may be an opportunity with composite airframes to be truly conformal to the aircraft by potentially removing the radome altogether.
One of the most vocal proponents of such, Kymeta chief strategy officer Bill Marks last year suggested to RGN that in ten years "we will only see flat panels on planes and they will be all over", as there are "materials that are being thought about right now where you put the antenna inside and it will transmit through the skin of the airplane. So you know if you want to get the 600 Mbps, which they all want to do, we can't do it the way it is happening right now."
He added, "So the idea is that if you create a new standard, you can get 15 or 16 or 20 of these antennas, you can start thinking about incorporating it into the manufacturing."
Whether this vision is realistic remains to be seen.
Near-term focus on flat panels
But for Collins Aerospace, "right now our focus" is on a flat panel antenna for aero, stressed Nordstrom, and not on antenna-cum-aircraft.
Collins first unveiled its fuselage-mountable nextgen antenna at the 2017 APEX EXPO. Though Nordstrom would not be drawn on fresh details about the system at this year's show, he assured that Collins is "looking at a transformation point" for the hardware and "we're not that far away".
"We think we have, how can we say, a technology and focus which is in the right place," he added.
RGN pressed Nordstrom to clarify whether the Collins antenna is intended to support shared networks, such as LEO and GEO, as originally envisaged. (On an aside, the hybrid/shared network model might face an early challenge given the news that Intelsat has sued OneWeb, claiming breach of contract, and other allegations, as reported by SpaceNews.)
But Nordstrom remained tight-lipped, saying only in reference to Collins' flat panel work: "What I would say is the real focus would be more in LEO because that's where they're more inclined. That's where they bring the greatest benefit. I'm not just saying that. It's fact."
Speaking generally about the importance of having an ESA in aero for new LEO satellite communications, Nordstrom said:
If you're going to have a LEO-based constellation you almost, I would say, with the technology and presence and understanding we have today – and we have some really good engineers looking forward too – I would say you must have an electronically steered array antenna to talk with and communicate and optimize and take the advantages of a LEO system.

The GEO [satellites are] a little bit different. I think a lot of the standard antennas we see today, the ARINC 791 installations we see today, I think they work fine with the GEO, but when you're focused on a LEO, you really need to have that electronically steered array antenna. That's the way to go because then you really can unleash the power of the LEOs, so to speak, and remember you're not talking to two or three satellites on a flight. You're talking to hundreds. It's a game-changer.
To that end, industry is following the form factor of the new ARINC 792 standard for next generation low-profile antenna provisions. Collins Aerospace's antenna, for instance, is expected to adhere to the 792 spec.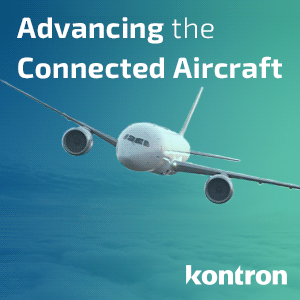 Going forward, Collins will be particularly well-placed to pursue military-to-commercial technology crossover studies once the merger of parent UTC and US defense contractor Raytheon is finalized.
"We're looking forward to that," said Collins' Nordstrom in broad reference to the ability to draw on Raytheon proficiencies. "There will be some of that undoubtedly; don't know what it is yet. But it goes the other way too. They'll look at what we're doing. There may be some tweaks to us and it goes both ways. It's a double benefit within the company and to our end users."
Of particular interest for Collins is the ability to take some of that military intelligence to make products which are more reasonably priced for the commercial space.
Related Articles:
Featured image credited to istock.com/Leyn