"You chose AA instead of a DL A220??!" That was the reaction from one #AvGeek on Twitter after reading that I chose to fly American Airlines from Dallas to New York LaGuardia instead of a Delta A220 that also frequents the route. Let me explain myself, fellow #AvGeek. I have my reasons!
For one thing, it turns out that close weekday bookings between New York and Dallas are stupid expensive, and Delta was even more stupid expensive than American. More to the point, though, is that American peppers in its pre-merger American A321s between Boeing 737-800s on this route.
The 32S, as it is known to American frequent flyers, is also known as "the good A321″.
Before American decided that seatback screens on narrowbody aircraft were unnecessary in a modern streaming world, it took delivery of a bunch of Airbus A320 family aircraft and 737-800s with Thales seatback IFE screens. The 32S is one of those lucky subfleets, and I wanted to try it out before it was too late. American will eventually begin removing these screens from all but a handful of A321s operating its premium transcontinental flights.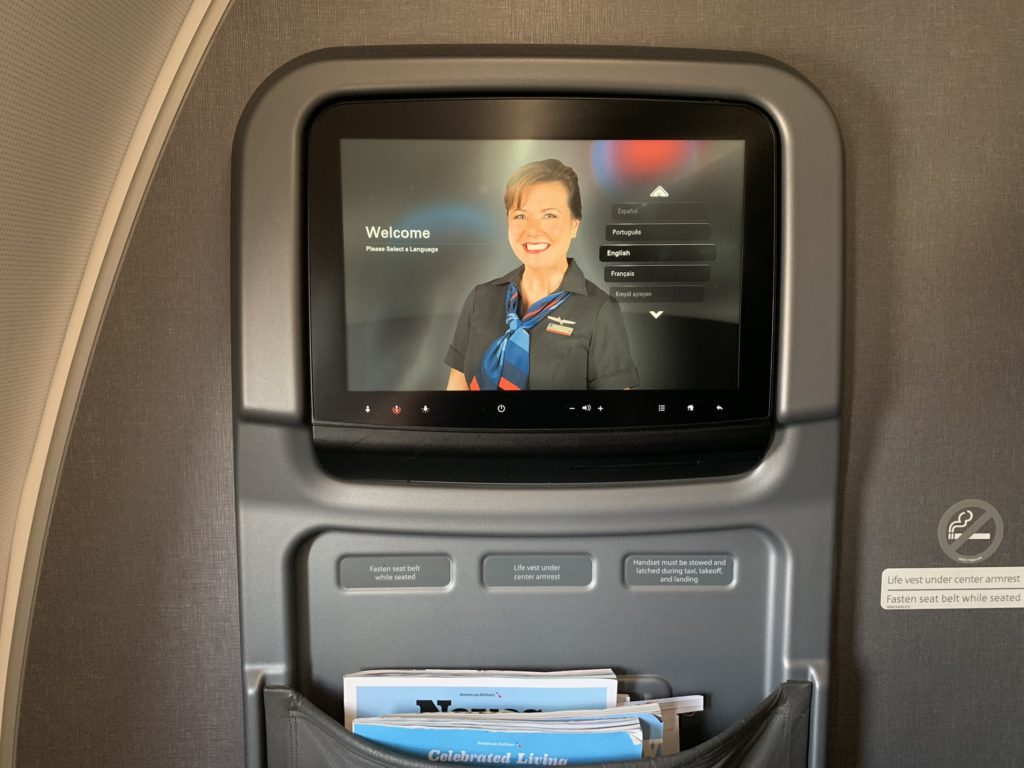 My flight to New York was initially departing from gate C35 at Dallas/Fort Worth International Airport, a part of the terminal with the ambience of a run-down bus station.
The inbound aircraft was running about 20 minutes behind schedule, and a last-minute gate change pushed our departure back a bit more. I never did get a push notification from American about that gate change, and only found out via the Flighty app. Boarding eventually began at the new gate after a few false starts and some sort of mechanical check.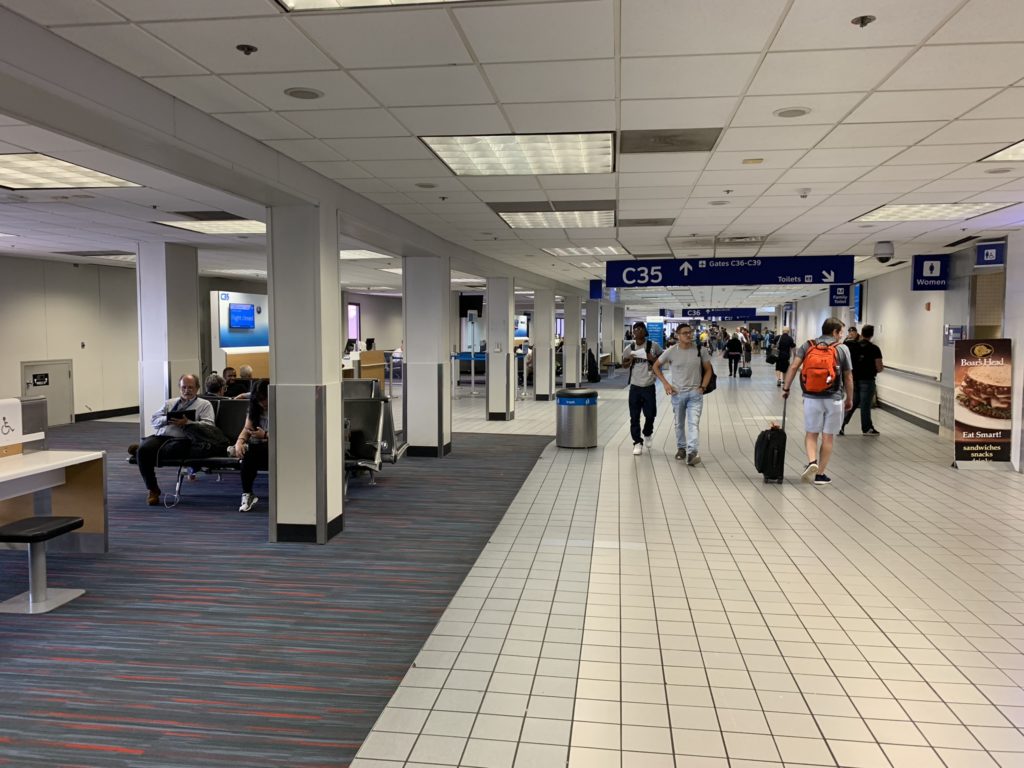 I made my way to seat 1A, having taken advantage of a post-booking paid upgrade offer. The seat is a typical First Class style recliner seat, fully featured with that precious seatback screen, AC power outlet, USB-A port, and that hilarious iPod input jack that few seem to have ever used.
Since we were already well behind schedule, the flight attendant looking after First Class passengers provided a pre-departure cup of water, forgoing a fuller service as to not further delay our departure. She said she would take good care of us once in the air, and she didn't disappoint.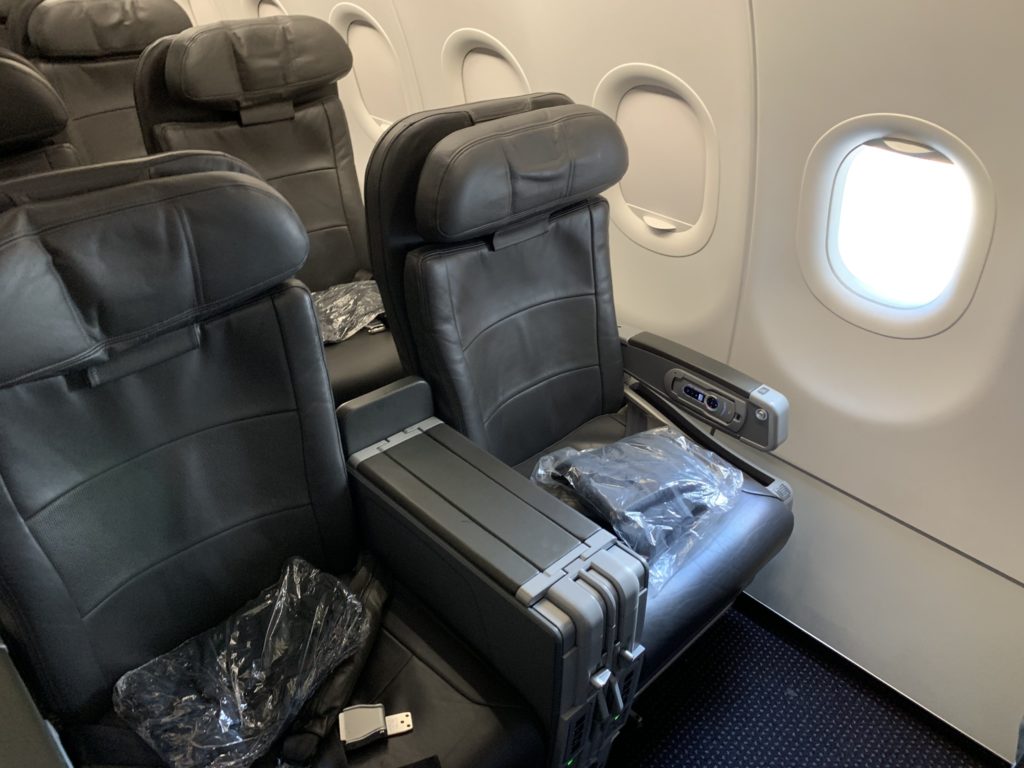 We took to the skies about 30 minutes late and our aircraft had to dodge a few pop-up thunderstorms just north of the airport. I took that time to browse the inflight entertainment system, which I found to feature an extremely impressive range of movies, rivaling the catalog offered by Delta. I opted to watch the just released Avengers: Endgame, which I noticed was not a title offered on the streaming system that was also on board. Early window content for the win!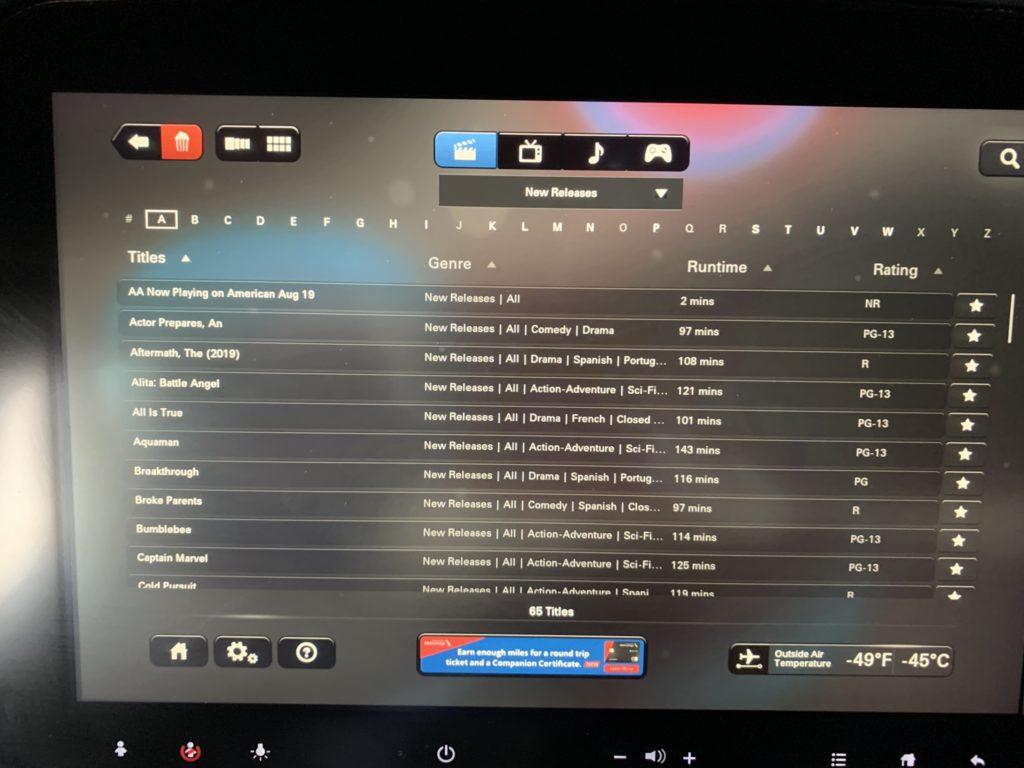 While American now offers live television on board, it was not integrated into the seatback system and was available for streaming only to your own device. The live latency was a bit better than the Gogo implementation on Delta, however, running with about a two minute lag rather than about five.
American very recently completed its fleet-wide broadband connectivity upgrade program, and the 32S fleet is outfitted with the latest Viasat Ka-band hardware. While the system operates gate-to-gate, it was noticeably pokey when on the ground at DFW with dozens of aircraft competing for megabits in the same spot.
Once in the air and past the $10 barrier to entry, this flight offered the fastest and most stable Wi-Fi I have ever used in the sky.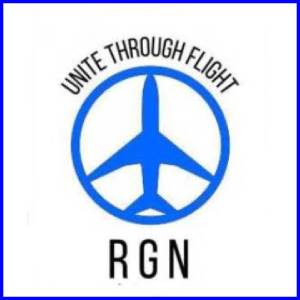 Download speeds hovered around 50-60 Mbps in the Speedtest.net app (yes, you read that right), while using Twitter appeared to be no different than the on-the-ground experience.
While Netflix appeared to have an open bandwidth pipe, other streaming video services such as YouTube hovered around 1 Mbps. This is enough for SD video, but HD video would have been pushing my luck.
I was unable to pre-order my meal on AA.com, but sitting in row one afforded me the chance to pick my first option, the beef short rib with a side of mac and cheese and shrimp coleslaw.
I wasn't expecting much, but the meal was outstanding. The short rib was tender, the mac and cheese had the right mac-to-cheese ratio, and the coleslaw was a great addition.
I'm not sure if this is a DFW speciality, but Texas did BBQ justice on this flight.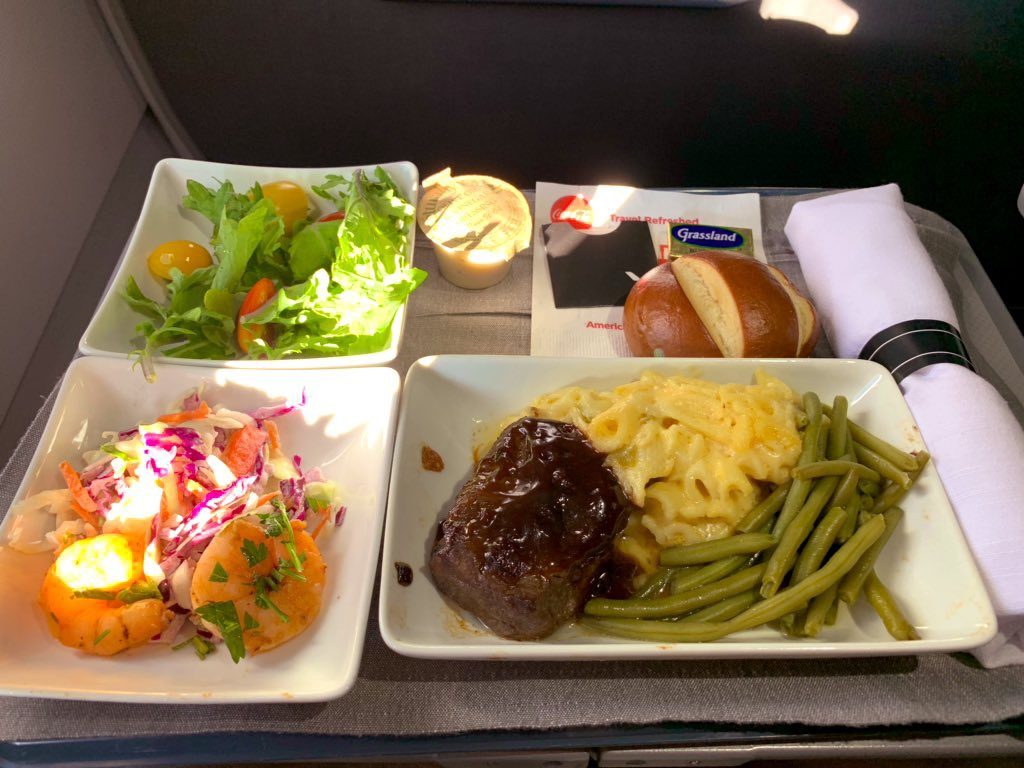 The dessert, two generous scoops of some sort of chocolate chip ice cream, was so good that I asked the flight attendant if she knew what brand it was. She didn't know, but remarked that she doesn't eat dairy products but cheats with this ice cream because it's so good.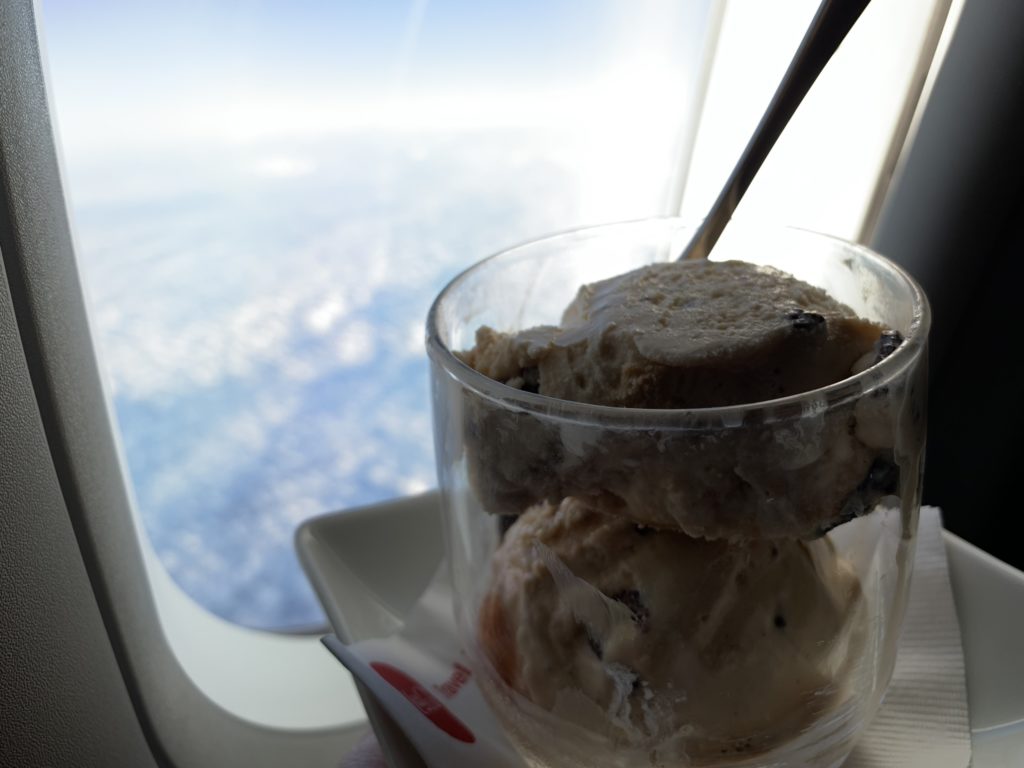 We landed at LaGuardia 30 minutes behind schedule, but a quick taxi to the gate and a prompt connection of the jet bridge had me home in 18 minutes – a new record!
It's a shame that American has decided against keeping seatback screens on narrowbody aircraft, as I personally feel it really elevates the experience. We travelers are accustomed to double- and triple-screening on the ground, after all.
Between the IFE, the stellar connection, and the delicious food, this was an ideal flight, despite the delay.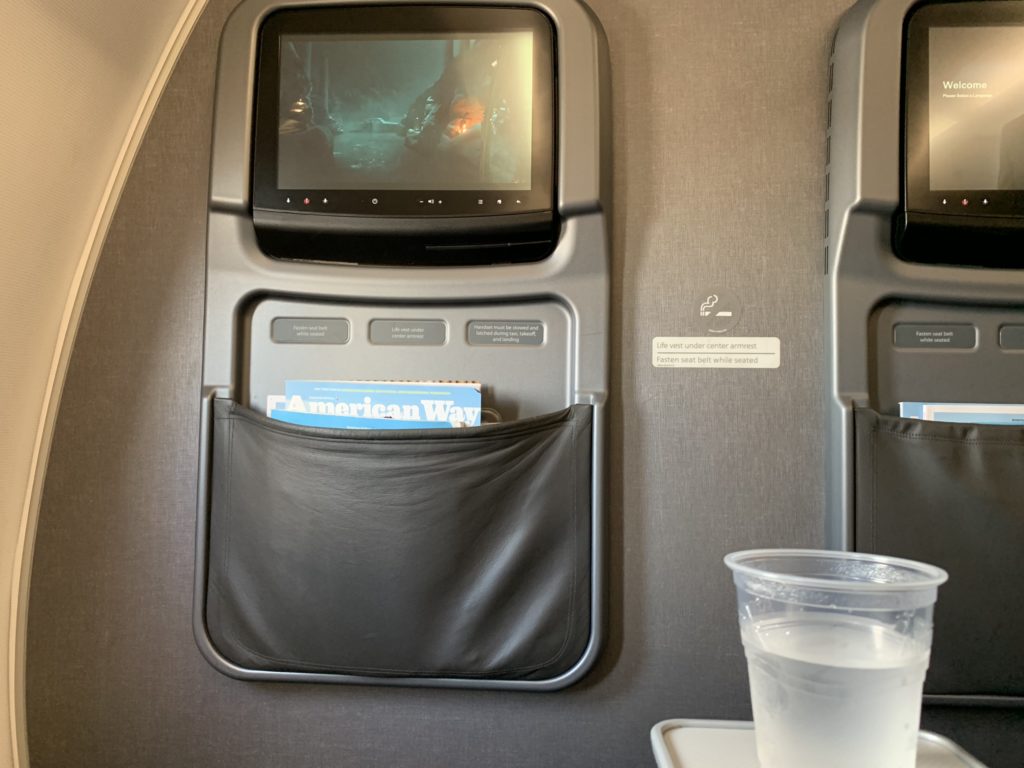 All images credited to the author, Jason Rabinowitz
Related Articles: