Bigger bins are big business in commercial aviation, even on little planes. Safran Cabin, the former Zodiac Aerospace, has been working for some years on making narrowbodies look, feel and stow luggage like widebodies, and now this movement is moving on to the regional aircraft space.
Most recently the new interior of the Mitsubishi SpaceJet impressed at the Paris Air Show with its sweeping swing-down bins, created by Safran. But the company is looking to roll out this new generation of clamshell-style bin products to even more aircraft, especially smaller ones.
"This is a distinctly Mitsubishi bin, but it uses a lot of the same patented technology that enables us to create more space, reduce weight, and to optimise the cabin space while holding considerably larger bags," Scott Savian, executive vice president at Safran Cabin, in charge of the company's design and innovation studio, tells Runway Girl Network. "We've been working on some advanced baggage solutions for quite some time, with multiple products that we've shown on the A320. We had an Embraer retrofit product we showed a couple of years ago under the ECOS name that we're still promoting."
At Safran, ECOS is the brand for this new generation of bins when it advertises them for the retrofit market, seeking to sell its new architecture to airlines looking to upgrade their older aircraft. That sell is also, Savian says, "a pretty easy conversation when we're showing the product" to OEMs [original equipment manufacturers].
When it comes to those aircraft manufacturers, however, Safran leaves the branding to them, making it somewhat complex to talk about this "ECOS generation" of bins, which vary slightly between airframers.
"As we move from airframe to airframe we generally have some differences in the structure of the aircraft itself," Savian explains. "The way the frames and the attach systems work can vary quite a bit. The system interface on the ECS [environmental control systems] and air ducting for the PSUs [passenger service units], things like this can vary wildly across aircraft, so the solution becomes unique in a Mitsubishi format specifically on how it mechanically works, but also how we give it their own look. Clearly it's a unique and, I think, very sophisticated-looking cabin for them."
The basic structure in the bins is shown in the nickname 'clamshells', and the essential difference between earlier generations is that there is no "box within a box" that contains the bag storage area. Instead, the top half is mounted to the aircraft structure and the bottom half moves upwards like the proverbial mollusc to close. The benefits are more space and less weight, thanks to less structure and new materials.
"We have a bunch of technologies on how we make that structure work, and then technologies on how we do pivoting mechanisms and latching that are patented and applied across all the versions" of the bins, Savian says. "You'll see all the bins we come out with in the future will be based on this technology. We think it makes a pretty good step forward. We're actively applying it."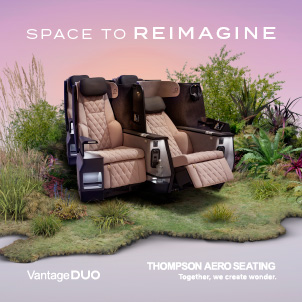 Interestingly, while Safran manufactures the bins and much of the rest of the new Atmosphère cabin for the CRJ, the regional jet previously marketed by Bombardier but recently purchased by Mitsubishi, Atmosphère isn't the ECOS generation of bin.
"That one happens to be a fixed shelf bin, and that bin is again about creating space and creating a better product than we have in the past on a fixed shell bin," Savian explains. "You can see in the pivots and doors and how the whole structure works, that that is a similar philosophy that we apply across fixed bins. "Atmosphère, I think, is a sensational campaign by Bombardier. We're very proud to make that bin for them."
The wider context around cabin branding is swirling around Safran. Boeing's Signature and Sky Interiors, Airbus' Airspace, Bombardier's Atmosphère, ATR's Armonia — all are excellent examples of the B2B2C, business-to-business-to-consumer, marketing that is growing within aviation. Yet the only aircraft interiors supplier company notably to brand its passenger-facing products has been Recaro, which has a signature brand mark on the twist-closure of its seatback tray tables.
So, is Safran interested in getting into this market (which would be B2B2B2C, one imagines)?
"When we do work for an OEM, the product is theirs. How they brand it is completely up to them, Savian says, making it clear that "for our OEM customers, we create unique solutions to best suit their aircraft — mechanical and systems interface, fuselage size — and cabin design. These OEM solutions employ our ECOS patented technologies to create leading solutions with measurable improvements. We do not endeavor to brand our OEM solutions as ECOS, rather the OEMs brand their aircraft as they see fit, often with the cabin as a key element."
The benefits, however, are measurable regardless of brand: space, capacity, weight, handloads, in addition to the look and feel benefits of having a higher cabin ceiling, particularly crucial on regional jets that are gaining range and flight duration, but also important on the narrowbodies that are flying longer and longer routes.
Where bin space is scarce, it can affect everything from the cabin feel to boarding duration and overall satisfaction, and innovation here is very welcome. Airbus' FACC bins for the A320 family and the A320neo Airspace cabin, Safran's work with the SpaceJet, ECOS and the CRJ Atmosphère — it's all helpful to get more thinking within the industry on how to solve the overhead bin puzzle.
Related Articles: