Just how much data will passengers need to consume during the life of the next generation of aircraft? And what kind of cabin infrastructure — and technologies — do airframers, airlines and suppliers need to think about putting in place now to ensure that they're futureproofed? Those are the questions that Air France and supplier Latécoère are hoping to answer with a new partnership to put fibre-optics and LED-based lifi in a cabin, which the companies plan to have flying in September.
The vision for the future, as Latécoère's vice president for research and technology Serge Berenger explains it to Runway Girl Network, is to replace the existing backbone of wireless access points for cabin connectivity, as well as those serving inflight entertainment in situations where screens exist.
"What we are developing is the infrastructure for data communication in the cabin. It's a combination of a backbone made of fibre optics and the last metre of communication, which is the lifi technology. Everything we've developed is based on this backbone approach," Berenger tells RGN. "It's going to first of all dramatically change and improve the bandwidth of communication in the cabin. That's going to change the life of the passenger. They will have a very high bandwidth internal to the cabin that will allow them to benefit from new services that will come over time."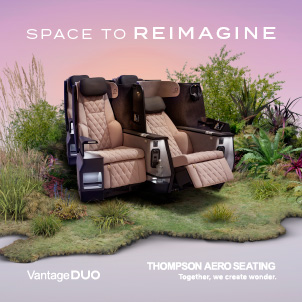 Today the technology can manage something like 100 Mbps, and soon 1 Gbps, per passenger, along the lines of performance of today's terrestrial fibre-optic Internet. But there are complex questions around the pathway for getting from a technology demonstrator in the wifi present to the lifi future, assumptions about future demand, predictions of a diminution of seatback inflight entertainment, and dependencies on the consumer personal electronic device industry adopting a lifi standard.
"The PED is going to, for most people, be the reference interface that they use today and that we think in the future will even grow," Berenger says, noting that he expects widespread adoption of lifi among consumer devices in the 2023-2025 timeframe.
With a round of airframe development expected towards the late 2020s, it would seem logical to consider the sort of backbone needed for future connectivity, especially for the shorthaul market.
The Latécoère-Air France backbone proposal is at the same time more limited in its cabin-only scope than Astronics' wider view of lifi's applications, but also wider in terms of planning to replace rather than complement wifi as the primary in-cabin wireless connectivity option.
But that future is not yet here.
Today, a dongle-type lifi receiver is mounted on the seatback, integrated with a Microsoft Surface tablet that Berenger assures RGN is certifiable, and from there personal entertainment devices can be connected using either Bluetooth or a cable. As ever with technology, the future may be full of stars, but in the meantime there are dongles on the horizon. On balance, it is unclear how persuasive a dongleful five to ten years will be for airlines and their passengers.
Berenger confirms that certification for an a first aircraft, in conjunction with Air France's in-house MRO, is ongoing, and that the Supplementary Type Certificate will include not only testing for the system itself but also full cabin testing around the head injury criterion and other criteria.
Related Articles: