As economy seat specialist Recaro goes from strength to strength, with a Red Dot Product Design award for its shorthaul BL3710 slimline and a Crystal Cabin Award for its fully featured CL3710 economy seat's sleeping concept — and, indeed, grew its revenue by 22 percent last year in the context of market growth of around five percent — it plans to invest further in research and development while retaining its selling points of reliability and delivery focus, chief executive Mark Hiller tells Runway Network.
"If we compare ourselves to others," Hiller says, "first of all we are looking at reliable solutions, not just crazy concepts. But we are also willing to adapt to the customer's needs. We see more or less in the market there are two extremes: the ones that are more startup oriented which go for really crazy ideas but missing robustness, industrialization, reliability, or the other ones who are more, I would say, manufacturers, that try to sell their standard product."
"What we see, and where we see our strength, is that we can somehow bridge the gap," Hiller explains, pointing to the firm's 'sleeping comfort above the clouds' product, designed to allow passengers to improve their body posture, change sleeping positions, and reduce pressure points, through the use of an extended seat bottom, flip cushion for lumbar support, and Abrazo headrest for side support and flexibility.
"The whole concept was to support sleeping," Hiller says. It's becoming more and more important, especially with ultra-long-range flights, like Project Sunrise, and everything that's out there."
Indeed, in April Airbus agreed to expand its supplier-furnished equipment range on the Airbus A320 family — given its increasing focus on longer haul flights with narrowbody aircraft — from the slimline Recaro 3530Swift to the fully featured 3710Swift economy class seat and 4710Swift recliner for business/premium economy usage. Notably, the two new seats are part of the Recaro CL "Comfort Line" grouping, providing more comfort and extra features for airlines that want to offer them.
Highlighting "consistent performance in terms of process stability, product quality and reliable delivery" at the time of the renewed and expanded agreement, Hiller tells RGN that the key to Recaro's success is "having a very good reputation on reliability, on-time delivery and quality. Really bringing those together. I think there are a couple of airlines who went out for really unique special concepts, but in the end it failed in the industrialization, maybe not in the idea."
Industrializing innovation is a big part of the company's future plans, and Recaro has committed to invest a full ten percent of its revenue back into the company, both to spur expansion within Germany and at other sites, as well as to increase its R&D activities.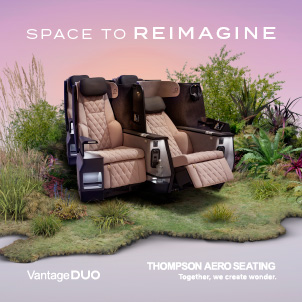 "We are constantly investing," Hiller says. "With our ergonomics and innovation department we are continuously trying to push the envelope, but internally we have also a firewall so that these things are challenged before we go to the market, to bring these two ends together."
That internal review process is a key part of the success as Recaro innovates, with the seatmaker seeing success in key bellwether campaigns at Virgin Atlantic, Qatar Airways, Qantas and flydubai, all airlines that are looking for differentiation through their passenger experience.
Recaro also has its eye further forwards in the aircraft, with its CL6710 compact staggered seat already flying aboard TAP Air Portugal and El Al, and more premium seating a possibility.
"For us first of all, being market leader in economy class, and then stepping into business class and further growing, the first focus is really to get a solid and good market in business class. Then the next step may be how to further bridge the gap. That's also the reason why right now we are not offering seats for single-aisle lie-flat. This could be also an option: to have a single-aisle lie-flat seat which might be a little bit more of a downgraded seat for a widebody."
That segment — where the Thompson's Vantage and Collins' Diamond currently dominate — seems ripe for new options. Is Recaro the seatmaker to give them to airlines, and to passengers?
Related Articles: