On a recent quick trip aboard ANA's expanding low-cost carrier Peach, I found myself on board JA816P, a three-and-a-half year old Airbus A320, and was surprised to find a space-saving slimline seat that maximized the otherwise knee-crunchingly tight 29" seat pitch.
It was a very pleasant surprise: on previous Peach flights, I had experienced a remarkably thick older Weber (now Safran via Zodiac) seat, which was thoroughly unsuited for such a tight pitch.
The whole experience confirmed my strong preference for a slimline at tight pitches, so after my flight from Osaka Kansai to Tokyo Narita I queried the airline for more information about what it has on board. Peach spokesperson Fatih Yildirim confirmed that "the seat on JA816P is Zodiac Dragonfly." Safran (the new Zodiac), for its part, calls these seats the Z85, "an enhanced version of the Dragonfly".
The airline provided a breakdown of its current and future seating providers, which are remarkably diverse for such a relatively small carrier.
On JA801P-JA803P, JA811P-JA814P: Weber

On JA804P-JA810P: B/E Aerospace (now part of Collins Aerospace)

On JA815P-JA823P: Zodiac Seats (now part of Safran)

from JA824P: Recaro SL3510
Further diversity is likely to arrive alongside the A320s from ANA's other low-cost carrier, Vanilla Air, created after the first incarnation of AirAsia Japan, a joint venture with AirAsia, was terminated and rebranded. Vanilla is in the process of being merged into Peach.
"We have total 23 aircraft and Zodiac Dragonfly are on-board our newest 9 aircraft," Yildirim stated, "but next we will choose Recaro for our 24th aircraft. We try different seats because [we] try to provide more comfortable flight to our passengers. Although it's a young company, Peach is pioneer of LCC in Japan. So we are challenging many different things. For more comfortable flight we are keep researching about seats as well."
Peach conducted extensive market research using employees matching its passenger demographic segmentation when selecting the SL3510, widely familiar overseas since its début on Air France in 2010.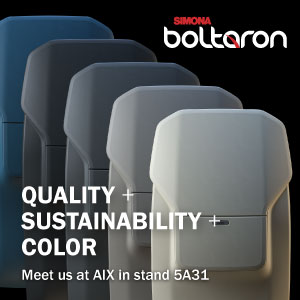 "It was in spring 2017 that Peach organized a project team comprising female employees from all departments within the company to select new seats for its new aircraft," the airline said at the time it announced the Recaro seat purchase. "The team consisted of employees in their 20s and 30s -the same age group as its key passengers – who made overall evaluations on aspects such as comfort, durability, and comments from passengers who have flown Peach to date, based on which it decided to introduce the SL3510 model from Recaro."
The following quote is verbatim. "There two main point why we choose it," Yildirim told RGN, with the first being "comfort: The seat is comfortable. and it's thin so we can provide more space to the passenger. Also it's reclined seat. As we made a survey, many passenger claim that they are not feeling comfortable when the people who are sitting in front of them are using reclining. So we decided to load pre-reclining seat. It's fixed around 15 degrees. Also we made a test internally and pre-reclined seat was favorable among Peach staff as well."
Peach's second factor, Yildirim said, was weight. "Recaro's seat is very light. As you know weight is very important issue for airlines. Fuel cost is crucial for Peach as we are collecting extra fuel charge. So we decided Recaro's pre-reclining seats. But loading pre-reclining seat also a challenge for us because this is the first time in that a Japan airline using pre-reclining seat."
Certainly, at 1m90 I am not the ideal candidate for a 29" seat pitch, although Peach's Space Seat option allows a very inexpensive choice to purchase the seat next to you to sit a little sideways, for the approximate equivalent of US$20 on a domestic flight and US$30 internationally.
But like many passengers, if given the choice at the same seat pitch with a space-saving slimline or a bulkier older model, I'll take the slimline every time. Peach's decision to take the time and do the research to find the seat that works for them and for the majority of their market is a smart one.
Related Articles: