As airlines head into 2019, a number of key trends are coinciding to make the year particularly exciting in the business class space, with direct aisle access, more doors, more premium look-and-feel, more innovative seats, more premium narrowbodies — but hopefully fewer supplier problems.
More and more airlines are moving to direct aisle access
Direct aisle access in business class, introduced by Virgin Atlantic in 2003 with its Upper Class Suite, continues its march to become increasingly de rigeur for any airline that wants to compete on more than rock-bottom pricing.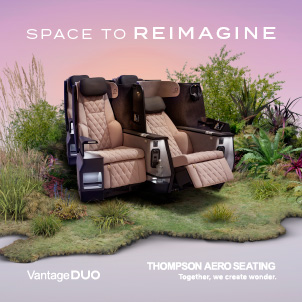 LATAM, a longterm holdout since the merger of LAN and TAM, recently unveiled its new business class cabin in conjunction with design house PriestmanGoode, a very attractive implementation of Thompson Aero Seating's Vantage XL platform.
British Airways' much-rumored forthcoming seat, for which we've seen what feels like a myriad possible variations, is almost certain to feature direct aisle access as an upgrade to the current Collins Aerospace-produced product, which débuted in 2006 as an upgrade to the look and feel (if not the layout) of the 2000-era Zodiac Mohawk, the first business class flatbed.
There are, of course, exceptions to the direct aisle access rule: Hawaiian Airlines continues to use the Optimares Maxima seat for its couples-heavy premium cabin, for example, a seat that offers what the seatmaker calls "courtesy aisle access" with an easier step-over for window seat passengers.
But as a general rule, the trend seems to be that premium carriers are installing more outward-facing herringbone seats on their longhaul and ultra-longhaul fleets, but are content with a denser staggered cabin on medium- and shorthaul aircraft.
One key exception, of course, is staggered seating that also offers a door.
Doors will continue to open across the industry
After Delta Air Lines and Qatar Airways broke the suite barrier with the Delta ONE and Qsuite products, respectively, a growing number of airlines are choosing to remedy the zero sum problem with staggered seating and increase privacy by adding doors to their business class products.
One of the big questions for many airlines last year was "will you be following suit(e)", and it was interesting to see how many carriers equivocated about their plans, often citing a belief that their market preferred a more open cabin. This hasn't always been a persuasive argument, and certainly the rarely offered answer that the geometry of doors is complex to engineer on smaller widebody cabins like the Airbus A330 and Boeing 787 is more so.
Nonetheless, expect to see more doors trickling down to second-tier airlines, especially as seat manufacturers' production abilities for their doored business class products mature.
Cabin materials and finish will become more premium in more places
More soft trickle-down will come on the materials and finish side of the coin. Airlines that previously found themselves satisfied with a sea of greige thermoplastics and a nondescript seat cushion often in a yawnworthy shade of medium blue are already beginning to move towards a greater variety of textures and materials.
Savvy airlines are often including patterns and materials drawn from their own culture: think the repeating print in the Lift-designed Philippine Airlines seating, or China Airlines' expanding love affair with persimmon wood grain.
Some of these improvements are coming as the result of cabin refurbishments of still-serviceable seating, driven partly by basic cost and partly by a desire to avoid expensive certification for secondhand aircraft that are new to an airline's fleet.
Take Virgin Atlantic's recent upgrading of its ex-Airberlin Airbus A330-200 aircraft featuring Stelia Solstys, for example: gone is the unattractive and off-brand blue-grey of the Airberlin business cabin, replaced by Virgin's moodlighting-reflecting cream mica effect and warm espresso leather, with some typically Virgin branding of the three seat types on board.
Differentiating — and monetizing — business class will grow
That kind of branding will be extending throughout the business class cabin as airlines seek to squeeze ancillary revenue from passengers and reward their most frequent flyers.
Much as economy class cabins have seen ancillary segmentation that started with exit rows and bulkheads, moved to those seats with more room, continued to anything remotely near the front doors, and then ended up at anything at all, airlines are likely to expand their approach to segmenting the business class cabin.
Some airlines will continue to double down on their provision of first class, while others will use the gradual disappearance of first as part of a business segmentation strategy. This might go as far as Malaysia Airlines' decision at the end of 2018 to turn its first class products into a "business suites" cabin.
Innovative premium narrowbodies will begin their march across the skies
Speaking of Malaysia Airlines, with rumors that this early professed adopter of fully flat beds on its Boeing 737 MAX 10 aircraft is now tacking away from the option as part of its most recent change in management direction, 2019 is likely to bring us closer to an idea of what the premium narrowbody world is likely to look like.
Will it be like the flydubai Boeing 737 MAX Thompson Vantage, with the same or a similar seat expected on forthcoming Airbus A321LRs from Aer Lingus and TAP Air Portugal? Or will we see more direct aisle access via herringbone or staggered seating patterns?
And how will airlines manage the potential strategic underutilization of these premium narrowbodies? How will they price their flatbed business class versus sleeper seat, recliner or Eurobusiness seating?
Ongoing and derivative supplier problems are unlikely to be solved in 2019
It doesn't take a magnifying glass to see that many suppliers continue to have production rate, certification and quality problems with their premium seats.
Nor does it take a crystal ball to predict that these problems are likely to continue through the year, with every peek through the industry's curtain of omertà on the subject suggesting that the most recent round of supplier consolidation and staffing changes are unlikely to have made the full range of changes necessary to truly solve the problems.
Nevertheless, 2019 is set to be a fascinating year for observers of business class — and its passengers.
Related Articles: