The three major players in embedded inflight entertainment are taking notably different tacks to appeal to airlines and their passengers.
During the APEX EXPO this fall, Panasonic Avionics as the market leader concentrated on explaining the backbone of its forthcoming NEXT IFE and connectivity platform, its cloud services plans and its wellness agenda. Thales, long seen as the challenger in the embedded space, focused on showing the flexibility of its system around both user interface and backend management. And the increasingly successful Zodiac Inflight Innovations (Zii) said it will concentrate on delivering its orders and keeping existing customers happy.
Let's start with Zii, whose core RAVE system has been growing in popularity among airlines and flyers. The company brought its new RAVE Ultra system out from behind the scenes at the APEX EXPO, after having demonstrated it to Runway Girl Network at the Aircraft Interiors Expo in Hamburg in the springtime.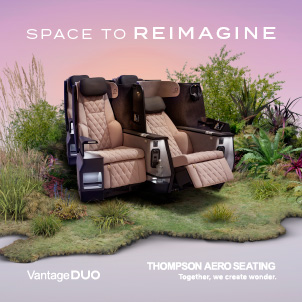 Much as the last form factor of a mobile phone suddenly feels clunky and sluggish after using the latest model, the tablet-like RAVE Ultra user interface creates a new benchmark for Zii. But, much like updating to the latest version of a phone operating system, Zii was also clear that most existing RAVE systems can also be updated to take advantage of new developments, with a renewed focus on backwards compatibility.
Zii's attention now is on delivery, not least because the company has won a large portion of the Airbus A350 backlog this year. And as first reported by RGN, RAVE Ultra will roll out on Recaro 3710 longhaul economy class seats for a linefit 777X customer. Significantly, given Zii's prior challenges in gaining linefit offerability on the 787, RAVE Ultra will also be made available to 787 linefit customers at the same time as the 777X.
With parent company Zodiac Aerospace's other cabin products not covering the corporation in glory around producing on time and to spec, it will be up to the IFE subsidiary to demonstrate that it can deliver on its promises.
Thales InFlyt Experience, meanwhile, is focused on helping airlines make frequently customizable changes to what passengers see on the screens of its three-pillar inflight entertainment product portfolio.
Priti Arora, Thales' solution product line manager, told RGN: "We have a new product called Select, which is primarily configuration based, especially for airlines that want to be faster to market. It's available within a month for the airline. It can be changed on a daily basis, weekly basis or monthly. It can be loaded wirelessly via content. There's no software update required."
The system was impressive in its demonstration mode, largely around flexibility and the range of options to display that seemed remarkably easy to update. Arora demonstrated a news application that can be dropped in via an SDK, for example, as well as opportunities to target (and even micro-target) screen options, promote partners in particular circumstances, and bring screens up to date simply and easily.
Even video thumbnails are an option, and these were eye-catching in the demonstration, although something that airlines will hopefully use with discretion.
But the key is that not only does a rotating, active UI modernize the way people interact with the system – as well as the general look-and-feel – it also drives ancillary revenue. And it can be especially useful for returning customers. Think about how many different ways YouTube, Amazon and Netflix display what-to-watch or what-to-buy information, for example.
Over at Panasonic Avionics, the focus was threefold: partly explaining the backbone of the NEXT system that will replace the eX family of inflight entertainment and connectivity products, partly on its partnerships (including its new partnership to sell Inmarsat GX Ka-band connectivity), and finally around innovation, including wellness.
Panasonic's NEXT Cloud offers much promise, although your writer found himself in want of deeper detail. Speaking to RGN, chief technology officer David Bartlett elaborated: "While we are focused on continuing to create world-class IFE systems and new digital services, we're trying to create a common platform to collect the data that can drive deeper insights and constantly analyze what we're seeing. To do that, you need a cloud infrastructure and a data repository, which we're calling a data lake."
This will, it seems, run on Amazon S3, and Panasonic is also planning to tap the company for AI and machine learning expertise, which will also assist in Panasonic's push to be one of the Integrators of Things.
Yet, the on-aircraft environment is important too.
"What we clearly need to do is not only have analytics that are done off the plane, but analytics that are done on the plane for real-time performance optimization, for preventative work, for understanding the passenger's journey," Bartlett said.
"The cloud is going through this whole movement now where the cloud is a very centralized focus. We're implementing it in an edge construct, where there's a portion of the cloud that runs on the plane, called the edge, and the cloud is on the ground. We can do analytics without the latency of having to go back."
Overall, though, Panasonic was relatively quiet in news terms at the show, perhaps because of recent high-level personnel changes, the concomitant need to introduce them to the industry, and for them to review the company's strategy. All eyes will be on the Aircraft Interiors Expo in April for the next set of big reveals.
Related Articles: