Several years ago, when Inmarsat selected Honeywell's bid to build the aero terminal units for Global Xpress, it also named Honeywell a GX service provider to the business aviation community, but not to commercial airlines. And if memory serves, this strategy was at least partly about ensuring Honeywell would not have an unfair advantage over GX value added resellers (VARs), in being able to sell both the hardware and Ka-band connectivity service to airlines.
Inmarsat went on to attract several GX VARs in the commercial airline space – Thales, SITAONAIR, Gogo (which no longer sells GX) and Rockwell Collins, the latter of which had competed against Honeywell for the GX aero hardware business. More recently, Panasonic Avionics was added as a strategic partner, though both parties say the collaboration is more than simply a VAR position for Panasonic.
"Panasonic is a strategic partner and will be able to sell GX airtime, however there are other interactions around services and cooperation which broaden the relationship beyond that of a GX reseller," Inmarsat Aviation president Philip Balaam explained to Runway Girl Network.
Now, in yet another surprise move from Inmarsat, the London-headquartered firm has named Honeywell as a VAR in the commercial space, allowing Honeywell to market GX to airlines around the globe through its fast-growing GoDirect retail services business. A new GoDirect Portal will help operators perform multiple tasks and manage flights from start to finish from one convenient mobile-optimized website.
But is there any concern on the part of Inmarsat that other VARs will feel disincentivized by the news that Honeywell is selling both GX hardware and service to airlines?
Said Balaam:
Inmarsat is implementing a strategy of broadening and strengthening its channel to market. We've got a great opportunity to capture a significant part of the growing inflight connectivity market with GX over the next 2-3 years and having the strongest, broadest and most capable channel to market allows us to capitalize on this window of opportunity. Having Honeywell as a VAR complements the rest of our excellent channel very well.

In terms of our other VARs, we are highly confident that there will be no impact on their drive to capture their share of the IFC market. The agreement we have in place with Honeywell will ensure that there is no reason for this to change.
It's not uncommon for Inmarsat to have multiple go-to-market channels for its services. But it is somewhat remarkable and even staggering to consider that three large aircraft avionics providers – Collins Aerospace (formerly Rockwell Collins), Honeywell and Thales – are now selling GX to airlines (even as Thales eyes its own global, high-capacity Ka offering), not to mention that SITA subsidiary SITAONAIR plus the world's largest embedded IFE provider, Panasonic, are doing so as well.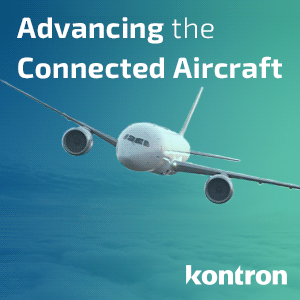 In advance of UTC's completion of the Rockwell Collins acquisition, Rockwell Collins executives expressed to RGN that Panasonic's pivot to GX for new IFC business indicates Rockwell was right all along to sell the service (it was named a commercial VAR in 2014). "It certainly does advocate our choice of GX," said Alexis Hickox, who works as head of strategic growth & business development in the firm's Strategic Programs Division, supporting its Cabin Solutions business.
"I don't think we're surprised. I think more and more we're seeing airlines need the performance. The biggest bugbear we hear is inconsistent performance and black spots that they experience in their electronic connects, or they fail to connect, so I understand why Panasonic would go with GX, because it is pretty much the highest performing network today."
If you remove Panasonic Ku from the "new IFC business" equation, that leaves Chicago-based Gogo as the only inflight connectivity service provider actively pitching a here-today global IFC solution to long-haul airlines outside of the now quite substantial GX camp.
Let's look at the other players. Global Eagle has said it is largely focusing on regional deployment (which considering the present landscape, seems like a smart play) and obviously other regional installs are afoot in the Middle East. Viasat is winning important subfleet deals and believes it will have 26% of the US narrowbody IFC market by next year. And Viasat will doubtlessly pose global competition to GX once ViaSat-3 is completed, but its global strategy will take some time to realize.
So for now, it's the GX camp versus Gogo internationally.
Given its financial difficulties, can Gogo be the David to Inmarsat's Goliath? And is that even possible without the aid of a bigger player?
And now that Honeywell is a GX VAR for the commercial space, might Thales take an even closer look at Gogo?
GX hardware – who can play?
The original agreement between Inmarsat and Honeywell saw the latter obtaining exclusive rights to "develop, produce, and distribute the onboard hardware that will enable users to connect to Inmarsat's Global Xpress network". RGN was reminded of this exclusivity back in 2014, when Kymeta was working to develop a GX flat panel antenna for business jets under an R&D arrangement with Inmarsat. At that time, Kymeta stressed that it would be "up to Honeywell if they want to embrace Kymeta as part of their solution base". Kymeta ultimately didn't make it into the GX aero hardware portfolio, though Inmarsat still lists the firm as a GX "antenna development partner" on its website.
Under the new arrangement between Inmarsat and Honeywell, is the exclusivity enjoyed by Honeywell for the hardware component removed? After all, Panasonic and Inmarsat are already working together to source a nextgen GX terminal. The answer, alas, is not immediately known to RGN.
John Peterson, senior director, connectivity services at Honeywell Aerospace said:
Honeywell has had fantastic success to date with the JetWave terminal and we have worked very closely with Inmarsat for some time. We have good visibility of each other's roadmap and technology pipeline, in particular Inmarsat's strategic roadmap to increase the capacity of the world's first global, high-speed Ka-band network, Global Express. We will continue to work closely with Inmarsat so that, as they increase the market capacity, we have terminals that can maximise that spectrum and ensure passengers are provided with the best overall experience.

Honeywell is a known innovator in all satcom hardware systems and we are always looking to access broader spectrum, develop faster modems and lighter and more powerful systems. From the moment we release a new terminal in to the market we start working on the next generation. We can't sit still. Just because we have a successful terminal in the market, performing well, it doesn't mean we can sit back or slow down. We're always looking to improve our offering and find more innovative solutions. All the players in the industry operate along similar lines.
As to whether Inmarsat can provide an update on its nextgen GX terminal exploration with Panasonic, Inmarsat's Balaam said: "Inmarsat has discussions with Panasonic and its other partners around technology roadmaps and future developments and these will continue as part and parcel of what we do – these are ongoing and confidential, and wouldn't be appropriate to reveal within the frame of [the Honeywell GX] announcement."
Going direct to airlines
Honeywell, meanwhile, has worked in data analytics in the commercial aviation market for some time, providing solutions for the connected aircraft. It counts itself as a leader in connected aircraft maintenance, particularly predictive maintenance.
"We are writing algorithms and constantly tuning our offering so that airlines can remove products during scheduled downtime in advance of a product actually failing, like an APU or ECS system or if a filter or barrel needs changing. If airlines know these things in advance they can plan for them without inhibiting the flight schedule or incurring unnecessary costs. So, the more real time an airline's data is, the better its data analytics are and the better the performance, efficacy and optimization of that airline," Honeywell's Peterson noted in reference to the value proposition of Honeywell's GoDirect offering for commercial airlines.
"Using Inmarsat's high-speed Ka-band GX network, we are working on new ways to capture data from the aircraft faster and at a fraction of what it used to cost under traditional L-band systems. By bringing together Honeywell's processors, browsers and browsing systems, terminals and technologies and applying them to Inmarsat's GX Ka-band network, we can provide airlines with a solution for their entire business. Not only can we maximize passenger inflight connectivity experience, we can provide the global support through the conditioning of the data to and from the aircraft and bring advanced, real-time analytics and predictive maintenance to the airline."
When Inmarsat vowed in 2017 to go direct to airlines itself, and obtain STCs, I wonder how many of us were thinking "GoDirect".
Related Articles:
Featured image credited to Inmarsat