Routehappy by ATPCO has been extending the reach of its rich-content Routehappy Hub, Universal Ticket Attributes (UTAs) and Amenities integrations, helping airlines and distributors improve bookings based on specific passenger experience features rather than fares alone.
The company's most recent partnership, announced last week, with travel technology company KDS will bring these product differentiation features to the KDS Neo platform for business travellers.
Routehappy has now placed its UTAs on 294 airline booking platforms around the world, as well as major Global Distribution Systems (GDS) including Amadeus and Sabre, OTAs, search aggregators and many others.
It now covers 98% of scheduled flights and claims booking conversion gains as high as 26% by giving passengers greater control over their travel experience. Routehappy product details encourage passengers to book flights based on the features that matter most to them on board.
With the richness of data that Routehappy has collected, and the strong merchandising performance of its platform, it seems a loss for airlines not to use the Routehappy integration to generate KPI (Key Performance Indicators) that would enhance their fleet and product planning process.
As anyone working on branding and product programs will attest, there are major hurdles to overcome in gaining management buy-in on new projects. The features brand managers might want to introduce have to be economically justified. Performance data are essential.
As Jonathan Savitch, Chief Commercial Officer at Routehappy by ATPCO explains, it would be easier for airlines to use their own direct channel Routehappy integrations to evaluate cabin product performance. Collecting this information from GDS and OTA partners would be more complex. But the data gathered by airlines on their booking sites would be more than enough to identify trends.
This could be done by evaluating performance of conversions on Routehappy's rich content integrations. For example, one could determine whether a lay-flat seat converts better than a recliner seat on routes where two product configurations are available. Airlines could similarly measure how customers interact with rich content on inflight meal options, IFE, and any experiential factors that are catalogued as separate elements by Routehappy rich content.
"The trick to that is the time it takes to actually buy and install one of these products," Savitch says. "So one question would be: how do you measure this in purchasing flows?"
But, for example, having this data on hand might help a cabin products manager argue in favour of a further installation of a particular cabin product or service across the fleet. It could also help product managers determine whether to stop an ongoing PaxEx program if it is not converting bookings as expected.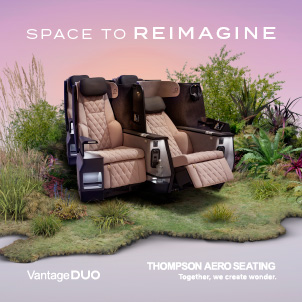 Routehappy also has a database of airlines offering various products around the globe on specific routes and tied to schedules which airlines can use for competitive intelligence, to evaluate how their cabin products compare to rivals.
Part of the challenge for airlines would be to break down the silos between revenue management and product planning, to make the most of this information.
"It often takes us a few meetings at an airline before we get to the onboard product people because they are so busy," Savitch says. "The people who are actually selling the tickets deal with another suite. We are now at the point where we are getting to know people on the product side."
Engaging cross-functional teams to include revenue management, fleet planning, sales and marketing as well as product managers would benefit airlines. They can improve their retail strategies, differentiating though the value of the experience, not just the price of the ticket. With the right market insights they can maintain their brand standards, while remaining profitable and keeping passengers happy.
Related Articles: