TAP Air Portugal's decision to adopt standard Recaro slimline seats on its Airbus A320 family aircraft and pitch them as tight as 28 inches down back to accommodate "passengers who are just looking for lower prices", has certainly not been met with universal approval. But during an interview with Runway Girl Network, the carrier intimated it has drawn a line in the proverbial sand in terms of adopting tighter seating configurations.
During the recent Aircraft Interiors Expo in Hamburg, TAP management was impressed by some of the new-design slimlines on the market, with head of inflight and onboard product Joel Fragata revealing: "We had a meeting with one of the suppliers and we tested [their] seat and it was 28" and I couldn't believe it. I thought it was at least around 30". There are some good proposals [at the 28″ mark]."
Fragata and his team also took note of the Aviointeriors Skyrider 2.0 seat – the controversial semi-standing saddle seat which is pitched at just 23". But he doesn't believe such a configuration would suit TAP even if it is proven to be certifiable. "We are growing very fast and we need to make safe decisions, and bringing the best we can to the passenger," he explained. Moreover, he said, maintaining consistency of product during the specification process helps ensure that "timelines are respected".
Though the fixed recline seats in economy class fitted to TAP's tightly-pitched A320 family narrowbodies – starting with the A319s – have faced some harsh scrutiny, TAP adheres to what Fragata describes as "a comfort vision" for passengers. Operating a mostly Airbus fleet, the airline touts the fact that the wide cross-section on Airbus airliners support a standard seat width of 18", ensuring a touch more living space even at tighter pitches.
The first of 25 Airbus A330-900neos headed to TAP is currently in flight test mode, and will be exhibited at the Farnborough Air Show. These will maintain the 18″ seat width standard. Fragata, who previously detailed the drivers behind TAP's A330neo inflight entertainment and connectivity decisions, said the carrier has taken a very Portuguese approach to the customized Airbus Airspace cabin interior.
Developed in partnership with Portuguese design firm Almadesign, the cabin meets four basic aims: comfort, environment, service and design, according to TAP.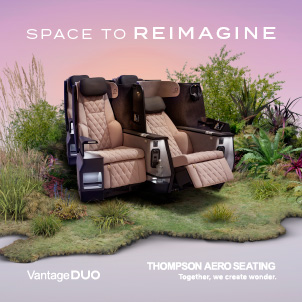 It will feature an extra legroom economy class section with new comfort options on the seat. Explaining TAP's decision not to offer a true Premium Economy product on the A330neos, Fragata said: "Premium Economy obliges the airline to a bigger investment whereas the return on the investment is [still unclear]."
A new LED lighting scheme based on TAP colors "will be the cherry on top of the cake", he said, adding that the first delivery is scheduled for September.
In advance of the big reveal, TAP co-owner David Neeleman – of JetBlue fame – has teased a few other details about the aircraft to the Crankyflier blog, and expressed his frustration about the delayed program. "It's about a year late so we're kind of frustrated. There have been issues with the [P&W GTF] engines like everyone else, but we're gonna get it and get them pretty quick. We'll get 18 of them in 15 months with seven by the end of the year so they're going to be coming like popcorn," Neeleman told Crankyflier.
Related Articles: