Norwegian yesterday announced that its latest Boeing 737 MAX 8 delivery features 189 new Recaro slimline seats that offer 30 inches of pitch and measure 16.8 inches wide. The low-cost carrier said the seats "are specifically designed for more comfort on longer routes and will give taller passengers even more personal space", but savvy travelers immediately began questioning this claim on social media. After all, Norwegian's current MAX aircraft also carry 189 seats, but the carrier lists them as measuring 17.2 inches in width. Why would Norwegian seemingly seek to give passengers less living space while touting comfort?
Today, Norwegian tells Runway Girl Network that the press release contained an error. The first row of seats with in-arm tables will indeed be 16.8 inches wide, but all seats behind these feature the standard seat width of 17.2 inches.
"So the seat width remains the same, and like with almost all airlines' first row in economy, it's slightly different due to the in-arm tables," explains Norwegian director of communications Anders Lindström. At the time of publication, Norwegian had in fact amended its online press release.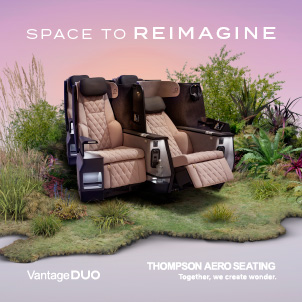 Norwegian will take MAX deliveries with the new Recaro 3710 slimline seat and retrofit its existing fleet of six MAX aircraft with the new seats. Why is the carrier making a change so early in the MAX delivery program?
It would appear that weight is a big driver, with the press release stating that each seat weighs around 10kg – 1kg less than the older model, which reduces the weight of the aircraft by more than 200kg overall.
"The lower aircraft weight reduces fuel burn and Norwegian's operating costs which allows the carrier to continue delivering affordable fares and an environmentally-friendly operation," adds Norwegian.
But Lindström suggests other factors are also in play, telling RGN: "The new slim seats being installed on our new Boeing 737 MAX 8s, and retrofitted on current MAXes, should have been ready spring 2017 to be installed on board the six MAXes delivered last year. Unfortunately delivery was delayed, and not available to be installed, and retrofitted until now.
"Norwegian's intention from the start was to offer customers the newest, best and most comfortable seats for them to enjoy when flying our brand-new MAX aircraft across the Atlantic."
Requisite head impact criterion (HIC) testing is understood to have delayed the delivery.
As RGN previously reported, the 3710 is Recaro's successor to the widely ordered 3520 and 3530 models. It is designed with a modular seatback to enable airline passenger experience options and to meet the increasingly complex neck injury criterion (NIC).
The MAX operates Norwegian's transatlantic routes from New York's Stewart International Airport and T. F. Green International Airport in Providence, Rhode Island. Next year, Norwegian will bring the MAX to Hamilton, outside of Toronto, as it launches service to Dublin on 31 March 2019. Passengers looking to book the front row on these routes may want to ask themselves the question – can I fit into a 16.8 inch wide seat?
Related Articles: