Anecdotally, low-cost carriers experience relatively higher rates of lifejacket theft, with conjecture about the drivers of this trend ranging from travellers stealing a souvenir, to low-information passengers thinking they are complimentary, to inadvertent removal and damage when fumbling in the underseat space.
One solution, both little-known and little-seen, is an overhead life vest stowage option offered by Boeing on its 737 aircraft. How little-seen? Despite being on board commercial aircraft for at least eight years, this journalist has only ever seen them in the wild on a single airline, flydubai, and several observant fellow journalists specialising in commercial aircraft and the passenger experience polled for this article have never seen them in the wild.
Flydubai's vice president for inflight product Dan Kerrison tells Runway Girl Network, "We have been installing life vests in the PSU since 2010 and this has proven to be the right decision for both the passenger and the airline. Our entire fleet has life vests stowed in the Passenger Service Units (PSU) with the exception of our three oldest Next-Generation Boeing 737-800 aircraft." The airline operates more than sixty Boeing 737 NG and MAX aircraft.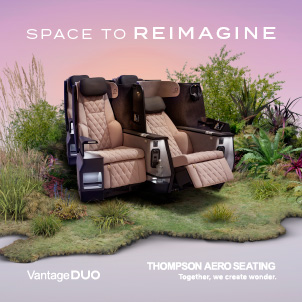 Kerrison outlines four main benefits, primarily safety, to the overhead stowage. "We have an extremely high level of confidence that every passenger has a life vest available on every flight and it is easier for them to access." Consumption of life vests has been "significantly reduced", while cabin crew safety and security checks are more efficient — which also helps to reduce turnaround time.
Lastly, Kerrison notes, "We free up space under the seat for passenger bags and living space."
Boeing, however, refused to discuss the matter when RGN asked questions about the reasons driving the creation of the overhead compartments, their design, manufacture, or certification. Nor would Boeing comment on what the changes, space requirements and tradeoffs are in the overhead bin space.
A spokesperson would say only: "The overhead lifejacket compartments are a customer option for the 737 Next Generation and 737 MAX. This feature was designed to smoothly integrate into the 737's interior design, which as you know is the Boeing Sky Interior. We do not publicly discuss specific details regarding certification of certain features, or the engineering behind our designs."
Boeing also refused to provide information on how many airlines and aircraft were outfitted, stating that "we don't provide customer selection details on these types of features."
Boeing's reluctance to discuss the issue is surprising, particularly since the certification process of this option are a matter of public record. In an EASA filing for approval of the overhead lifejacket storage for the 737NG, the regulator listed a series of safety benefits:
The overhead life vest location is readily visible to a seated passenger.
Accessing the life vests is simple and obvious.
The centralized location of the life vest stowage offers a means for passengers to assist other people with life vest retrieval if required, similar to oxygen mask installation.
It provides an additional means for passengers to recognize their life vest stowage location by observing other passengers.
This location is more readily accessible to the larger passengers.
This location is not subject to damage from luggage or other passengers.
This location will minimize pilferage due to compartment visibility.
In a ditching situation the life vests will be available even during rising water.
Interestingly, Airbus holds a patent dating to 2009 for a "device for storing life vests in a vehicle cabin". Airbus did not respond to RGN's request for comment on whether it can offer or currently offers a similar product.
"Once we were aware that Passenger Service Unit (PSU) stowage of life vests was possible, it was an easy decision to make," flydubai's Dan Kerrison tells RGN.
Does more need to be done to raise awareness that this is, indeed, an option?
Related Articles: