In-seat IFE will be prevalent on board long-haul widebody aircraft for at least another 15 years. Even as satellite capacity costs further decrease over time, it's unlikely that premium tier carriers will take the risk of offering inflight connectivity in place of embedded IFE to meet the entertainment needs of passengers on lengthy flights operated with widebody aircraft. These were just some of the observations made by Global Eagle's top brass in a wide-ranging interview with Runway Girl Network, following last week's near simultaneous announcements that Josh Marks will take the helm as chief executive of the firm on 1 April, while current CEO Jeff Leddy transitions to executive chairman, and board chairman; and that Global Eagle is receiving a $150 investment from Searchlight Capital Partners.
The reason that "long-haul will have seatback screens into the future", says Marks, is both structural and practical. To the former point, aircraft lessors with heavy widebody exposure are placing orders today for Boeing 777s that will be delivered in 2020, and they have little interest in facilitating $15 million-plus refurbishments post-delivery if their airline customers are not 100% certain of what they want. "It's not just the airline that is relevant, it's the ecosystem of aircraft finance around it. It will be hard to break that model," he says. On the practical side, airlines need to offer something more than food and beverage (and indeed the possibility to connect) on long-haul flights to meet passenger expectations. In-seat IFE remains a necessary distraction. It is still "an integral, essential part of long haul", says Marks. Reliability is also a key factor. "If you remove seatback, and are looking at satellite connectivity as the medium, you better make sure it works." It is true, however, that next generation narrowbodies, including the Airbus A320neo and Boeing 737 MAX families are being deployed by low-cost carriers on longer routes without embedded IFE systems.
While embedded systems are sticking around, the content line-up over seatback screens is changing. The content side is "going through a real transformation, with new entities like Google, Amazon and Netflix" in the TV marketplace and "it's all becoming more digital", notes Marks. Global Eagle will continue to broaden out its television offerings, and as bandwidth costs over oceans come down, you will see more connectivity-enabled entertainment delivered through the seatback screens and indeed wireless systems, suggests Marks.
But even in a cached content realm, Global Eagle has "the content licenses and are content owners" and can mimic OTT offerings if collaboration takes place, he says. "So we definitely see opportunities to deliver digital content through the seatback." As such, the firm is already "warning the supply chain on the IFE side" to prepare.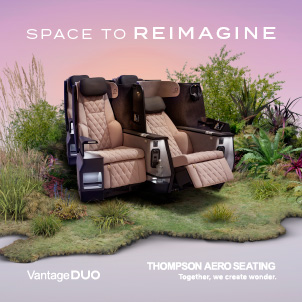 Global Eagle says it holds roughly a 60-65% share of the airline content servicing market. It's a nice anchor for a firm that has faced a series of challenges in recent years – it lost a couple of high-profile content customers after the music rights dispute; was grossly delayed in submitting its earnings filings to the SEC resulting in the threat of a NASDAQ de-listing; saw its share price plummet; and faced harsh scrutiny from tech-savvy Southwest passengers on social media, before bolstering satellite capacity to improve the service. But with the Searchlight investment, and new management structure in place, Global Eagle is optimistic that the worst is behind it.
Leddy, who was appointed CEO of Global Eagle a year ago, came on board "to evaluate and drive a strategic direction for the company", he tells RGN. "That has been my sole goal over the last year – putting Josh [Marks] in the right position, Per [Norén] and many others."
The Marks promotion came just days after Gogo announced that Michael Small had stepped down as CEO and was replaced by major investor Oakleigh Thorne, amid heightened speculation that Gogo is seeking a buyer. But the reshuffle at Global Eagle "is quite a bit different", insists Leddy, calling it "a very well thought out, pre-planned transition. And we're full speed ahead."
In his new role, Leddy will continue to drive Global Eagle's strategic vision, focusing on major customers and stakeholders. Marks' priorities include ensuring Global Eagle is providing a portfolio of services "that bring broad value for our customers" including helping airlines understand how they're going to make money from IFEC.
He believes Global Eagle's strong content story uniquely positions the company to compete in the inflight connectivity race because it brings "something different to the table" and differentiates it from competitors like Gogo and Panasonic, which also have "viable solutions". Indeed, Global Eagle has coined a new word, "contentivity", to describe how it will deliver fresh connectivity-enabled entertainment content to embedded and wireless entertainment systems via inflight connectivity. It first signaled its intent to move in this direction in 2015, after brokering a connectivity agreement with flydubai, which was described at the time as being a bundled solution that includes seatback entertainment content that can be beamed to the aircraft over the connectivity pipe.
"From a Global Eagle perspective, we have to be innovative. The capital we raised provides us with the resources to make those strategic investments," says Marks. It also helps to demonstrate the firm's staying power. How Global Eagle presents itself to the market is now supremely important. Says Marks: "We need to focus on communicating to all shareholders – what do we stand for, what is the real value of the portfolio we hold today, what is the passenger experience and how do we drive that to help airlines and partners stay ahead of the curve."
Related Articles: