TOULOUSE — Highlighting the continued existence of cabin supply problems with the Airbus A350 XWB family of aircraft during the delivery of the stretched -1000 version of the aircraft yesterday, Airbus disclosed the existence of a detailed supplier management programme called "Cabin Get Well", but then declined to discuss any details in response to followups from Runway Girl Network.
During a media briefing in advance of the delivery of launch customer Qatar Airways' first A350-1000 — delayed from December owing to problems with the manufacturing and integration of the Rockwell Collins-manufactured Qsuite — Airbus' head of A350 marketing Marisa Lucas-Ugena revealed the Cabin Get Well programme was working with multiple suppliers to Airbus' latest widebody.
"The [A350] programme has launched at the beginning of the year a programme that was called Cabin Get Well," Lucas-Ugena said. "They are working very, very closely in particular with suppliers to make sure that all the parts arrive in Toulouse with the right quality, and we are working with our airline customers to solve all these issues."
One such issue has been the delay for Qatar Airways in putting the launch A350-1000 into service. "This issue of Qsuite installation on the A350 is an issue that [was] raised with Rockwell Collins and us," Qatar Airways group chief executive Akbar al Baker confirmed to RGN later in the media briefing.
Continued al Baker, "This is a very complex programme. It is very difficult to install any new programme in a new airplane, especially being the first one. The requirement was extremely complex and it was done in record time, though we took the delay as Qatar Airways — the aircraft was already delivered to us on time, as committed by Airbus to us. Unfortunately the installation and calibration on the first airplane of a very complex seat programme will always take time. However, I must tell you that we have achieved this ten days ahead of schedule that was provisionally given to us."
While RGN recently highlighted quality and reliability issues with the Boeing 777-300ER version of the Qsuite, similar problems — to a greater or lesser extent — have been experienced by other manufacturers.
Airbus' problems with supplier quality and production on the A350 cabin have been well documented across seats, lavatories and other cabin elements, particularly notably for Qatar Airways, with al Baker previously not holding back his criticism of the airframer for integration failures and quality gaps. The mercurial chief executive's latest position on the XWB is markedly more rosy, with a suggestion that Qatar Airways may convert some of its smaller A350-900 aircraft to the larger -1000 model.
A350 marketing chief Lucas-Ugena, who characterised her role as "my job is to talk about the good things — I normally don't talk about programs" in response to RGN's questions, followed her comments about the Cabin Get Well programme with a more positive spin on the XWB. "The airplane family, the -900 and the -1000, is extremely mature. Of course, when you put a new airplane in service there are always some things that you need to fine tune. The cabin is one of them. Fortunately, the airplane is so mature that we can really focus on those things that otherwise we couldn't have focused so quickly on in such an efficient way. The few things that were not at the level that we wanted to them to be, we are catching up with them very quickly."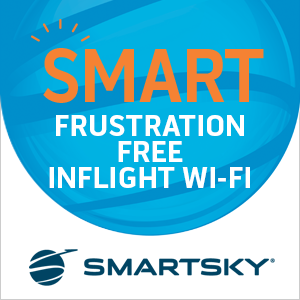 During a one-on-one interview with Airbus executives, RGN asked senior vice president for marketing François Caudron for further details of the Cabin Get Well programme.
Caudron declined to discuss it, summarising only the earlier issues at the time of the 2014 delivery and early 2015 entry into service of the -900. "We had, it was known – and passengers – regretfully the issues with lavs on the first A350-900 that we did put into service. Therefore, Airbus did launch a joint programme together with Zodiac to improve the product. From what I'm hearing now, things are getting much better."
RGN asked Caudron whether that work was also taking place with other suppliers, as A350 marketing head Marisa Lucas-Ugena had said earlier. "I cannot comment on that," Caudron said. "I'm not really following on all the in-service — I think that was essentially what we heard from the entry into service."
Caudron declined to discuss Cabin Get Well further, telling RGN that "you would need to interview someone from the programme to talk about that. I cannot comment on that."
During this set of one-on-ones, Lucas-Ugena said from her perspective in charge of A350 marketing only that "everything is working extremely well on the aircraft. The airplane is good, it's mature, the production ramp-up is working extremely well. We have introduced the -1000, we have certified the -1000 — it's on target or exceeding targets, so that makes us able to concentrate on the development of both and the little details that we need to keep improving to make it even greater than we have today. The news is: no big worries, so we can concentrate on things like the cabin getting well."
Clearly, there would appear to be an inconsistency between a named programme that Lucas-Ugena said was "working very, very closely in particular with suppliers" in the plural and this later, rosier picture.
Despite repeated requests, Airbus media representatives declined to make any A350 programme executives available to discuss the matter further.
John Walton was a guest of Airbus at the Qatar Airways A350-1000 delivery
Related Articles: