If Thales was surprised by JetBlue's recent decision to hand prime ISP positioning to ViaSat under a new deal that will see the carrier graduate to ViaSat's Gen 2 kit and capacity, the French multi-national corporation isn't saying. But as recently as September 2017, Thales stressed that its relationship with the low-cost carrier, and indeed United, has provided it with meaningful experience in the market that it intends to crack into more firmly.
"We believe as well that we are positioned because we have a huge legacy. You know right now we have JetBlue and United. We were very pleased yesterday that … JetBlue got the [APEX] award for best Wi-Fi because it's provided by Thales. Okay we are the subcontractor but we are the prime contractor. Same on United, so we have roughly 150 aircraft [at United]. This has given us a huge experience of what the airlines are expecting and what the passengers are expecting. So moving forward we want to continue expanding our footprint to go to major airlines for sure," Thales InFlyt CEO Dominique Giannoni told Runway Girl Network.
That legacy was not enough to hold onto JetBlue's connectivity business, however. Upgrades of the carrier's A320s to ViaSat's Gen 2 hardware will begin in the fall of this year. ViaSat's Don Buchman previously described the upgrade to RGN as being "small", requiring "changes to some of the RF electronics in the antenna and the modem to be compatible". Even so, it will take years before all 235 JetBlue aircraft carrying ViaSat's current-generation system are retrofitted with the hardware necessary to talk to ViaSat-2 and then ultimately ViaSat-3 satellites. This, of course, begs the question of when exactly will ViaSat assume prime positioning. In the fall? After the fleet has been fully fitted? Thus far, no party is saying.
But even if Thales gets to hang on for a while longer, one wonders if such a scenario is cold comfort for a firm which in 2014 paid $400 million to acquire LiveTV from JetBlue (and with it prime positioning on the JetBlue connectivity contract), only to see that positioning apparently handed over a few years later to the satellite operator powering the service.
JetBlue's 2014 press release, confirming the sale of LiveTV to Thales, stated:
Concurrent with the closing of this transaction, JetBlue will enter into long term agreements with LiveTV to continue providing support for its live TV and inflight connectivity product, Fly-Fi.
Thales is still providing new generation inflight entertainment systems to support JetBlue's A320 revamps (which also includes adding more seats). But even that work has evolved, as JetBlue's original plan to launch Thales' nextgen STV+ system has not come to fruition. JetBlue's general discontent has been known for some time. Who can forget the upbraiding JetBlue gave the IFE industry  for not keeping up with industry disruption?
Whether or not Thales' buy of LiveTV was a good deal for the firm is something only Thales truly knows, but the deal was dandy for ViaSat and JetBlue, according to ViaSat chief Mark Dankberg. Stressing that ViaSat doesn't want to be presumptuous and assume ViaSat will also oust Thales as prime at United, he said during the firm's last earnings call, "I think that we are in a situation with both JetBlue and United where they had kind of a mixed contracting agreement because of the history of LiveTV, and JetBlue resolved that in a way we think was good for them and good for us. And to the extent that that needs to be resolved on others, I think we're going to do the best we can to get a good outcome there as well."
When JetBlue decided to sell LiveTV, it understood that any firm in the inflight connectivity business needs "to exist in a critical mass". This was "part of the rationale with JetBlue" to seek "sustaining partners, the ones that can be here tomorrow but will [also] be here in three years, four years", according to Thales' Giannoni.
Airlines seem increasingly convinced that ViaSat is here for the long haul. With several hundred aircraft in service and several hundred more under contract at the end of the fiscal 2018 second quarter, ViaSat is starting to see a ramp of installs especially on American Airlines and Qantas. It has also begun equipping SAS's aircraft, and El Al is flying our system, meaning ViaSat's connectivity service is operating on three continents – North America, Europe and Australia.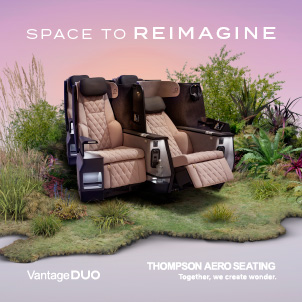 ViaSat will also begin full deliveries for Finnair and Icelandair, but more broadly it is preparing to see more action during the March and June 2018 quarters when it ramps to 100 installs and 150, respectively. The company is actively engaged in discussions with additional airlines. With ViaSat-2 coming on line for airlines two or three months after residential customers get service next month, ViaSat's Americas customers can expect a "bandwidth rich environment".
For its part, Thales is building the readiness of its own Ka connectivity system, having secured an arrangement with SES and through it with Hughes to support Thales inflight connectivity over the Americas with an as yet undisclosed customer. Given that ViaSat has led the public messaging around JetBlue's new connectivity contract, it would be timely for Thales to share an update about its own work.
JetBlue and ViaSat, meanwhile, are "working really well together", according to Dankberg, though he knows ViaSat must stay on its toes. "Our view with these contracts is we've got to keep them happy …"
Related Articles: