Following the publication of this article, both Zodiac Aerospace and Aviointeriors have gone on record stating they are not the seatmakers for this new product. Recaro continues not to comment, as does Rockwell Collins. A source suggests that Thompson Aero Seating is involved. This information is unconfirmed; Thompson has not returned multiple emails requesting comment.
If you had your money on Recaro's latest — and only — longhaul business product winning the contest to provide Lufthansa's next-generation fully flat beds with direct aisle access, the German airline may have a Thanksgiving present for you. And it'll also be coming to other Lufthansa Group airlines: "the new seat was developed for the network airlines Lufthansa, Austrian Airlines and Swiss collectively", a press release stated six months ago.
Lufthansa has released two teaser images of the staggered, slightly angled product, offering direct aisle access in a staggered, 1-2-1 configuration including a massive centre throne seat.
"Care for a sneak preview? Here's a rendering of our new business class seat. More privacy & the best sleep! Every seat has aisle access, a special shoulder zone for side sleepers, and larger monitors. Comes 2020 with the Boeing 777-9!" the airline said in an English statement, with a German version translating similarly.
Neither Recaro nor Lufthansa were immediately available for on-record comment or answers to questions. Your author understands that the seat is the Recaro CL6710. But again Recaro has not commented. It certainly looks like it, with the staggered seating, angled configuration and the general mechanics of the product.
It's great news for passengers, and indeed it's frankly astounding that the airline group has chosen to use only seven columns of seats in the 1-2-1/1-1-1 alternating configuration rather than use one of the more dense eight-column options available to the airline. The curved shape is attractive, and I really like the return to the on-brand Lufthansa blue, especially in this almost denim-y business casual fabric.
Without wanting to read too many tea leaves from a pair of early concept images, I find it interesting that the outboard seats have a differently shaped headrest to the inboard seats, which suggests that the central column will have a little extra space around the head when sleeping.
Kudos to Lufthansa for offering every passenger a side table large enough to hold a 15" laptop. I'm reassured by the fact that both seats have laptops on show, which hopefully means that Lufthansa will be ensuring that there is enough power to go around for larger portables. (I also spot the High Sierra release of Mac OS, suggesting that these renders are relatively recent, with the OS' signature background image only unveiled five months ago.)
Not shown: the wireless charging options that Recaro has demonstrated with CL6710 since its release, but with two years to go until the 777X that level of detail may not yet be finalised. And I'm looking a little askance at what seem like relatively small overhead bins on the side, and I certainly hope Lufthansa hasn't been so foolish as to eliminate the centre bins.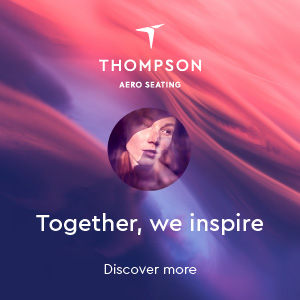 Looking to a bit of industry inside baseball, I note that Lufthansa has moved back to Recaro, after selecting a highly customised version of the B/E Aerospace (now Rockwell Collins Interior Systems) Diamond product for its current "footsie class" product, and with Thompson Aero Seating as the incumbent on Swiss, Austrian and Brussels Airlines. Recaro, of course, produced the much-loathed angled lie-flat seats for Lufthansa, which were replaced by the Diamond-based product.
With mostly identical staggered seats a dime a dozen (that's €0.08 at the current exchange rate), Lufthansa's large order — over 100 widebodies for Lufthansa, nearly 30 for Swiss, almost a dozen for Austrian, and ten for Brussels — is a vote of confidence in Recaro's CL6710, if my understanding about the vendor is correct.
My question, though, is this: with a business class that is more spacious than normal, is the writing on the wall for first class on Lufthansa and on Swiss?
Related Articles: