A small startup joining Airbus' BizLab accelerator in Hamburg is hoping to combine air-to-ground airline tracking, mesh networks, machine learning, satellite connectivity and the Internet of Things to offer a new mix of avionics integration. It's called AlulA, and while the company feels a little bit buzzwordy and a little bit mid-pivot — as if it had been designed to solve the tracking problem, but realised that it could also offer cheaper IoT services — the combination is new, as is the interest shown in it by Airbus.
AlulA starts from the position that aircraft tracking for safety reasons is non-negotiable, as the result of the ICAO tracking mandate, and indeed it plans to be a player in the field of terrestrial ADS-B tracking even as space-based ADS-B looms on the horizon.
An addition to the teams on the tracking playing field is notable, especially given OEM involvement. But there are also benefits to be realised from transmitting certain monitoring data from aircraft while in-flight. The problem, co-founder Thomas Byrd suggests to Runway Girl Network, is that existing methods of tracking aircraft and transmitting monitoring data from the air are too expensive.
The AlulA system is made up of two key components. The AlulA Heart is essentially an avionics bay box that processes monitoring and tracking data in order to make a decision about which data to transmit from the air, and over which network. None of that is new of course, but this is an area with established suppliers with pricing that may well be undercuttable by AlulA, especially with Airbus supporting it.
The AlulA network is the second component of the system, and consists of a home-grown ADS-B network (which may well include partnership with an existing supplier of ADS-B data like Flightradar24 or FlightAware), as well as the option of creating mesh networks between AlulA-equipped aircraft out of range of ground-based ADS-B receivers, and transmitting data over existing satellite connectivity systems.
The AlulA Heart will also enable downloading of some monitoring data via wifi, Bluetooth or other terrestrial networks while on the ground. Essentially, the idea is to figure out what data needs to be moved off the plane at various costs, and then to do so as cheaply as possible.
Not all data needs to be transmitted in-flight. "It comes down to bandwidth demands," Byrd summarises. "When you have one pipe coming out of a plane, what's that going to be allocated to: is it going to be inflight wifi, which is kind of the real big, money grab for an airplane, or it is going to be consuming some of that for diagnostics data? Then, you've got to ask yourself, do they even need all the diagnostics data real-time?"
Enter the AlulA Heart's algorithms. "If the vast majority of that stuff can be sent after the fact, and still 'feed the machine learning beast', if you will, and you'll only need exceedance information," Byrd suggests, "exceedance information rarely will constitute enough of a data demand."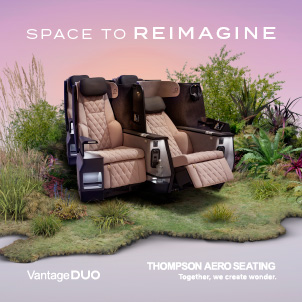 AlulA expects its market to cover three key types of customer: firstly airlines and lessors, secondly original equipment manufacturers (including airframers and enginemakers), and thirdly governmental and scientific agencies, with US-based examples including NOAA, NTSB, FAA and NWS.
Cockpit communications and safety services is a market robustly defended by experienced service providers like Rockwell Collins, SITAONAIR and others. Yet Airbus has shown that it is not afraid of bringing work in-house from the rest of the industry, and indeed is working with Palantir on big data programme Skywise.
While AlulA's approach to this work may well feel a little like throwing solutions darts at a dartboard of problems and hoping one or more hits, Airbus may well be keen to grow its own ADS-B network and avionics box to meet the growing data demand on the horizon.
Related Articles: