Emirates' order for 40 Boeing 787 aircraft at this week's Dubai Airshow, initially for the stretched -10 model, and to be delivered from 2022, gives the airline an opportunity to compete not just on price, but on passenger experience. Every 787 apart from Japan Airlines' longhaul fleet provides travellers with some of the narrowest seats in the sky in the nine-abreast configuration that is as unpopular with passengers as it is popular with airline accountants.
Emirates is widely expected to go higher density on the 787, but if it wants to differentiate itself, it could choose otherwise. It would be fascinating indeed if Emirates were to match the A380 passenger experience rather than that of the 777 for its Dreamliners.
The most likely option, of course, is a nine-across passenger experience similar to what passengers currently see on Emirates' Boeing 777 aircraft in a ten-abreast configuration, likely with a 32" seat pitch and 17" width, unlike its Airbus A380 aircraft that have the very spacious 18.5"-wide economy seats in ten-abreast.
While Emirates' current statements suggest it intends to take the 787-10 aircraft in a mixture of two and three class configurations, seating between 240 and 330 passengers, the carrier's requests for proposal for several hundreds of shipsets of premium economy seats would already suggest that the versions with first class may well become four-class aircraft, while the version without would be three-class.
Even the Dreamliner subtype isn't yet fixed in stone, with Emirates also having the option to take the 787-9, the likelihood of which seems quite strong given that Boeing France (perhaps unwisely) tweeted out a full mockup of the shorter Dreamliner when announcing the news.
Emirates will have secured assurances over the stretched 787-10's engine performance in Dubai's heat, although the airline has not yet announced whether it has selected an engine supplier for the Dreamliners. CEO Tim Clark's comments on the aircraft suggest that the 787s are destined for medium to long haul routes, rather than the ultra-longhaul missions that the airline envisages for its forthcoming Boeing 777-8 and -9 orders, with the -8 starting to be delivered two years before the Dreamliner.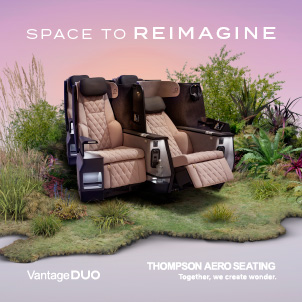 Those routes vary widely in demand and expectations from both economy and premium classes, with many involving the high-density, low-cost operations from South Asian labour markets to the Middle East, and others reflecting the higher-end passenger experience featured in Emirates' advertising.
Up front, Emirates has an opportunity to revitalise first class, perhaps with a 787 version of its impressive new first class suites. In business class, Emirates may well go for a mid-haul product and a long-haul product. It would seem surprising for Emirates to retain a non-direct-aisle-access product, even on the former, but the airline did so with its 777-300ERs this week. But with Emirates suggesting that the 787's contemporaneous 777X aircraft are slated to see a staggered product similar to the A380s, the long-haul versions are likely to be better.
Economy class markets in the likely range of the 787-10 vary from the price-conscious to the experience-conscious. Emirates would do well to ensure that it meets the needs of the widest range of passengers, including the increasing number of those for whom a seventeen-inch seat is a dealbreaker. That could include a premium economy product, which could even be one of the new generations of narrower premium economy seats.
Emirates could decide that its premium economy niche is to offer nine-abreast on the A380 and 777, and eight-abreast on the 787, especially if it decides to densify its superjumbos with Airbus' much-offered and never-ordered 3-5-3 A380 seating.
On the topic of the A380, there is certainly an argument that Emirates' 787 order makes a subsequent A380 order more, not less, likely. The airline's prodigious growth has long taken advantage of dual-sourcing, with the Airbus A330 and A340 both operated (though in greater and lesser number, respectively) by Emirates. Indeed, taking multiple vendors is a smart move, as demonstrated by the airline's 2016 order for Thales inflight entertainment systems for some of its Boeing 777 aircraft while also retaining Panasonic Avionics on others.
A smart future Emirates fleet could look like, starting at the bottom, the Boeing 787-9 and -10, the Boeing 777X, and the Airbus A380, with the Boeing 737 MAX fleet of Flydubai sitting below the 787-9. On balance, at this point it would be more surprising for Emirates not to take an order of A380s than it would be for the carrier essentially to become an all-Boeing operator.
By contrast, it will also be fascinating to see whether Emirates wants to get into the smaller widebody game that will be offered by the Boeing 797 currently under development. With options for the 787-9, there is certainly a point at which the 797 will largely overlap. A Flydubai 797 order could well be the spoiler here. Dual-brand offerings from airline groups are working well in a number of markets, including Australia, Japan and a variety of southeast Asian countries.
But regardless of the context, Emirates has the opportunity to use the 787-10 to do an incredible thing: to actually differentiate itself in economy class based on comfort and seat space, not just on its industry-leading entertainment systems.
Related Articles: