If there was any lingering doubt that Gogo has become a force to be reckoned with on the global inflight connectivity market, it must surely have been put to rest today when the company announced it has been selected by the Cathay Pacific Group to install its 2Ku connectivity solution on a sizable slice of the group's widebody fleet.
Under the arrangement, 2Ku will be fitted to the Airbus A330 and Boeing 777 aircraft operating across Cathay Pacific and Cathay Dragon fleets. The service is expected to go live by mid-2018.
This is a coup for Gogo, as Cathay Pacific has been studying connectivity options for its aircraft for years (it signed an MOU with Panasonic Avionics back in 2010 and later tapped Panasonic for connectivity on the A350s). The airline will doubtlessly have reviewed bids to connect its A330s and 777s from virtually all the major players.
The deal brings Gogo's 2Ku backlog to more than 2,000 aircraft.
"As a premier global airline group, and Hong Kong's flagship carrier, Cathay passengers expect a premium experience, which 2Ku is delivering today with superior bandwidth, coverage and availability," said Gogo CEO Michael Small in a statement.
Today's news also more firmly ensconces Gogo in the Ku connectivity camp. While the Chicago-headquartered company continues to tout technology agnosticism, it is betting big on Ku. Indeed, Gogo recently announced it will also become a global provider of high throughput Ku connectivity to the business aviation community offering "nominal speeds of 25 Mbps". And now, Gogo Business Aviation appears to no longer be (at least actively) offering Inmarsat's Jet ConneX Ka-band connectivity service.
A recent review of Gogo Business Aviation's website shows that the firm is not advertising Jet ConneX (JX) as part of its portfolio of offerings (though its 2016 press release about the JX agreement is still accessible).
Asked by RGN if Gogo Business Aviation has stopped being a service partner for JX, company director, public relations & communications Dave Mellin said:
Based on our customer's needs we recently announced the Gogo Ku network for business aviation. We are choosing to focus on that satellite solution as we ramp up for a global launch in 2018.
Gogo stopped selling Inmarsat's Global Xpress service for the commercial space back in 2015, as 2Ku gained traction with airlines, but it remained a service provider in business aviation, with Inmarsat telling RGN last year that "even Gogo" was a provider of JX.
Gogo Business Aviation is still (gently) advertising a partnership with "SwiftBroadband", Inmarsat's low-bandwidth, lightweight, near global L-band service. But the Chicago-headquartered firm is clearly throwing its promotional power behind Ku for business aviation (which will feature a tail-mount system for Gulfstreams, Dassault jets, and other types), and 2Ku for VVIP business jets (the narrowbodies and widebodies which are transformed for corporate elites).
The tail-mount antenna is currently being built to Gogo's specifications. "It will have a Gogo part number", and each one will say "Gogo Business Aviation", Sergio Aguirre, the SVP leading Gogo's business aviation division, told RGN.
Gogo always secures STC first with its own testbed aircraft (a Challenger 600) for business aviation systems "so we can support our own manufacturing requirements with the FAA because our go-to-market strategy is very different so we do one install from the ground up", said Aguirre. The first install will take place in the second half of next year.
"What we're so excited about is" it is going to be "about 10 megabits faster than the theoretical max than other systems out there", revealed Aguirre.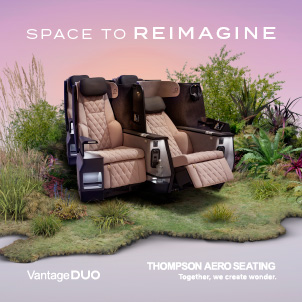 So whereas the Inmarsat Jet ConneX value added resellers are discussing "up to 15 mbps" for example, and ViaSat is discussing up to 16 Mbps for Ka, Gogo Business Aviation insists its service will offer a "significant leapfrog from what corporate aircraft have out there today" with a "nominal speed of 25 Mbps, that is what it's normally seeing".
It's a very lofty claim. What's the secret sauce?
Said Aguirre, "I would say the two biggest differentiators are – RF modulation schemes have gotten so much better now and you see that in what Gogo has done on the airline side … seen significant improvement in terms of speed.
"And the other is that we are basically leveraging the high-speed throughput satellites and that is giving us the significant performance difference over what is typically a ViaSat or JX system has available to them."
Related Articles: