Austin-Bergstrom International Airport's (AUS) senior public information specialist, Kaela Harmon, has worked at airports across the country over the past five-and-a-half years and recently authored and self-published the charming children's book Zoey's First Plane Ride, but what she really wanted to be when she grew up was a lawyer like Claire Huxtable from The Cosby Show.
"I think [that's] probably a testament to why it is so important for children to be able to see reflections of themselves in media," says Harmon. "Certainly, as I got older, I had a lot of interests and things I thought I'd pursue as a career. I went to Washington and Lee University where I received my BA in broadcast journalism and mass communications [and] I graduated with the intent of going into broadcast news … but after a brief stint in the newsroom, I pretty quickly transitioned into the PR world. Still, I was very blessed to grow up in a close-knit family where my parents were incredibly supportive and encouraged me to follow my dreams, whatever they might be. My dad used to say: 'Whatever it is, go and do it, you're young enough to make mistakes and still recover.'"
And though Harmon says her first plane ride left a huge impression on her as a little girl, an actual career in aviation wasn't even on her radar until fairly recently.
"My earliest memory of being on an airplane was when I was maybe five or six, I think. I know we went to Disney World and I distinctly recall getting those little wings from the flight attendant. I also clearly remember that walking through the jet bridge was my favorite part. It really stuck out in my mind as a magical tunnel that took us to a whole new world of the airplane. But even with those memories, it never occurred to me to think about a career in aviation [and] I literally stumbled into the industry," says Harmon.
"I was working for a museum in Columbia, South Carolina and looking for a new job opportunity when I came across a posting for the public relations and government affairs manager at the Columbia Metropolitan Airport (CAE). The job description itself seemed really interesting and checked all of the boxes for everything that I like to do. But it wasn't until I got into the position and began to really learn about the industry that I fell in love with aviation. I used to say all of the time that my job at CAE was my dream job and it really, really was. That job set the stage for me to further explore elements of the industry, meet incredible people, and do my small part to maybe make a mark."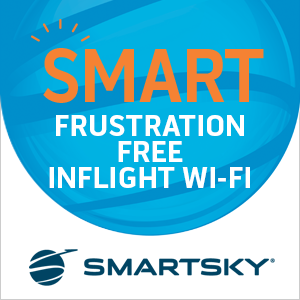 Overseeing a wide-range of projects during her time at CAE – including branding and marketing, event planning, media and press relations, engaging law-makers and community leaders, and supporting air service development efforts – Harmon says her experiences there and a later stint at an aviation consulting firm fostered her genuine love of airports and the communities they serve. And it also sparked the idea for her book.
"CAE hosted an event called Wings for Autism … [which] invites autistic children to airports so that they can have a first-hand airport experience and know what kind of sights and sounds to expect. I was able to participate in that [and] I came away from the event thinking that it was something that all kids could benefit from and that it would be great if they had a little pamphlet to accompany the [airport] experience. That same day, I went to a birthday party for my friend's son and I guess spending the day with kids put the idea in my head that I should go ahead and write some sort of book about airports. So I first really started thinking about it in 2014 and the story went through several iterations before becoming what you're reading today."
And though the title suggests otherwise, Zoey's First Plane Ride actually stands out from the pack by focusing on the airport experience itself rather than the plane ride. In fact, like so many real-life kids, in the book Zoey falls asleep almost immediately after takeoff and sleeps through most of the flight. Harmon says that that too, was fully intentional.
"Once I decided to write a book about airports, I did some research to see what was out there [and] I discovered that the majority of [children's] books focused on airplanes and the plane ride so the story had already been told from that perspective in many different ways," explains Harmon. "However, there were very few books about airports, and those that did mention the airport kind of glossed over it. So, I immediately felt that there was a place for a book like mine in the market. Also, when I started my airport job, I completely fell in love with it and I learned all of these facts about airports that I never even stopped to think about as a traveling passenger. So, I wanted to pass along some of that knowledge to my readers. Ultimately, I want the book to help everyone see airports just a little differently."
And that's something that Harmon continues to strive for in her day job as well.
"I would love to be able to do more to inspire change in terms of the airport passenger experience for children but change tends to be a bit slow at airports, after all they're still government entities," jokes Harmon. "However, I do think that strides are being made. Prior to my book idea becoming public, CAE installed a book nook so that parents traveling with kids could grab a complimentary book that [has been] donated by local libraries, non-profits, and the airport. That has been a delightful service for customers of all ages, as we've also seen a lot of adults leave their plane reading on the shelves for the next passenger too. I've also seen a lot more airports try to do things like incorporate children's play areas or have a mascot come out and walk around. Could more be done with the child passenger in mind? Of course, but airports are up against a lot these days and I like to think that most of them are doing what they can."
Related Articles: