Inflight entertainment is at a crossroads: the consumer home entertainment industry keeps creating better and higher definition iPads, TVs and other devices, while the IFE industry has to keep pace — and certify every device for aviation use — while also realising that the lifespan of today's personal devices is a year or two, while inflight systems are expected to last for the better part of a decade.
This is not a keeping-up-with-the-Jobses consumer PED problem unique to inflight entertainment systems: one recent example to strike your author was the speakerphone industry, after a conference call when one set of participants sounded like they were inside a muffled, echoey tunnel when calling over a corporate speakerphone, but were almost miraculously clear when using the audio input hardware — and indeed software — of a modern cellphone on speaker.
But it is a problem that needs to be addressed, throughout the aircraft but especially in premium cabins where passengers are often more demanding and screens are often largely out of the way of the headstrike part of certification criteria. Essentially, a 13-inch screen mounted on the wall six feet away may not cut it in the pointy end when passengers have iPads that big they can pop on the tray table much closer.
But the same lifespan/futureproofing issue holds for a 7-11" screen in economy.
Market-leader Panasonic Avionics is working on the problem through its NEXT product line, which will both drive new versions of the IFE provider's hardware and enable software updates through what it calls the NEXT ecosystem. Though NEXT is very much a services-oriented approach, Panasonic will not ignore the hardware side, as the firm demoed at the recent APEX EXPO in Long Beach.
Meanwhile, Zodiac Inflight Innovations' chief commercial officer Larry Girard suggests that his company already has both the hardware and software problems largely solved with its RAVE product line, and the company has certainly been gaining momentum in the market.
On the software side, "airlines get a lot of flexibility within the design," Girard tells Runway Girl Network. "But, if they take the standard, then for the life of product we will continually upgrade their GUI and features free of charge. All the airlines that originally started with us in 2011 — Lufthansa, for instance, and Airberlin, Austrian, all of these airlines — have all received two GUI updates from the very beginning. Right. And they're tickled pink. It's like they've got a brand new IFE system."
Other airlines, notably Finnair and Swiss, have themselves done the work to update the GUI of their existing systems. But it certainly feels a very Apple-like approach for ZII to offer lifetime upgradeability.
"I'd like to say that we're future hardened," Girard says. "I think it's a little presumptuous to say future proof, because frankly, who knows, right? But we try to do some things that future harden our system. Dockability is always been a very important aspect for us. The dock will take an 11-inch through a 15-inch monitor. The idea from a future hardened standpoint is that we even have 32 inch monitors that are dockable like this."
But are airlines themselves really engaged with the problem? "I think the airline that chose us for the 777X had this very much at the forefront of their understanding. We've actually looked at this, and said we agree with you: an airline that selected an IFE system today for an aircraft for 2021 is insane. It's unfair for the OEMs to try do that. We understand why. It takes a long time to build an airplane but at the end of the day, it's very difficult. So we've built into the system a platform that we believe is highly upgradable, and it's as future hardened as possible."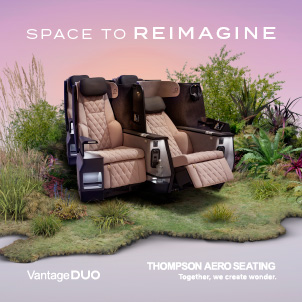 The principle, Girard says, is one of working together. "We're working with a few of our key airline customers in what we call an innovative partnership — to continually innovate ahead of when we have to define the final design. Not the infrastructure for Boeing.
"For instance because they have that already, but what we're going to put on top. Our airline customers are driving back into us what they want from the system. Instead of us going to them and saying 'this is what we think you need', we're actually working with them, right now, today, for that system that's going to go in 2020 — including very advanced GUIs, and a lot of different things. All of that will then be backward compatible to our current base as well."
That, Girard suggests, is RAVE's selling point: "that's why they choose the standard." As Panasonic develops the NEXT platform, and indeed as Thales and other smaller IFE providers respond to both challenges, those standards may well be the battleground.
Related Articles: