LONG BEACH — Ears must have been burning in Stelia Aerospace's French headquarters as its Italian competitor Aviointeriors unveiled a seat at the Aircraft Interiors Expo Americas this week that was, shall we say, the sincerest form of flattery. Aviointeriors' Galileo seat is a straightforward staggered seat, with the key innovations being an 18" wide monitor — key for its undisclosed southeast Asian customer — and additional carving out of space in the seat pan area.
"While we were working on Adagio," Aviointeriors chief executive officer Ermanno De Vecchi tells Runway Girl Network, "a customer from southeast Asia arrived at our company looking for a completely new seat for an A330. He asked us to have a comfortable seat that we were asked to build from zero. At this point, we started working on this seat, slowing down a little bit the process of Adagio. This gave us the opportunity to create a new seat in a very few months, to have another customer of ours happy with the results achieved, and to be able to put on the market a completely new seat that will open up other opportunities to our company."
That kind of speed might seem astounding in an industry where six months sounds more like a standard delay in customising an existing seat product to an airline's colour, functionality and fleet specifications, but De Vecchi says that it was literally "a few months; we're speaking about six months from the first approach to the certification of the product. It's absolutely fully certified."
It is truly impressive that Aviointeriors, which cites its automotive heritage as a reason it can be so responsive to customers, is bucking the production and certification delay trend.
The seat itself is — perhaps understandably — fairly unremarkable, apart from being a remarkably comfortable option for the tricky A330 cross-section, which is the narrowest of any major widebody airliner currently in commercial production. (The 767 is, of course, remains in cargo and tanker production.)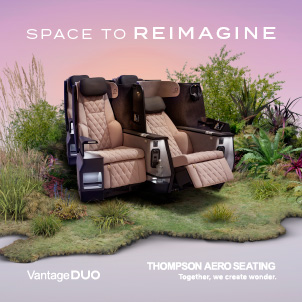 Aviointeriors seems to have managed to improve the tray table functionality over Solsys, which has a trademark 'knuckle' with the seatback table. De Vecchi also suggests that the table could be mounted below the inflight entertainment monitor à la Rockwell Collins Super Diamond, and also highlights that Aviointeriors could modify the seat for the 787, 777 or other platforms "without any particular trouble, because we need just to make some little changes and we'll be able to achieve those kind of aircraft."
There has, however, been a slight delay to the Aviointeriors Adagio next-generation staggered seating as a result of the company switching tack to focus on Galileo design, certification and production in the near term. De Vecchi showed RGN round an Adagio mockup with an updated fit and finish, and expects to unveil new variants of the seat at next April's Aircraft Interiors Expo in Hamburg.
Stelia Aerospace did not respond to a request for comment on the seat, or on whether Stelia believes that the seat could infringe on its intellectual property. The company has previously made it plain to Runway Girl Network that it expects competitors inspired by its products to come to a commercial arrangement for the use of its IP.
Related Articles: