LATAM Airlines Brazil's decision to tap Gogo 2Ku connectivity for 100 Airbus A320 aircraft brings the Chicago-headquartered firm's backlog to an impressive 1,900-plus aircraft, and could provide it with what financial services firm William Blair logically suggests will be "a relatively high contribution profit margin" because Gogo already has the requisite Ku capacity and supplemental type certificates in place. Service will begin in the first half of 2018 with the rollout expected to be completed in the first half of 2019. This is good news for passengers, who have been largely complementary of Delta Air Lines' 2Ku experience on social media.
But Gogo's latest wins – including a fleet-wide 2Ku contract with Alaska Airlines – are not simply relegated to the commercial sector. Indeed, Gogo is already deploying its new air-to-ground (ATG)-based AVANCE L5 unified technology platform on business aircraft in North America. The company's Gogo Business Aviation unit flew into the recent National Business Aviation Association (NBAA) showcase in Las Vegas with a message – AVANCE L5, operating on the Gogo Biz 4G network, can accommodate streaming audio and video, and is ready for prime time.
By the end of this month, a total 12 supplemental type certificates (STCs) – accounting for some 40 aircraft models in business aviation, including Cessna, Gulfstream, Dassault, Bombardier, and Embraer types – will have been secured, Sergio Aguirre, the SVP leading Gogo Business Aviation, tells Runway Girl Network. Moreover, the firm has achieved linefit offerability for AVANCE L5 on the Embraer Legacy 450 and 500 and on the Dassault Falcon 2000S, 2000LXS, 900LX, 5X, 7X and 8X airframes.
"We have probably about over half a dozen in-service customers today [for AVANCE L5] and the feedback is very, very positive," says Aguirre.
The first install and test flight – for a customer which happens to be brand new to inflight connectivity – took place over the high-trafficked Northeast corridor "and the test flight was fantastic", he enthuses. "The customer said they did everything that they needed to do, in the New York area, so that was our first major validation and since then we've had feedback from five or six customers and the feedback has been very positive. They've been able to stream Netflix [and] FaceTime, and the level of performance is getting much closer to mirroring  what people are seeing on the ground. We're still bandwidth limited, but the beauty is that in a corporate aircraft, they're getting the ability to do what they've been wanting to do for quite some time that with classic [Gogo Biz 3G] we didn't have."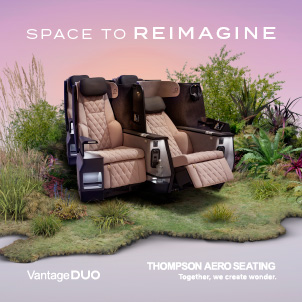 The form factor for AVANCE L5 is about half the size of Gogo's ATG-4 system in the commercial space, but there are other notable differences as well. "We use the capacity in a very different way in a business aircraft so on a commercial aircraft you maximize your capacity and bandwidth to address as many customers as possible whereas in business aviation, we leverage the available capacity to serve half a dozen people very well, so that makes a big difference in experience. The other thing is, it has the latest in in-cabin network technology."
People don't realize where the choke holds are, he adds, but the AVANCE L5 dual-band 802.11ac helps to improve the in-cabin network "tenfold".
The antennas are belly mounted and dual-directional to give complete coverage. "So on a corporate aircraft, it's more of a Ferrari [experience] instead of a bus," quips Aguirre. Business aircraft operators with Gogo Business Aviation's current-gen ATG system can easily upgrade to AVANCE L5, as the antennas use "the same locations of the two exterior antennas that they have now".
The firm expects that about two-thirds of its current ATG customers will want to upgrade to AVANCE L5. And new types of customers are coming on board, with Aguirre revealing that a heavy turboprop operator is installing AVANCE L5, underscoring how important connectivity is to passengers across types.
Of those operators that upgrade to the AVANCE L5, about one third will likely ultimately upgrade again to nextgen ATG, when it is available from the company, according to the Gogo Business Aviation executive. But Aguirre believes the AVANCE L5 system "will satisfy needs for a long time" even though consumer electronic apps and video will not stay stagnant.
How does L5 compete with satellite-based connectivity solutions, like Inmarsat's Jet ConneX? "The reality is that L5, for somebody that flies US, North America, I don't think anything will compete with L5. Hands down all of our customers have said that's our preferred system," declares Aguirre.
On the international front, Gogo Business Aviation still offers operators the option of Inmarsat's lower bandwidth, SwiftBroadband L-band service, but it will also roll out a near global, broadband Ku tail-mount product for the sector next year. Meanwhile, VVIP customers are in Gogo's sights for the 2Ku solution which is being adopted by commercial airlines.
Related Articles: