Every so often at a trade show, one comes across a stand that's brimming with smart questions for the #PaxEx industry, and French engineering consultancy Altran's stand at this year's Aircraft Interiors Expo was a real treasure trove. Beyond the improved technology demonstrator for its autonomous cabin trolley, some fascinating printed cabin wiring and a 3D-printed seat, Altran was demonstrating a real-world wearable smartwatch with crew apps that's a good step along the path towards getting this technology into the aircraft.
Wearables in the cabin, as on the ground, have suffered from a "solution without a problem" reputation, demonstrated by the massive change in operating system functionality between Apple WatchOS 2 and 3. With the rollout of crew tablets and smartphones of various sizes, some of the urgency around getting wearables onto cabin crew has been reduced.
Yet the cabin environment is one that lends itself well to one of the task patterns wearable designers have concluded is a goer for the future: receiving information and notifications, then responding to them in a limited number of preset ways.
In the same way that a consumer could respond to a text or email message with a preset of "yes", "no", or "call me later" — or by moving off the watch and picking up the phone — a flight attendant could respond to notifications from colleagues: "do you have any Diet Coke left on your trolley?", "My coffee pot needs refilling", "seat 23A would like to buy a duty free tchotchke" or similar.
And while inflight entertainment systems are increasingly good at showing time remaining or arrival time on screen or on handsets, passengers still regularly stop flight attendants to ask them for this kind of information.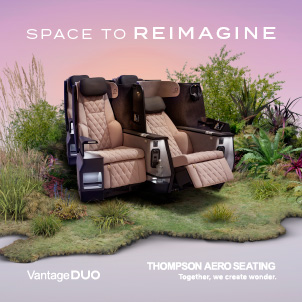 It's useful to have a live, automatically timezone-adjusted version to be able to give straight to passengers. It's also handy to be able to so some light troubleshooting of the IFE straight from the wearable.
Some options may well be better controlled from a wall panel or larger device: lighting and temperature controls, for example, rarely need to be adjusted dynamically, but cabin heating can be something of a thorny issue, so it's useful for flight attendants to have the current temperature settings to hand in the cabin.
The real key to getting wearables onto crew and into the aircraft will be integration: with the aircraft, with the cabin, and with the inflight entertainment system. Some of this will be around location within the cabin, using either beacons, location triangulation, cameras, or a combination of the three. And it's all in the name of delivering personalised service to the passenger.
If the crewmember can see the passenger's name (and perhaps frequent flyer status, food/beverage preference, number of alcoholic drinks consumed or tendency to purchase duty free items) when the call bell rings or as part of proactive service, they can both make passengers happy and add to the airline's bottom line.
Moving from this "what if" stage to a "how does this look" stage is the next step for wearables.
Recent industry consolidation — like Rockwell Collins-B/E Aerospace, and potentially Safran-Zodiac — goes some way to getting more of the players in this game under one roof, but the problem is whether corporate integration will put cabin integration on the back burner for a cycle or two. That kind of ponderous corporate slow-turning ship opens up the space for disruption by smaller companies like Altran to develop innovative new technologies.
The question will be whether the industry prefers to adopt the new technologies on a standards basis, or to acquire the company producing them.
Related Articles: