One of the key promises from the Internet of Things in the air has been to provide airlines and their suppliers with improvements to inflight retail, partly to give a live view of what is on board and what is being consumed so as to enable better replenishment, partly to ensure point-of-sale (POS) machines can transact live to decrease fraud, and partly to offer inflight shopping with arrival airport fulfilment.
Major onboard retail player Retail inMotion CCO Stefan Patermann and director IT-Sales Jan Blanchard see the current state of aviation IoT and inflight connectivity as still in its infancy in creating and delivering these benefits, however.
"In terms of connectivity, for many airlines we are at the beginning. Connectivity is not broadly available, or many times it is still interrupted," says Petermann, whose statement is certainly accurate when describing the non-US market. "But [connectivity] is a trend that will increase over the next couple of months and years. This will change in some way the way people will consume on board, and receive information in terms of e-commerce on board."
The future is relatively rosy. "I think connectivity will also open up a new chances for this industry in terms of ancillary revenue," Patermann continues. "One example is that you enable passengers through a platform you're providing on the inflight entertainment onboard or on their own devices to order things that are delivered when they arrive at their destination airport, for example. However, it also allows airlines to bring new retail offerings to their passengers."
Airlines will be able also to control what a customer consumes during the flight and airlines can provide specific e-commerce content to their passengers. For example, enabling shop partners to be on that platform providing exclusive offers to their passengers. This is something we're working on intensively with Media inMotion, on a platform solution where retail partners can in the future lock in to their platform to provide specific content and offerings to airline passengers.
Onboard, live replenishment information hasn't yet hit the bleeding edge. "We have had a number of discussions with a number of airlines about what we call the automated cart. That automated cart can actually be of great value if it is connected, so that it provides information directly to the station. If it is disconnected it provides information when landed, because it still allows automated tracking of all of the products, and it reduces the workload for the crew," says Blanchard.
A new generation of non-industry specialists are driving innovation in this area. "It's something for the future: we have a number of projects with some airlines, and what we've seen in the last 12 months is that a number of airlines' inflight retail programmes are being run by people who have experience outside the airline industry," says Blanchard. "We've seen people coming from the retail world entering the airline industry with a lot of new ideas and a lot of ways they want to adapt what they have seen in the retail world. They want to bring this technology and innovation in the aircraft. That's very good for a company like Retail inMotion because it helps us to bring that innovation and work with those types of airlines. We're lucky that we have them as clients."
Airlines have long grappled with some level of credit card fraud because most inflight transactions over POS devices do not happen in real time, but rather when the aircraft lands and is parked at the gate. Asian operators, in particular, are known to transact sizable duty free purchases in-flight (and there are tales of carriers using expensive cockpit connectivity to verify especially large purchases). Processing traditional credit cards in real-time over inflight connectivity was considered a sort of 'holy grail' for airlines once bandwidth to the aircraft was no longer a concern. But the aggressive use in recent years of 'black list' and 'declined credit card' collection and recovery services is understood to have effectively reduced onboard fraud to a fraction of 1%.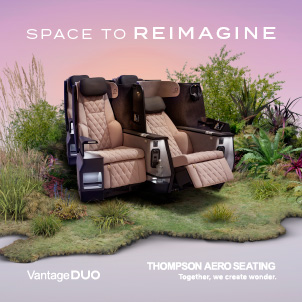 As such, the demand for connected POS devices hasn't been as strong as many in the  industry expected, largely because of these anti-fraud measures. Out of the 32 airline clients where Retail inMotion's POS solution is currently employed, three of them have utilised their connectivity in-flight in order to allow for live authorisation, reveals Blanchard.
"It allows them to potentially increase the value of the products that are being sold on board as the transaction is authorised automatically, so it assures the airlines that the transaction will not incur any fraud. That means that the remaining airlines have their point of sale transactions offline," he says. "We've built our system in such a way that it provides a number of security points and confidence to the airline to reduce the fraud to a very minimum. We experienced a decline rate and fraud rate that are not a big issue at all."
Often, however, even when an airline has cabin connectivity on board their aircraft, the process to allow live authorisation does not justify the cost of the investment, "because it's not that big of an issue for them", insists Blanchard.
Related Articles: