Airlines with leather seat covers produced by Glasgow, Scotland-based Muirhead Leather could soon be offered the chance to send them back to the manufacturer at the end of their commercial life to be recycled into energy to power production of the next batch.
This end-of-life, closed-loop solution is currently being examined by Muirhead's parent company, Scottish Leather Group, in association with an unnamed airline. The aim is to prevent its discarded leather seat covers from ending up in landfill sites – an aim that fits in well with the company's zero-waste strategy, which it adopted in 2003 and has been taking strides to achieve ever since.
Scottish Leather Group environmental director Dr Warren Bowden tells RGN the company is looking at taking back its end product, shredding it and converting it into heat to help power its factory. This is less far-fetched than it sounds, as Scottish Leather Group's Bridge of Weir facility in Scotland is already home to a £6 million thermal energy plant and a £1.3 million waste water treatment facility.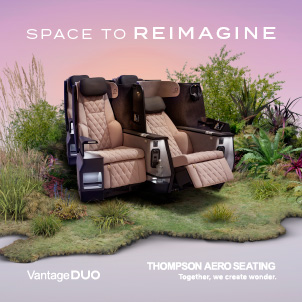 The thermal energy plant converts solid waste from the production process into gas, which is then converted to steam for use in the leather-making process. The company says in its sustainability report that it is "already able to be entirely self-sufficient for heat from our own waste".
If it can figure out a way to take back its leather seat covers after they have been removed from an aircraft and reuse them to generate more heat, it will not only become even less reliant on fossil fuels but will also play its part in reducing the colossal amount of landfill waste associated with old aircraft interiors.
Bowden says the company has "taken back whole aircraft sets" of seat covers and shredded them to the point at which they can be mixed with other waste and converted into heat. To proceed and make this ambition a reality, Scottish Leather Group would need "a new licence" to carry out the recycling process, as well as buy-in from its airline customers.
"As soon as everyone is happy that this is the right thing to do…we will go ahead with it," says Bowden, adding that "costings of the supply chain" would need to be closely examined. The point at which the group will be able to offer this end-of-life solution to its airline customers is "not years away, it's much sooner than that", says Bowden, noting that "we've seen an awful lot of interest and several big airlines are looking at this."
"This is something unique that no other group can offer. It's more about walking the walk rather than just saying it, and it's putting right a number of ills our sector has had to live with," he adds. Consumers are "more concerned than they were previously" about ecological issues, says Bowden, a factor which he believes could push airline customers to view environmentally-friendly solutions such as this "more favourably as a [deal] clinching position".
The leather manufacturer sees the steps it has taken to improve its environmental record as being not only good for the planet but also good for its own long-term viability. As it notes in its sustainability report: "These initiatives are also addressing some of the major threats to our long-term future, such as the reduction in available landfill sites and the declining availability of fossil fuel.
"Benefits will be derived ultimately through mitigation of the effects of rising energy and landfill costs."
The hope is that this way of thinking catches on. "We're pioneering this, and we hope others will follow," says Bowden.
Related Articles: