When Lufthansa Group's LSG SkyChefs subsidiary acquired Retail inMotion and Media inMotion just over a year ago, the big question was how the successful streaming media and onboard retail player would fit into the larger Group picture, especially given the overlap in the overheated "streaming content in a box" market with Lufthansa Systems' BoardConnect Portable.
It's perhaps unsurprising that the BoardConnect brand seems to have won that game, with the Media inMotion streaming content product not appearing on the company portfolio when CCO Stefan Patermann and director IT-Sales Jan Blanchard sat down with Runway Girl Network for an update.
Retail inMotion now comprises five subgroups: onboard retail (OBR), the point-of-sale and logistics business (Technology inMotion), a product-agnostic advertising and retail platform (the new Media inMotion), product development and fulfilment (Products inMotion) and the services/consultancy/training/design group (Services inMotion).
Across the RiM portfolio, Patermann says, "we have 32 customers, and some of them we have had for many years — big European customers and so on." One example – RiM's brand new arrangement with LATAM. "But with some other customers we have confidentiality agreements and cannot widely mention the name." 
However, RiM does span the gamut of types of carrier, Patermann notes. "Number one is low-cost — we are very established in the low-cost area. Number two is leisure — we have many of the charter companies in Europe, including the three biggest who we have as customers. And then there's traditional airlines, which are purchasing our IT product and at the moment of the five big traditional airlines we have two so far in our customer portfolio."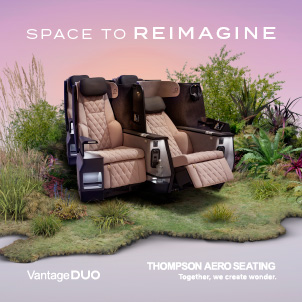 But now that MiM is pivoting away from the streaming content side of the game, is stablemate Lufthansa Systems' BoardConnect a preferred partner in IFE?
"I wouldn't say it's a preferred partner," Patermann says, "but of course it's a logical step that a group or a sister company is the partner. It is not the only partner. We are working together with many airlines, and with many providers in that area, to focus and provide the passenger experience while ordering products on board. It's more the e-commerce side we're focussing on, and one partner is not enough, like one customer would not be enough."
The key to the pivot, Patermann explains, is that "we're not just talking about boxes, we're talking about installed systems. The software we have developed and are operating can run on different hardware solutions."
"One of the keys of Retain inMotion and Media inMotion," Blanchard clarifies "is that we have an agnostic system that can support any airline in order to increase their ancillary revenue, and buy and sell products. When it comes to the IFE, either it's the streaming solution to a simple box or through an installed system, or if it's a traditional IFE through seatback." 
Indeed, Blanchard says, "we've engaged with a number of companies through our airline clients that already have adopted the point-of-sale system, to integrate the retail platform to their IFE experience. What we've found in the IFE world is that a lot of the providers of those entertainment systems are also looking for a way to provide to their customer a way of payment and a way of increasing products to these platforms. This is a solution that we're providing to the marketplace, both to the airline, and also to the provider of the IFE solution." 
The agnosticism runs deep, Blanchard suggests. "Our software platform is built in a way that there are a number of open services and APIs, so it can be integrated into a number of different systems. We have integrated this platform already with two different systems and the traditional way we would work in this integration is by providing open access. The way that the software is built, it will fast-track the integration with any type of system either the airline or the IFE provider would use in order to have the software installed."
Overall, Patermann (who has an LSG background) notes, "we acquired Retail inMotion thirteen months ago, and before that we were in a joint venture. The integration itself went very smoothly — I would even say the integration phase has been over for a couple of months. We are now moving into the expansion phase of the business."
Related Articles: