Looking at how the Lufthansa Group's catering subsidiary LSG SkyChefs has gradually taken over Dublin-based Retail inMotion and its Media inMotion product, one might have expected more progress on integration, and streamlining of the product portfolio. It is now well over three years since LSG became a shareholder in and entered into an "exclusive strategic partnership" with Media inMotion (MiM) parent Retail inMotion (RiM); a final shares sale was completed in February.
Indeed, it wouldn't be odd to expect integration details to be decided during the due diligence phase of an acquisition — especially since that now makes three types of remarkably similar wireless products offered by the Lufthansa Group.
So, what do MiM and RiM do? Essentially, MiM's all-in boxed wireless entertainment competes with Lufthansa Systems' BoardConnect Portable (broadly, portable wifi products are under fresh EASA safety scrutiny). Onboard sales and information products make up one part of the five RiM business areas; the rest span the B2B and B2C worlds:
Products — RiM is the main supplier of products to Ryanair, including Lavazza coffee and Boxerchips
Onboard retail — whether outsourced contracts or a one-stop solution, with airlines including Eurowings, Spirit, Edelweiss and SunExpress already customers
IT — both point of sale and backend solutions, with RiM saying it is the only provider with end-to-end capabilities in this space
Services — the design, analytics and consultancy to make it all work
Clearly, there are a lot of synergies with LSG and the rest of the Lufthansa Group, notably Lufthansa Technik (also in the IFE business), Lufthansa Systems, and the airlines (Eurowings, for instance, is rolling out Lufthansa Systems' BoardConnect Portable on its Airbus A320 fleet.)
LSG's senior vice president for corporate communications Josefine Corsten this spring explained to Runway Girl Network how integration of RiM has progressed since they started working more closely in 2013.
Ever since, the portfolio of these two companies has evolved. We acquired full ownership in February this year. So we are aware that other parts of the Lufthansa Group are dealing with technical solutions and payment solutions, but it is really too early to tell where those synergies are. The Lufthansa Group should really speak from the corporate perspective. We are evaluating synergies, but we have not come to a point where I, we would really be able to tell you, these are really specific of either one of these groups, this is how it's going to be synchronised and connected up to a really valuable customer offer.
Corsten wouldn't be drawn on a timescale, however. "I don't, because it is something that the Group as such will have to steer, and it cannot be steered by us being just one of the components. So I can't say more about that."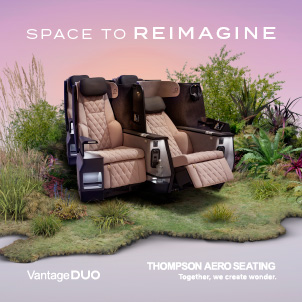 During a later discussion with Lufthansa Technik's head of product division, original equipment innovation Andrew Muirhead, RGN asked for his perspective on integration between the Lufthansa Group companies.
"Within the group in general, there has always been communication within the group," Muirhead said. "In particular with the big push over the last couple of years within the organization, getting us to act more as a Lufthansa holdings then as separate companies, there has been a massive communication increase and innovation drive across the group."
"I am involved in the Lufthansa Innovation Fund, where we have a fund at the holding level," Muirhead said. We listen to pitches within the holding and that is often cross competence pitches where they are looking to start new business ideas. So innovation has really been driven by [Lufthansa CEO Carsten] Spohr in the business. There is a lot of support for cross group company programs."
"That is why we are very happy when our friends at BoardConnect sell systems," Muirhead noted. "They earn from it, we earn from it. We have been looking at how to expand those relationships with LSG but also with other parts of the group as well."
The time would certainly seem ripe for some innovative working together, between Lufthansa Systems and Lufthansa Technik, between those companies and LSG, and in particular with RiM/MiM. And it might also make sense to focus on the most monetizable solutions rather than appearing to throw multiple darts at a dartboard.
The real test will be how much impact inter-group innovation has on the industry.