Sukhoi took a mock-up of its latest SportJet evolution to the 2016 Summer Olympic Games, revealing more about the offering as it targets a first delivery date of late 2017.
The airframer first divulged information about SportJet at the Farnborough Airshow. Based on the manufacturer's SuperJet 100 regional airliner, the SportJet promises low-density, executive-style passenger seating, areas for inflight training, and a treatment couch for injury recovery or match preparation.
The charter market for moving sports teams is already healthy, but optimised configurations like Sukhoi's are rare and the airframer sees a realistic market for SportJet production. It chose the Olympics in Rio to reveal a SportJet mock-up to the sporting world.
Sukhoi's senior VP of sales, Evgeniy Andrachnikov, explains: "Rio was the official premiere of SportJet. We saw the Olympics as a great opportunity to present the product to the general public and reach out to the sporting community. Within a few first days we'd seen major interest and received encouraging feedback from international sport officials and athletes."
Andrachnikov notes that the Farnborough exhibit was a concept mock-up, but Rio saw a full-size product mock-up, representative of the configuration it expects to begin delivering in late 2017.
Sukhoi has paid considerable attention to athletes' physiological and psychological needs and Andrachnikov describes SportJet's unique features: "The seats are identified by the athlete's playing number and personal on-screen greeting. The lay-flat seats include integrated biomedical technology, while variable lighting and individual multimedia display units with special content optimise travelling time. The biomedical devices are integrated in the armrests, backrest and under the seat.
"The biomedical equipment enables testing before, after and during flight, identifying the physiological and psychological parameters of the athlete's functionality and helping shape their individual flight programme."
Each athlete seat will contain a bioimpedance sensor, pulse oximeter, data reading and processing unit, control display and Airband as standard. The latter is a diagnostic technology "that completes the seat equipment. It monitors the athlete's functional status during the flight, generating data that enables decisions to be made to optimise comfort. It supports wireless data transmission to the air adaptation team specialist's central display and to mobile devices," explains the Sukhoi executive.
Sukhoi also offers AeroScan, described as a 'capsule for diagnostics'. Adding considerably to basic seat functionality, Andrachnikov says AeroScan includes "a bioimpedance sensor with cable and electrode plates, a physiological data display, ECG recorder, spirometer, hypoxic generator, blood pressure monitor, pulse oximeter, dynamometer, data reading and processing unit, and optional ergometer".
The result is a system that assesses individual athletes, generating comprehensive data on which their coaches and medical staff will base personalised treatment and performance optimisation plans.
Should inflight treatment be required, the couch offers far more than a relaxing massage. "The biomedical couch is for physiotherapeutic procedures – cryotherapy, lymphatic drainage, electric muscle stimulation, andullation and massage therapy," says Andrachnikov. "It's also designed to carry injured athletes and supports the connection of diagnostic devices."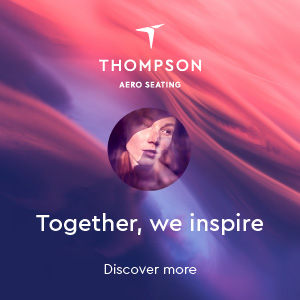 Leaving medical and physiological work aside, team coaches will be able to assess performance and match tactics in dedicated areas comprehensively equipped for review and analysis.
Andrachnikov says further optimisation of regular cabin systems for sports use includes "lighting in club or team colours; media content for celebrating victories, but also motivational videos, entertainment, thematic programmes and relaxation music; and lockers for personal belongings, tailored for sports equipment and kit".
Sukhoi sees the SportJet market as professional sports teams travelling over regional or transcontinental ranges. "
We believe a new market niche exists; for the most part, clubs never travel by regular flights, they charter private jets. With the available options, the majority of athletes hate to fly," says Andrachnikov. Sukhoi estimates the value of the sports transport market at $600 million.