London Heathrow's Terminal 2 — The Queen's Terminal, as signs at the entrance trumpet — is the newest facility at LHR, opened in June 2014 at the cost of £2.3 billion. But is the passenger experience fit for a prince…or for a pauper?
The first impression being dropped off by car is that the terminal precinct is still a construction site, which indeed it is. Unfortunately, that impression doesn't change once you stop in the drop-off zone. There's a lot of space, but the finish is already shabby, with worn pathway markings and areas coned off that you have to detour around.
Inside, the space opens up wonderfully, with a light-filled, sinuous roof that manages not to feel agoraphobic, and doesn't echo terribly either.  
Unfortunately, once you approach the check-in desks (I was flying Lufthansa, but this wasn't an issue unique to the LH side of the facility), somehow Heathrow has managed to make a brand new terminal more of a snaking tensabarrier queueing nightmare than its older facilities. Either this is a delightful final farewell for visitors of the great British pasttime of joining a queue, or whoever designed the passenger pathways through the check-in areas ought to hand their fee back in shame.
At bag drop, the belts are about two feet off the ground. In a modern terminal, it's baffling why these can't be at floor level for the benefit of passengers with rolling luggage to just roll their bag straight onto the belt. At the very least, it seems like a little ramp would be worthwhile.
The Fast Track security I used was empty (I was the only passenger in sight) yet there were still three switchbacks of tensabarrier queue to navigate, and the bored-looking security staffer wasn't interested in unhooking two of the links so that passengers didn't have to roll their luggage backwards and forth for no reason whatsoever.
(The result: I am worse disposed towards sponsor Accenture, whose branding absolutely covers Fast Track, than I was before I started. If I were in charge of Accenture's sponsorship deal with Heathrow, I'd be asking some very pointed questions.)
Once into departures, the space opens up again: a massive, light atrium that feels spacious and yet welcoming. It's strangely reminiscent of standing on the mezzanine level of the TWA Flight Center in JFK, looking down at the iconic red seating area, except it looks onto a seafood bar (got to keep those retail pounds rolling in, after all).
Within the realistic world where airport retail subsidises airline fees, Terminal 2 is a significantly better passenger experience than Terminals 3, 4 or 5. It's light and bright, there's enough space to walk, there's no mandatory duty free labyrinth to escape the sample-thrusting minotaurs, and the dogleg to left or right in order to descend to the main level isn't quite so insultingly extensive as it does in T5. (It also detours via the Lufthansa lounge complex, which is actually a benefit for premium travellers.)
Bizarrely, Heathrow seems to have constructed a long-term half-underground, half-overground passageway between its main building, which holds its A gates, and the B gate satellite that was at one point part of the now defunct Terminal 1 and which serves many of the intercontinental widebodies that use T2.
Access to this link is via a terrifyingly vertigo-inducing escalator so deep that it brings to mind the Pyongyang Metro. Is the underground link nukeproof?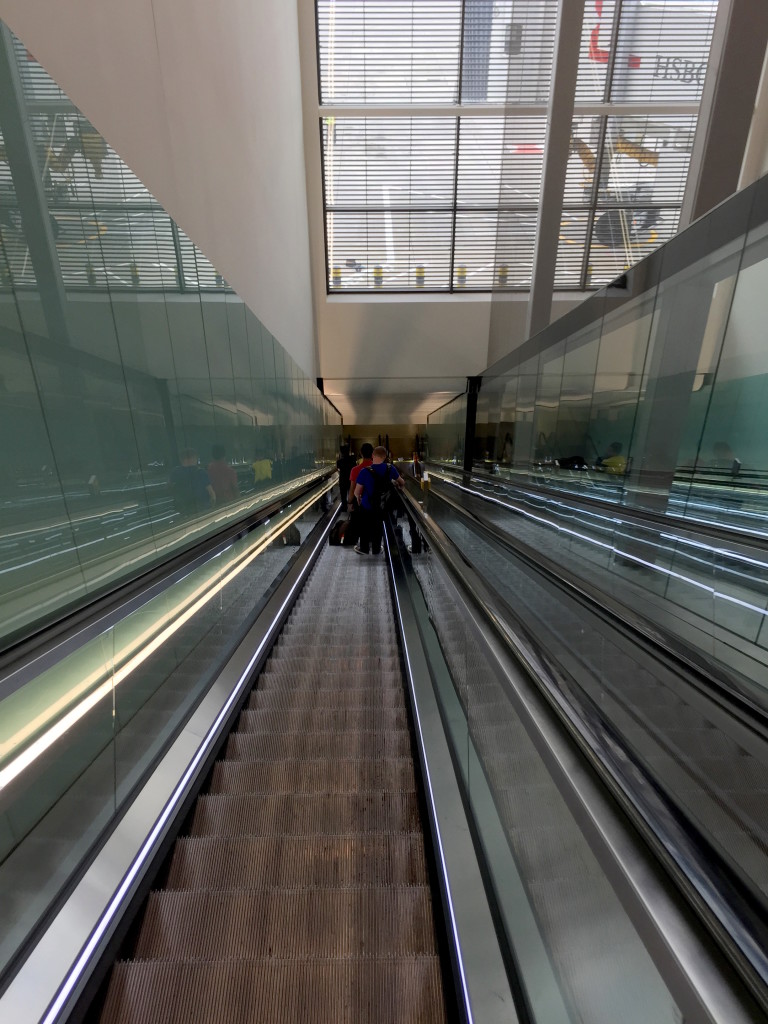 It seems strange given the long-term ambitions of Heathrow to turn its old higgledy-piggeldy terminla arrangement into a "toastrack" in the style of Atlanta (see also: Terminal 5 and its two satellites, reached by an underground shuttle peoplemover) that this requires a six-minute walk rather than a faster train ride.
Out on the B gate satellite are located no fewer than five Star Alliance lounges operated by three airlines: the Air Canada Maple Leaf Lounge, the United Club, the United Global First Lounge, and the Singapore Airlines SilverKris business and first class areas. That's in addition to the two Lufthansa lounges in the main A concourse.
All three airlines' facilities are bang on brand, despite bizarrely glacial Internet in the Maple Leaf Lounge, the business side of the SilverKris Lounge being a little pokey (think British Airways Galleries Club Terminal 3) until it opens up, and terribly presented food in the United Club.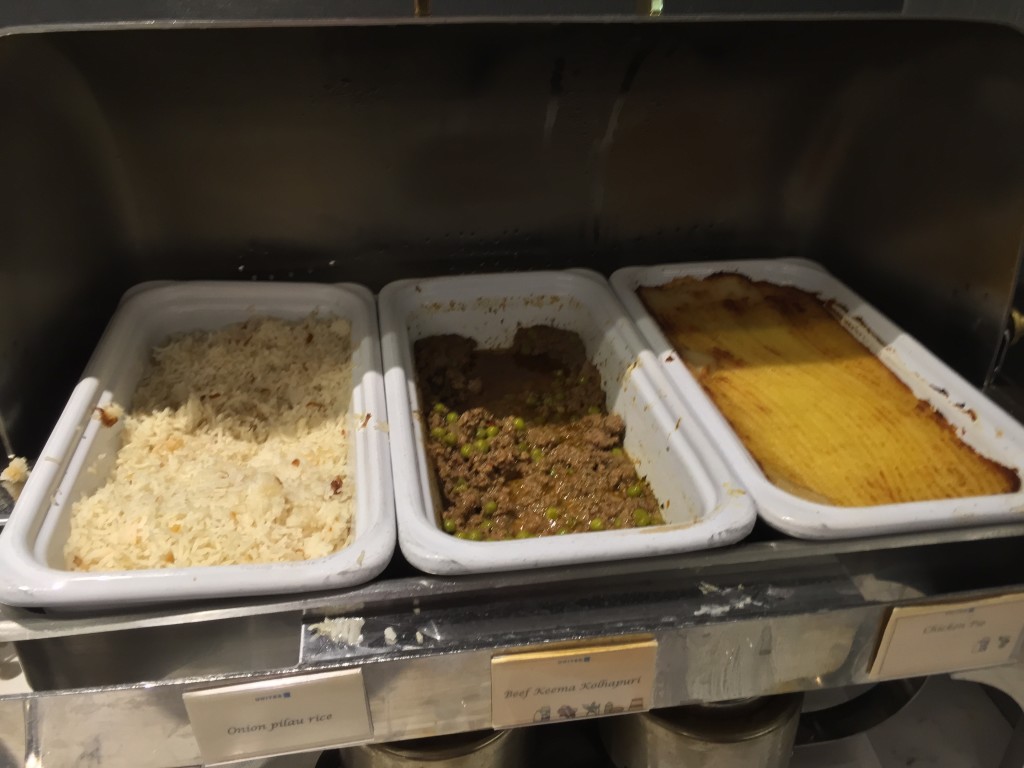 Please sir, may I have some more meat gruel?
The proliferation of lounges among Star Alliance partners is odd given that the old Terminal 1 had just a single poky and dreary Star Alliance lounge, and given the wider trend (including at Heathrow Terminal 4, the home of SkyTeam) for alliances to pool their resources to create a joint lounge facility.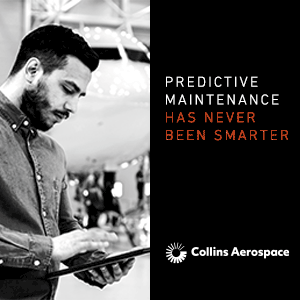 If required, the very few airlines offering a first class product (given that the top Star Alliance Gold frequent flyer level allows business class lounge entry, not first class, and particularly since not all United T1 flights have a Global First cabin) could provide an attached facility for their passengers.
Terminal 2 isn't finished yet, as the hoarding outside and the temporary roadway bollards airside clearly show. It has been left significant space for expansion: the northern edge of the terminal ends abruptly at the crest of one of the ceiling waves, allowing for significant expansion into the old Terminal 1 precinct. The working name for the terminal — Terminal East — shows just how vital the future T2 will be to the entire Heathrow project.
But in terms of the passenger experience, there's a long way to go yet.