There's always a bit of real and ceremonial paperwork, and often a dinner and some sort of party, when an airline takes delivery of a brand new airplane from Boeing and the aircraft is flown home from Seattle.
But Wednesday's flight delivery event for United Airlines' newest 737-900ER was an unusual first for Boeing, United, the women who now make up 40 percent of United's workforce, and for women thinking about – and needing some inspiration for – a career in aviation.
After papers were signed and Nicole Piasecki, the vice president and general manager of propulsion for Boeing Commercial Airplanes, handed the (ceremonial) keys to the shiny new aircraft over to United executives Cheryl Kappes and Nancy Ricker, an all-woman crew headed by Captain Kimberly Noakes and First Officer Jann Lumbrazo flew the airplane from Seattle's Boeing Field to Chicago's O'Hare International Airport.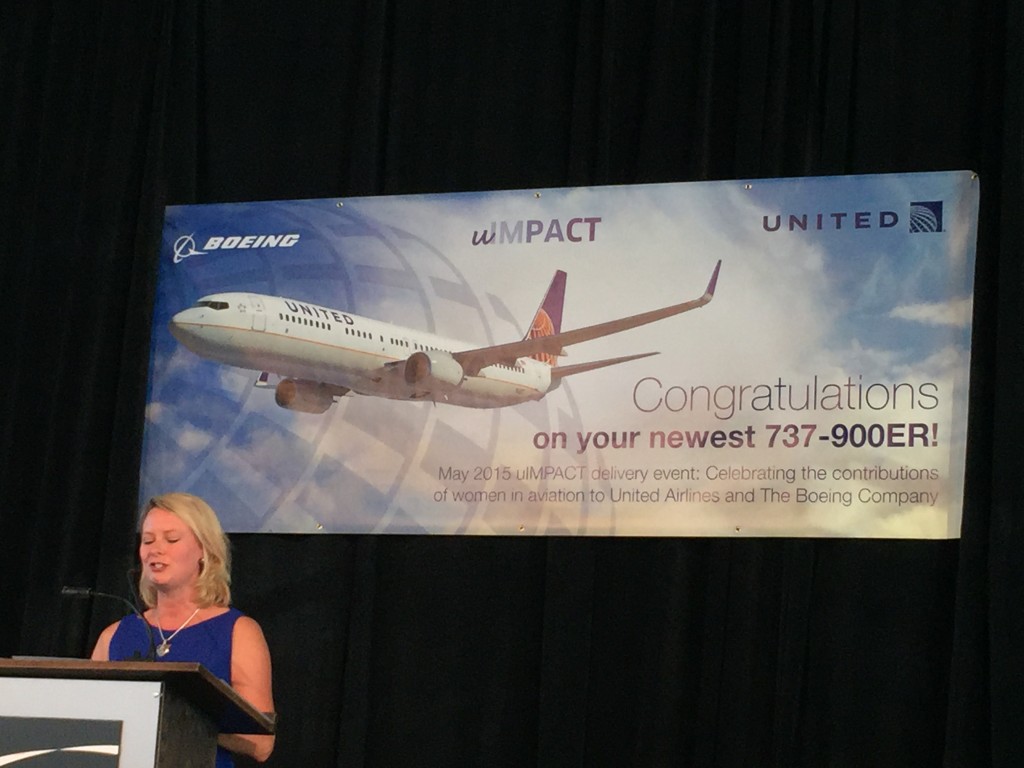 Lumbrazo – who decided she wanted to be a pilot after her first airplane ride at age eight – has been flying 737s since 2006. She says while the aviation field definitely "was a boy's club" for a very long time, it is no longer that unusual for a commercial flight to have two women in the cockpit.
But when that happens, "I get cheers, I get high-fives and the occasional 'We had two girls up there?' kind of comments," says Lumbrazo, who makes a point to invite young fliers to visit the cockpit before a flight.
"That's my favorite thing! I bring them up, I sit them down, let them put on my hat and take pictures. Getting to see more female pilots is what may change things in the future," she says.
Wednesday's delivery flight didn't travel to Chicago empty.
On board were over 80 highly accomplished women who work for United around the world in a wide variety of technical, mechanical and management positions. Each had been nominated and specially chosen to attend the all-women delivery event created to mark the one-year anniversary of "uIMPACT," an internal airline group dedicated to empowering women, helping them form and use networks, and promoting their accomplishments within the company.
"One of the things we work on is motivating and inspiring women and encouraging them to step out of their comfort zones," says Mandeep Grewal, a United executive who also serves as the unpaid president of uIMPACT. "We want them to be bold and to take risks that include going after positions that may have traditionally been occupied by men."
Kimberly Noakes, the captain of Wednesday's special delivery flight, announced to her family at age 16 that she wanted to be a pilot.
"I knew I wanted it, but just didn't know how to go about doing it," says Noakes, "But I thought, 'Oh, we can fly,' after my dad told me that my grandmother had been part of the WASPs [the Women's Airforce Service Pilots] during World War II. I hadn't known about that history."
Noakes has been flying since 1988 and now trains and evaluates other pilots for United.
Just before boarding the new 737-900ER and giving a wave and a thumbs up out the cockpit window, Noakes said Wednesday's special all-women delivery flight was a way of honoring all the work that women do for United.
On a larger scale, it was also "a way of showing that women can make progress at one of these large corporate airlines or large companies in general. And it's our way of saying 'You did it!'"