This week at the Arabian Travel Market event in Dubai, Emirates Airline CEO Sir Tim Clark reportedly said passengers would prefer the experience found on Emirates over a United narrowbody or small Delta widebody aircraft.
Passengers don't want a United 757 or 1988-era Delta 767, Center for Aviation (CAPA) analyst and RGN contributor Will Horton tweeted Clark as saying.
One of the very reasonable responses to the Open Skies complaints by the US big three airlines — American, Delta and United — is that the Gulf carriers often offer better passenger experience (#PaxEx) and therefore are a better choice.
Yet the #PaxEx comparisons don't always stack up in Emirates' favour, at least on the hard product, and especially in business. American's Zodiac-produced Boeing 777-300ER business class seat is superior to Emirates' business class (pictured above) on everything but the Emirates A380.
United's ex-Continental B/E Aerospace Diamond seat is also more spacious than anything in the Emirates fleet other than the super jumbo. Ditto Delta's long-haul business class, all of which are at least fully flat (with a Thompson Vantage fully flat bed with direct aisle access on the 767, B/E Diamond fully flat seat on the 757 and Contour fully flat bed with direct aisle access on the 777).  
Emirates seems content to use the halo of its Airbus A380 flagship fleet – the sixtieth of which has just been delivered – to give the impression that all its aircraft are as well appointed as its super jumbos.
The thing is, if it's going to bash the competition, the Dubai megacarrier should come clean about the substandard passenger experience on its 777s and Airbus A330 fleet. Business travellers these days — whether they're flying Delta or China Southern or LAN or Ethiopian or BA or Qantas or Etihad — should be able to reasonably expect a fully flat bed as a minimum product.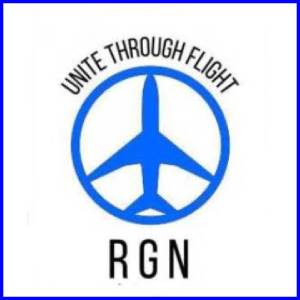 Yet even some of Emirates' newest 777-300ER long-haul aircraft feature an uncompetitive angled lie-flat business class product in a 2-3-2 configuration, though Emirates says online that it offers flat-bed seats on all of its A380s "and most Boeing 777 aircraft".
Incidentally, that 777-300ER product and layout is what American Airlines is replacing with its new (if delayed) Zodiac yin-yang herringbone on its 777-200ER fleet (also on the AA 787).
I've flown on Emirates' 777s in that long-haul business product. It's narrow, angled and suffers from the midnight problem, where passengers in either window or aisle seats must recline their footrest (with the accompanying mechanical noise) and launch themselves across the lap of the passenger next to them. 
But I can confirm that the #PaxEx is worse in A330 business class, where passengers will find an even narrower 2-3-2 sleeper seat product in the smaller A330 widebody diameter. The seats, which don't even go angled flat, more resemble an international premium economy seat than an international business product.  
(In fairness to Emirates, the soft product is as good as Emirates' fully flat business class with direct aisle access on board its flagship A380, although there is of course no upper deck bar on the single-deck A330 or 777. But Emirates' longstanding issues of integrating and standardising the training of its global crew are just as problematic for the passenger experience as the US carriers' ever-mediocre standards of service and seniority-based crew assignments.)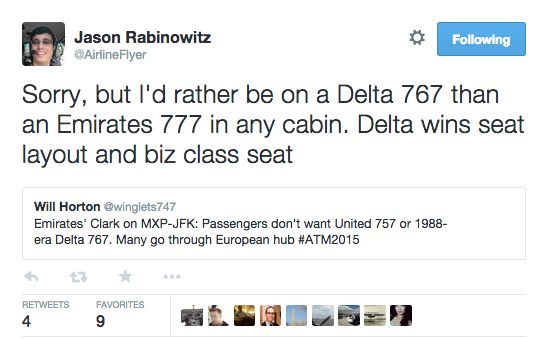 In economy, things are a little less categorical, although with a ten-abreast 3-4-3 layout on Emirates' 777 fleet the only good things to say are about the 32" pitch and the top-notch Panasonic-based 'ice' inflight entertainment system with thousands of content options. American's ten-abreast 777-300ER decision, recently followed by United if reports are to be believed, means that Emirates wins on the basis of an extra inch of pitch.
But Delta's 767s are superior in width and 2-3-2 layout to Tim Clark's 777s, and United's 757s are no worse than 3-4-3 on a 777. 
There are many reasons to support the Gulf carriers' stance on Open Skies, but Emirates will win no favours ranting about the state of the passenger experience on its competitors' aircraft.