It's a groan-worthy scenario that occurs regularly: you're flying medium-haul in the back of the "bus" and there's no seat-back IFE monitor or inflight connectivity service to distract your brain from the pain. If you hadn't been in such a rush before the flight, you might have downloaded movies to your tablet. Alas, reading material aside, your entertainment options now seem few. That is until a flight attendant announces that passengers can stream content to their devices via the wireless entertainment and retail platform on board.
Inflight Dublin, which lays claim to being the largest independent content service provider (CSP) in the world, has a long and proud history of supplying video and audio programming to airlines across the globe. But as the BYOD trend gained steam, the Dublin-headquartered company broadened its portfolio to provide a software solution aimed at meeting the wireless streaming needs of its airline partners and their passengers.
Though there is certainly no shortage of streaming start-ups in the industry these days, Inflight Dublin says its wireless solution is more than simply about entertainment. "We provide a portal that can host a wide range of applications to suit all of an airline's passenger engagement needs. That includes added value services – such as the ability to search and book destination related products (events, transportation, tours, etc.)," explains Dominic Green, Inflight Dublin's newly appointed EVP of Americas. "We've already signed up several well-known brands as partners for these services. In addition to delivering added value to passengers, these services also deliver revenue generating opportunities for the airlines." Partners include Ticketmaster, Expedia, LivingSocial and CarTrawler.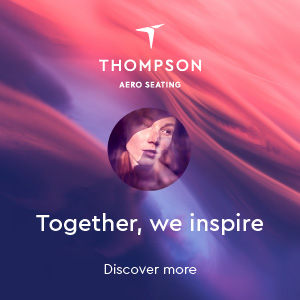 Generally, users do not need to download an app in advance to access the system. They can gain access to it via any standard browser and can expect to have a rich experience, complete with good content and a range of the added value services. In contrast, certain other wireless solutions on the market do require an app to be downloaded in advance of the flight to be able to access anything – with those products no app means no functionality at all. And that can be a problem if all they are focusing on is offering the product as an IFE solution, and relying on traditional content offerings.
"What we've done is ensure that our solution goes beyond just IFE content and serves as a portal for airlines to fully engage with their customers. We make sure all passengers with a suitable device can access the system at any time and still have a great experience – even without the app. For some airlines (for example short-haul flights) DRM-enabled content is not going to be a priority, so that means everything is available without an app anyway," says Green.
Should airlines want to offer Hollywood movies and premium TV content to their passengers, Inflight Dublin has them covered, having garnered studio approval for the DRM component of its software, which detects and prevents streaming of movies to any devices that are jail-broken. And in these instances – where there is any DRM content – an app does need to be downloaded. "For iOS devices this generally means downloading from the app store in advance, but one thing we've done to mitigate this need is to offer an SDK that allows our DRM component to be integrated into the airline's main app. This means a large majority of regular passengers would already have it on their device and no need for a separate IFE app to be downloaded," says Green.
Early window movies remain off limits to passengers' own devices. "No early window content is approved for any wireless system on the market. This is the approach that the Hollywood Studios have taken across the board, so it is not system specific," notes Inflight Dublin CEO John White. But, adds Green, Inflight Dublin is "one of the few" to secure approval from all of 'the big six' major studios to stream.
Inflight Dublin's offering is hardware agnostic. "We are working with hardware providers, so that we can provide a full solution, including server, WAPs and installation kit, but essentially we've developed a software solution that can run on various hardware platforms," says Green.
One of those partners, Kontron, has become somewhat of a darling of the IFE and connectivity industry, with its open source server technology and wireless access point (WAP) hardware serving as the backbone of myriad solutions.
"What Kontron has really tried to do is create a core open architecture base for the wireless inflight entertainment industry. With our server technology, there is no proprietary software. There is no proprietary interface; it's completely open source. We ship with Linux and our customers can load whatever they want on top of it," Kontron avionics business line manager Alan Manns told RGN in a video interview at the recent Aircraft Interiors Expo in Hamburg, during which he also revealed details about the firm's new 'Cab-n-Connect' 802.11ac wireless access point designed to support next-generation HD video streaming for dense multiple client applications.
This approach, says Manns, "really leaves our partners able to go out and customize their application and focus on exactly what they do to make money, how … they differentiate themselves. The hardware is not where you need to differentiate so our software partners have really gone out and done a lot of interesting things with their core technology, and let us worry about the lifecycle on the hardware."
Inflight Dublin, meanwhile, sees continued blue skies ahead. Chief executive White says that his company is focused on securing business for its wireless streaming solution around the world. He tells us to expect more airline announcements in the near-term.